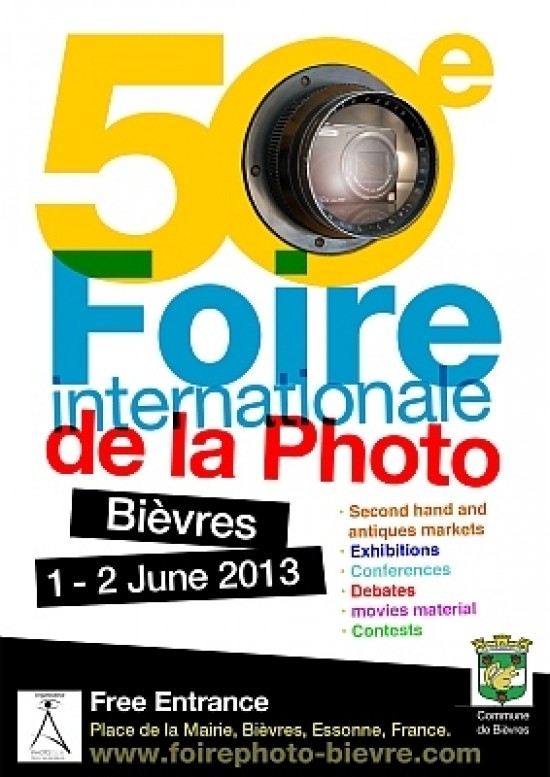 The 50th Bièvres International Photo Fair is taking place from 1-2 June 2013 in Bièvres, France. This photo fair is a unique event in Europe that attracts tens of thousands of visitors from all over the world every year. Located 12km south of Paris, Bièvres is the place for camera collectors and other fans of vintage photographic equipment and related photographica. Additionally, the fair offers photography buffs a range of interesting lectures and conferences. For more information, pay a visit to the website below.
Website: Bièvres International Photo Fair
Press Release
50th International Photo Fair at Bièvres
June 1st & 2nd 2013
Jean et André FAGE, the founders of the Photo-Club of Paris-Val de Bièvre, created the Fair in 1964. The Photo Club of Paris-Val de Bièvre, with the help of the city of Bièvres has organized the Fair ever since. More than 15 000 visitors are greeted every year.
The International Photo Fair at Bièvres is the biggest event of its kind in France and one of the most important in Europe. Collectors, photographers and image lovers at large, from around the world meet there. A large public, curious of discoveries attends the Photo Fair and participates in the numerous attractions.
Photography under all angles
The Fair is above all a huge used and antiques market that covers about 4 acres.
Professionals, amateurs, collectors and strollers can find there a large spectrum of old material: cameras, movie-cameras, lenses projectors and accessories as well as books, vintage prints and documents. With more than 300 exhibitors, the Fair is an open museum that offers a number of out of the way objects and treasures for those who know to hunt and find them. The Fair is known the world over for the richness, quality and variety of the spectra at offer. It is also a means to become familiar with ancient processes: daguerreotypes, collodion and ambrotypes.
This event has evolved with time providing a spot for new technologies through conferences debates and shows: The 6th Rencontres de Bièvres will deal with the various aspect of photography: digital, travel and history of photography, as well as artistic aspects.
Le Musée Français de la Photographie, also created by Jean et André Fage, will organize a debate on "amateur practice" and will show within their booth a history of the Fair.
Your Comments