Adesso Debuts New UMAX Digital Video Camcorder and Family of Digital Cameras
UMAX, better known for their flatbed scanner range, have unveiled 4 new digital cameras; the UMAX AstraCam DV350, UMAX AstraPix 680, UMAX PowerCam Z530, UMAX PowerCam Z432 and UMAX AstraPix 620. They range from a 2 megapixel up to a 5 megapixel model, with an MPEG4 digital camcorder thrown in for good measure.
Adesso Press Release
New sleek, affordable UMAX cameras allow professional, prosumer and everyday photographers to take high-resolution video and pictures in a snap
Walnut, CA (PRWEB) January 19, 2005—Adesso Inc., a leading manufacturer and distributor of innovative and stylish keyboards, digital cameras, mice, touchpads, and input peripherals, today introduced it will distribute new digital video and still cameras from UMAX. In July 2004, Adesso and UMAX announced a strategic distribution alliance, whereas Adesso would utilize its nationwide network of retail, catalog and online sales partners to sell new UMAX digital cameras. Adesso also services and supports the UMAX cameras.
The new line of digital cameras will be available this month and will be on display during CES in the Central Plaza, booth number Central Plaza, FF14.
"The new UMAX cameras combine the latest in video and imaging technology for professionals, prosumers and novice photographers while still being incredibly easy to use and affordable," said Allen Ku, CEO of Adesso, Inc.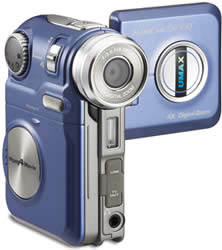 The new UMAX AstraCam DV350 is a 6.6 Megapixel (interpolated) MPEG4 digital camcorder and digital still camera which is perfect for making home videos and capturing high resolution stills. The elegant, compact blue metal design features 4x digital zoom, a 1.6-inch TFT LCD screen with built-in speaker, microphone and 16MB flash memory. The DV350 also records audio and plays MP3s, giving users an all-in-one solution to capture video, pictures, notes and listen to audio files wherever they go. The DV350 also offers an SD/MMC slot for upgradeable storage up to 512MB, allowing users to capture hours of video and hundreds of pictures. The MSRP is $179.99.
AstraCam DV350 Specifications:
• Lens: F/3.0 f = 8.34mm
• Shutter: 1/4 ~ 1/2000 Sec
• Flash Effective Range / Modes: 1.2m ~ 2.0m / Auto / Off
• EV Compensation: -2.0EV~ +2.0EV ( 0.5EV Steps )
• Zoom: 4x Digital Zoom ( 10 Steps )
• Focus Range: Normal / Macro 1.2m ~ 8 / 15 ~ 20CM
• File Format: JPEG( DPOF , EXIF ) Pict-Bridge
• Still Image Resolution: 640x480, 1600x1200, 2048x1536, 2976x2232
• Move Clips Frame Rate: 640x480 / 15 fps, 320x240 / 30 fps
• White Balance: Auto / Sunny / Tungsten / Fluorescent
• Self-Timer: 10Sec / 30Sec
• Interface: PC / TV Out USB 1.0 / NTSC or PAL
The UMAX AstraPix 680 is designed for the serious photographer looking for high performance and affordable point-and-shoot solution. Boasting 8.0 Megapixel resolution (interpolated), the AstraPix 680 offers a 4x total zoom power and a huge 2.0-inch LTPS (Low Temperature Poly Silicon) LCD screen. The AstraPix 680 also records digital video in AVI format, and can also record voice notes. The camera includes 16MB of internal memory which can be upgraded to 512MB via the integrated SD/MMC slot. The MSRP is $159.99.
AstraPix 680 Specifications:
• 8.0MP Resolution Digital Camera (3.1MP CMOS sensor)
• Low power consumption, 2.0-inch LTPS LCD screen
• JPEG / Pict Bridge Still Image Formats: 1280 x 960, 2048 x 1536, 2595 x 1944, 3264 x 2448 (Hardware Interpolation)
• Movie Resolution: 320 x 240, 640 x 480 (with sound)
• AVI Digital Video Format
• Macro: 15~20cm
• Red-Eye Reduction
• White Balance
• USB Interface
• Self-Timer
• Strobe
• Electronic Shutter
• Auto Power-Off
• TV-Out, NTSC / PAL Format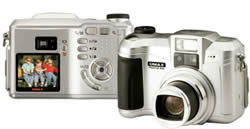 The UMAX PowerCam Z530 is designed to meet the needs of professional and prosumer digital photographers. It features a true, high-resolution 5 megapixel CCD image sensor, 3X optical zoom, 2X digital zoom and a 1.6-inch color TFT LCD screen. The PowerCam Z530 is an easy-to-use high performance camera that produces crisp, clear and highly detailed images with true-to-life colors. Advanced users can set the aperture to control the depth of the fields – the camera will also select shutter speed automatically. The PowerCam Z530 offers impressive shooting flexibility, with an ISO range of Auto/100/200/400/800. With a higher ISO setting, higher speed and lower light conditions are possible.
The camera also features an impressive macro setting allowing mages to be recorded from as close as 1 cm. and also a burst shot mode which enables users to shoot a series of high-speed pictures. With a built-in strobe, the PowerCam Z530 provides five flash modes: Auto, Forced, Forced Off, Red-eye reduction and Slow sync. The Z530 includes a 64MB CF card for further expansion (up to 1GB). The camera is compatible with PC and Mac systems with a $399.99 MSRP.
PowerCam Z530 Specifications:
• Image Resolution: 5.0 mega pixels
• still mode: 2592x1944, 2048x1536, 1280x960 pixels
• video clip:320x240 pixels with sound
• Sensor Resolution: 5.0 mega pixels CCD
• Zoom: 3 X Optical Zoom, 2 X Digital zoom; Playback: Max to 8 X
• Capture Modes: Single, Burst, Movie
• Lens: f=7.3~21.9mm(3 X optical zoom)
• Aperture Range: F/2.6~4.5
• Shutter Speed: 1~1/2000 sec.
• Focus Range: normal: 0.4m~infinity ; Macro: up to 1 cm
• Strobe: mode: auto/fill-in flash/flash off/red-eye reduction/slow sync; range: 0.5m~3.0m
• Exposure: program AE,TTL auto focus; compensation: ±2.0 EV in 0.5 step
• ISO Equivalent: auto/100/200/400/800
• TV-OUT: video/sound ; NTSC/PAL
• SELFTIMER: 2~10 sec. adjustable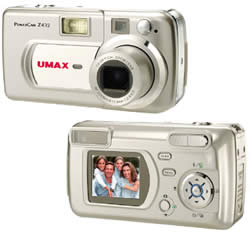 The PowerCam Z432 was developed for the discerning shutter-bug with 5 Megapixel resolution, smooth 12X zoom lens (3X optical, 4X digital ), a 1.5-inch preview LCD screen, and an integrated microphone for video and audio recording. The PowerCam Z432 offers many of the advanced camera controls as the Z530 including aperture range, shutter speed (variable for night and low light environments), focus range, and exposure modes. It can capture high-resolution still as well as AVI movies with sound. The camera includes 16MB of internal memory with an SD card slot for up to 512MB of additional memory. The MSRP is $249.99.
PowerCam Z432 Specifications:
• Sensor Resolution: 1/2.5" CCD, 4.24 megapixels
• Image Resolution: *5M, 4M, 2M, 800K, 300K pixels
• Capture Modes: Single; Continuous; Movie
• Lens: F=5.8~17.4mm, 3X optical zoom lens
• Aperture Range: F2.9 - 5.0
• Shutter Speed: 1/2000 ~ 8 sec
• Focus Range: Normal: 0.5m~infinity; Macro: 10 ~ 50cm
• Strobe: Auto/OFF/ON/Red Eye reduction
• Exposure Mode: multi-pattern TTL AE
• Metering: spot/multi metering
• Compensation: +-2.0EV(1/3 EV step)
• WHITE BALANCE: Auto or Manual (Daylight, Tungsten, Fluorescent, Shade, Black&White)
• Self-timer: 10 seconds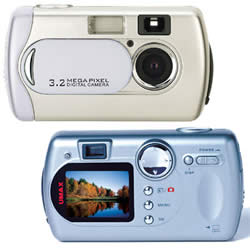 The UMAX AstraPix 620 is an easy-to-use digital camera, featuring a 2 megapixel CMOS sensor (up to 3.2 megapixels interpolated) with 4X digital zoom. It is an extremely light-weight and functions as a digital camera, digital video AVI camcorder (with built-in microphone) and a PC Webcam. The AstraPix 620 includes a 1.5-inch LCD preview screen with an adjustable brightness control. The camera offers a macro function for extreme close-ups as well as special color effects (Normal / B&W / Sepia) to customize each photograph. The camera includes 16MB of internal memory with an SD/MMC slot for additional capacity. Designed for everyday photographers the AstraPix 620 carries an MSRP of $149.99.
AstraPix 620 Specifications:
• MAX RESOLUTION: 3.2 mega pixels
• Sensor Resolution: CMOS sensor with 2.0M pixels
• Capture Modes: single shot, burst shot, and video record
• Focus Range: 1m ~infinity
• Strobe: auto/on/off/red-eye reduction
• Exposure: compensation: +-2.0 EV
• White Balance: auto/daylight/tungsten/florescent
• Sharpness: hard/standard/soft
• Scene Program: auto/portrait/landscape/sport
• Video Out: NTSC/PAL
All Adesso products are available through Ingram Micro as well as major direct vendors including AMAZON, Buy.com, PC Mall, CDW, PC Connection, Provantage and Insight; plus retail stores such as Fry's and Micro Center; and through leading catalogs including CDW, PC Mall and PC Connection.
About Adesso
Adesso was founded in 1992. The company manufactures and markets innovative, ergonomic, industrial, programmable, wireless, and foldable keyboards as well as touchpads, mice and numeric keypads. Adesso most successful product lines include its Tru-Form ergonomic keyboards and Glidepoint touchpads.
The company is located at 565 Brea Canyon Rd. #C, Walnut, Calif. 91789. The company can be reached at (909) 839-2929 or via the web at http://www.adesso.com
Share this article