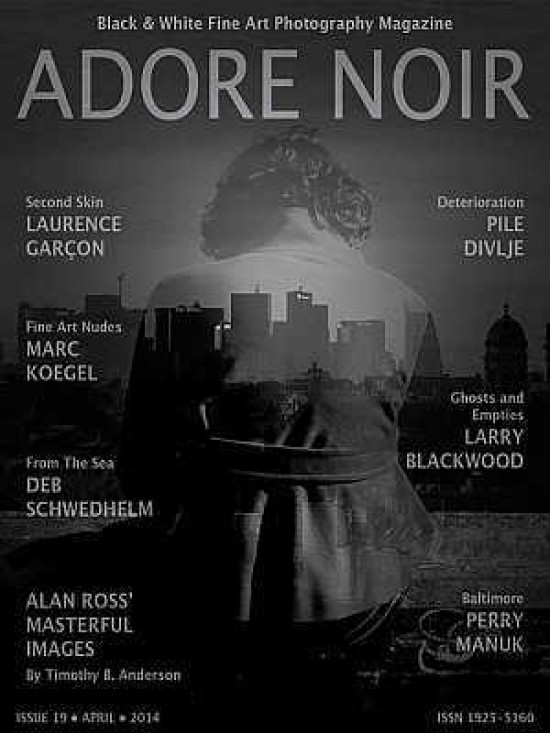 The 19th issue of Adore Noir Magazine is now available for purchase. Adore Noir is a fine art photography magazine available exclusively in digital format. Featuring photographs of deserted Baltimore buildings by Perry Manuk, images of Paris by Laurence Garçon, artistic nudes by Marc Koegel, and much more; this edition reinforces the magazine's commitment to high-quality black-and-white Photography. The latest issue of Adore Noir is available for $2.95 from the website below.
Website: Adore Noir
Press Release
We are pleased to let you know that "Issue 19" of Adore Noir is now available here.
From the abandoned amusement park captured through Larry Blackwood's lens to the deserted buildings of Perry Manuk's Baltimore, we, as humans are driven to document the remnants of where we have been. At a certain point the lights go out, but as Pile Divlje says in his interview, "There is a beauty in darkness, if you open your eyes wide enough." Divlje's Deterioration series alludes to the internal struggles faced by humanity when darkness, both inner and outer, descends.
Allan Ross, as interviewed by Tim Anderson, tells us to "let your enthusiasm guide you," when producing your art. Laurence Garçon guides us through Paris and says, "Paris and its life is my principal inspiration…" Our inspirations lead us to our connections, where we visit the past, the present and the future through our art, and as artists inspiration is a must, but connection to our subjects is also a must, as Marc Koegel tells us, "if you cannot build a connection to your subject it will show in your work." Marc Koegel's nudes are beautiful in their play between light and dark.
When the darkness falls sometimes you need to find your way back to what roots you and hang out there for awhile. Deb Schwedhelm and her family, as she tells us, have lived a nomadic life, and moving from place to place has led her to find roots in photographing water where, she says, she finds "a sense of peace and rootedness."
We, at Adore Noir, wish all of our readers a sense of peace and play as you peruse this issue.
So...Dim the lights, go to your favourite place, sit back, relax and enjoy.
Your Comments