Advanced Compact Camera Reviews 2008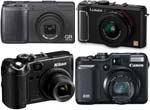 As the end of 2008 quickly approaches, we thought it would be a great idea to round-up all of our advanced compact camera reviews from the past year. There are 26 in-depth reviews in total of cameras that offer at least aperture/shutter-priority modes, which is surprising given the recent trend to de-feature compacts in order to sell more entry-level DSLRs. You should be able to find the right advanced compact camera for you from this round-up.
All of the models are listed by manufacturer, in ascending price order.
Canon
Canon Powershot A580
Canon Powershot A590 IS
Canon Powershot SX10 IS
Canon Powershot SX110 IS
Canon Powershot G10
Fujifilm
Fujifilm FinePix F60fd
Fujifilm FinePix S8100fd
Fujifilm FinePix S2000HD
Fujifilm FinePix S100FS
Nikon
Nikon Coolpix P80
Nikon Coolpix P6000
Olympus
Olympus SP-570 UZ
Panasonic
Panasonic Lumix DMC-LZ10
Panasonic Lumix DMC-FX500
Panasonic Lumix DMC-FZ28
Panasonic Lumix DMC-LX3
Ricoh
Ricoh Caplio GX200
Ricoh GR Digital II
Samsung
Samsung NV40
Samsung NV24HD
Sony
Sony Cyber-shot DSC-W200
Sony Cyber-shot DSC-W300
Sony Cyber-shot DSC-H10
Sony Cyber-shot DSC-H50
Sigma
Sigma DP1
Your Comments