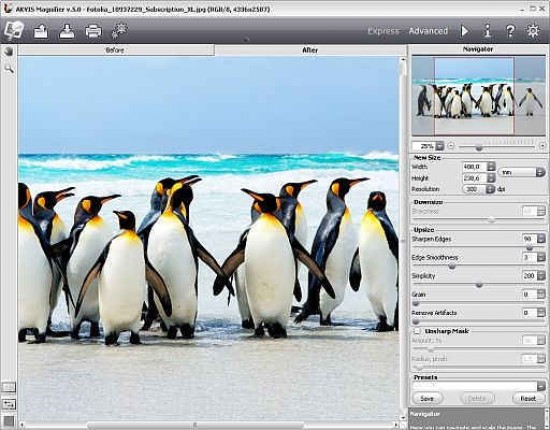 Akvis has released version 7 of Akvis Magnifier. Available as a plug-in or a standalone application, the software is claimed to "deliver good results" when 'uprezzing' a photo to create poster-sized enlargements. "Resizing pictures with Akvis Magnifier yields a much higher quality image than simple bicubic interpolation," the company says. Version 7 offers native 64-bit support, compatibility improvements, a new Crop tool and a Share option that lets you post images from the program to Facebook, Twitter, Flickr, Tumblr and Google+. Registered users of Magnifier can upgrade to version 7 free of charge.
Akvis Press Release
Image Resizing Made Easy with AKVIS Magnifier v.7.0. Now Even Faster!
November 22, 2013 -- AKVIS announces the release of AKVIS Magnifier v.7.0, an efficient software for image resizing without loss in quality. The software is available for Windows and Mac OS X as a standalone program and as a Photoshop plugin. Version 7.0 offers native support for 64 bit, the Crop tool, the Share feature, compatibility improvements, and other changes. Upgrade is Free for registered users.
AKVIS Magnifier makes it easy to produce professional looking enlargements out of digital images.
The software lets resizing photos without losing quality. There are many useful tools to reduce images but it is always hard to obtain a high resolution picture from a small one.
Magnifier is leading software for increasing image resolution, hence the product's name. It not only reducesan image, but also increases it by dozens of times with no artifacts or halos!
Create stylish wall art from your favorite photos, blow up your images into a supersized prints with AKVIS Magnifier! The program enlarges an image to a high resolution making a wall sized poster printable at typographic quality of 300 dpi.
The software is straightforward, easily configurable, and allows fine-tuning of the result. You can use one of the presets or adjust parameters to your liking. When resizing images, the program chooses between specialized algorithms and automatically switches to the optimal one depending on a goal: to reduce, to blow up to 500%, or to make the image even larger - by more than 500%.
The software works with TIFF, JPEG, BMP, PNG, and even RAW files. It supports batch image resizing that lets you process groups of images in automation mode.
AKVIS Magnifier is available as a standalone application and as a plugin for Adobe Photoshop, in versions for Windows and Mac OS X.
In Version 7.0:
Added native support for 64 bit for Windows. Taking advantage of all of the benefits of the 64-bit processor, the program works considerably faster with large images.
Added the Crop tool to the standalone version. The new tool lets you trim a part of a picture. It is extremely useful when you want to improve the image composition, straighten a crooked photo, turn a horizontal photo into a vertical one and contrariwise.
Added the Share option that lets you post images from the program to Facebook, Twitter, Flickr, Tumblr, Google+. Now you can quickly reduce your photo, crop the edges, and share with your friends.
Fixed the batch processing bug and other errors.
And other changes.
Registered users of Magnifier can upgrade to version 7.0 for free.
Download AKVIS Magnifier v.7.0! For a free trial, AKVIS offers 10 days of fully functional use.
The new version runs on Windows XP/Vista/Win7/Win 8 and on Mac OS X 10.4-10.9, both 32 bit and 64 bit.
As an automation plugin, Magnifier is compatible with Adobe Photoshop and Photoshop Elements. You will find the Magnifier plugin in the Automate menu.
The product sells for $89, downloadable from akvis.com. The functionality of the program depends on the license type. Consult the official website for more details about license types and versions of the software.
About Company
AKVIS (http://akvis.com) specializes in development of image processing software and scientific research. The company was founded in 2004 by IT professionals having considerable experience in programming and software development. Since then the company has released a number of successful programs.
Your Comments