Bargain Bucket: 5 Megapixels for £25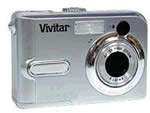 "All right me ol'son, who want's a shiny new digital camera? I've got the latest 5 Megapixel model goin' for a steal. I mean it'd cost me more in petrol to drive to the warehouse and back to nick you one of these. They've got a pop out zoom for crystal clear close ups of every 'air on Uncle Alberts 'ead, they're that good! Now they sell in the shops for an 'undred nicker, but I won't even ask you for half that! I'm not even asking for forty! If you give me thirty five quid, I'll even give you a penny change. And for the ladies I've a lovely pink slimline model to match those mobile phones I sold you last week. And I'll even do these cameras at a special price of £24.99. Rodders has even bought one for Cassandra, haven't you?"
If the above statement sounds too good to be true, let me assure you it's not. However, it's not Del Boy from "Only Fools and Horses" doing the selling, but UK high street chain Superdrug! They are offering the Vivitar 5385, a de-featured Pentax Optio 50 clone with a 1.75 inch LCD,  for the amazing price quoted above, because they're clearing out all digital cameras at half price.
Even at their full price of £70.00 they were a bargain, but at this price, well they won't be around for long.  My local branch were sold out, but had 5 of the 4 Megapixel 4345 models in stock at £29.99, as well as those pink Premier Imaging models (I think they're 5 or 6 MP) that will go well with pink cell phones. Amazingly, the 4 MP version supports PictBridge, but has no optical viewfinder, whereas the exact reverse is true with the 5385. Although the poster in the window stated it was a weekend only offer, my branch were still displaying it and still selling the cameras half price. If you ring your local branch, they may have some in stock and reserve one for you, but hurry, they'll probably be gone in the next few days.
Just why Superdrug are doing this is a mystery - perhaps it couldn't shift the cameras at normal price? I mean, who would think of going to Superdrug for a Digicam? Jessops, Curry's, Boot's, P.C. World, and specialist shops yes, but Superdrug???? Yet at these prices, upgrading to a better point and shoot model than the 2 or 3 MP camera you have is even cheaper than buying a basic no frills model for the kids. The only drawback is that with Superdrug clearing these models, if they develop a fault then the best you can expect from them is a refund, unless you try and return it to Vivitar, whose returns details can be found here: http://www.vivitar.co.uk/troubleshooting/
Colin Glover
Have you heard about a fantastic photography deal that simply defies belief? Email a short summary to bargainbucket@photographyblog.com and we'll publish the best ones.