Behind the Scenes at the Nikon 1 Factory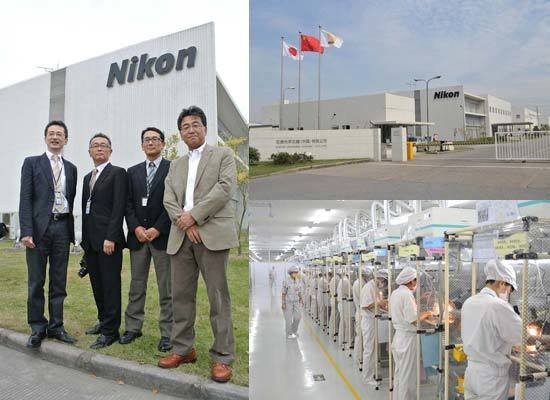 An exclusive behind-the-scenes look at the Nikon 1 Factory in China.
Last week saw the launch of the Nikon 1 compact system camera range, with two new cameras, the V1 and J1, four lenses and accessories representing the start of a major investment in the future for the company.
Nikon invited us to visit their factory in Wuxi province, China, where all of the Nikon 1 products are exclusively manufactured. This facility has been producing Coolpix compacts since 2004, starting with the 4200/5200 models and most recently the S8200 and P300. The Nikon One range represents Nikon China's most complex product to date, and as we saw during our factory tour, it's definitely a labour of love for the 8,292 workers, who require 130 coaches to bring them to the factory and operate over 7 different daily shifts.
The V1 camera is made up of 195 separate parts, the J1 183 parts,  the 10-30mm lens 172 parts and the 3-110mm lens 165 parts, with most of them sourced from within China. As we discovered, a surprising amount of work is done by hand rather than by machine – for example, every Nikon logo on the front plate of the V1 and J1 is painted by hand because it apparently gives better quality and colour than a machine could produce. We saw many examples of this meticulous and labour-intensive approach throughout the tour of the Nikon One production line, something that is very specific to China where employee turnover is high and workers shift from one task to the next.
More than 80% of the workforce is made up of women, again a reflection of the Chinese labour market, with the average age of workers being 25 for females and 24 for males. There are so many employees on the 54,000m2 site that a coloured hat system is used to differentiate between the hierarchies so that people can more easily recognise their superiors! Each worker is assigned their own identical mug to drink from, labelled with a unique number, while the massive locker building is three floors in height.
The Nikon One is the company's first system since the F-mount was launched over 50 years ago, so the investment in Nikon China indicates how much faith has been placed in what is typically viewed by most outsiders as a less stringent manufacturing source than Nikon's country of origin, Japan. Our exclusive look behind the scenes, the first by any members of the press since it opened in 2002, certainly impressed upon us just how much attention to detail goes into the making of the Nikon One.
We weren't allowed to take our own photos during the factory visit, but these official pictures should give you some idea of what we saw during our illuminating time there.
Image Gallery
Click on a thumbnail to see the full version.
Your Comments