Braun Vidi Proof Digital Camcorder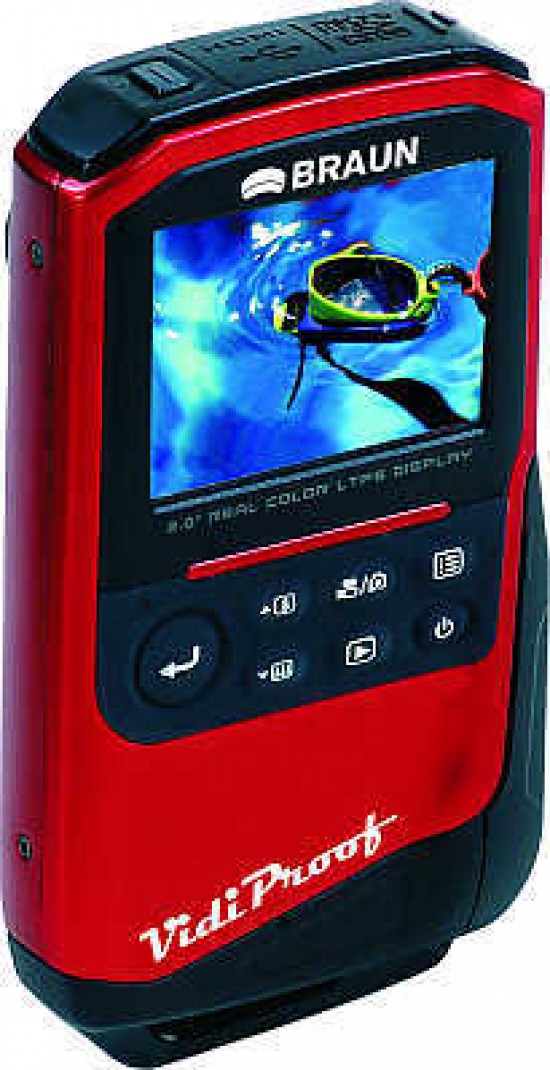 Kenro has announced the UK availability of a waterproof digital camcorder, the Braun Vidi Proof. In addition to recording Full HD videos, the Braun Vidi Proof camcorder can also capture 5-megapixel stills. Other features include a self-timer and a 2.0 inch LCD screen. The camera is powered by two AA-sized batteries, and records photos and videos on microSD memory cards. The suggested retail price is £103.80.
Kenro Press Release
Make underwater videos with the Braun Vidi Proof Camcorder

Kenro, the UK and Ireland distributor for Braun, the respected German manufacturer of cutting-edge digitization products, has announced the availability of a digital waterproof camcorder, the Braun Vidi Proof.

Designed with water sport enthusiasts in mind this camera records action and shoots photos with clarity. Bring it to the beach and make movies underwater up to a depth of 3 metres, it's great for snorkelling, body boarding or capturing the waves whilst surfing. It's also a fun piece of kit for kayaking and canoeing.

As well as making video recordings of up to 60 minutes, the device can also take photos with a 5 megapixel s CMOS sensor and 4x digital zoom. Other features include a self-timer, image playback and a 2.0 inch LCD screen.  It holds a Micro SD card up to 16GB and runs on 2x AA batteries.

Technical features:
Video Image Resolution: Full HD: 1920x1080 P30 , 1080P: 1440x1080 P30, 720: 1280?720 P30 WVGA60: 848?480 P60,  WVGA30: 848?480 P30 , VGA: 640?480 P30 ,  QVGA; 320?240 P30
Still Image Resolution: 3.0M (2048x1536) , 5.0M (2592x1944) , 8.0M (3200x2400, Hardware Interpolation )
File Format : Picture JPEG : Video MOV (H.264 )
Focus range Normal: 1M- Infinity, Full HD: 1920x1080 P30 without Digital Zoom,  1080P: 1440x1080 P30 Digital Zoom 2X,  720P: 1280x720 P30 Digital Zoom 4x, WVGA: 848x480 P30 Digital Zoom 4X, WVGA: 848x480 P60 Digital Zoom 4x, VGA: 640x480 P30 Digital Zoom 4x, QVGA: 320x240 P30 Digital Zoom 4x
Auto Power Off: Off / 1 Minute / 3 Minute / 5 Minute
ISO  Auto/200/400
White Balance Auto/Sunny/Cloudy/Fluorescent/Incandescent
Exposure Compensation: -2.0EV - +2.0EV in 0.3 steps
Shutter Speed 1/8th - 1/4000 sec
USB Port: USB 2.0 High Speed
HDMI or YPbPr out: HDMI
Paul Kench, the Managing Director of Kenro commented: "This is a wonderful camera to take on adventures and is really fun for kids too. This robust little device films the action in high quality and is great for taking pictures and making movies whatever the conditions."

SRP is £103.80

If you would like further information, or want to find your nearest stockist, go to www.kenro.co.uk or call 01793 615836.
Your Comments