Calumet to Help Photographers Gain HNC/HND Qualifications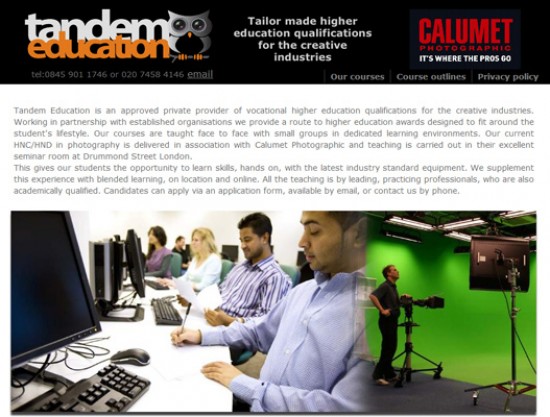 Calumet UK is linking with Tandem Education – the private provider of vocational higher education qualifications - to offer photographers an opportunity to attain HNC/HND in photography qualifications.A spokesman from Tandem Education said: "The idea is simple. Anyone who wishes to gain a serious vocational qualification in photography can sign up to one of these courses. These are not training sessions. This will not be like attending a one-day seminar on Photoshop. Students will be studying to attain a Level 4/5 higher education qualification." The courses – which will have no more than12 students on each one – are aimed at both undergraduate and mature students who may have no formal qualification in photography. A 120 credit course (full HNC) will cost a total of £3,192 including VAT. A 60 credit course costs £1,596 including VAT, excluding exam fee of around £190
Calumet Press Release
Need an HNC/HND? Talk to Calumet
In what is believed to be a first for the industry Calumet is linking with Tandem Education – the private provider of vocational higher education qualifications - to offer photographers a unique opportunity to attain HNC/HND in photography qualifications.
Following months of talks the new highly flexible 'Photo-College' courses will launch at Calumet's flagship Drummond Street, Euston store this summer.
Sian Hamer, Calumet marketing executive explained: "Education has always been a priority for us. But now we are taking things to a new level. This is a giant leap forward to help our photographer customers gain internationally accepted vocational qualifications within a brand new and highly flexible framework. And if this programme is successful in London we will look at a roll-out across the country."
Under the pioneering scheme students on the courses will have access to state-of-the-art Calumet equipment as required, including usage of latest high-tech computers with high-end monitors.
A spokesman from Tandem Education said: "The idea is simple. Anyone who wishes to gain a serious vocational qualification in photography can sign up to one of these courses. These are not training sessions. This will not be like attending a one day seminar on Photoshop. Students will be studying to attain a Level 4/5 higher education qualification.
This is about serious education with an internationally recognised HNC/HND qualification at the end of it – a qualification recognised not just by employers but also by universities."
A key driver with the programme is flexibility.
Said the spokesman: "Students can come to Calumet for say one day a week for twenty weeks and they can then continue the course with online distance learning."
The courses – which will have no more than12 students on each one – are aimed at both undergraduate and mature students who may have no formal qualification in photography.
He added: "Our courses will be hands-on – not just working at the Calumet location but also with professional photographers who have premises around London.  They can study in segments of 60 credits – a full HNC is 120 credits. It means that nobody has to give up work to gain a real and internationally valid qualification. This course will also suit those who may already have degrees in other disciplines, like accountancy – but who are looking to switch to a new career in the creativity sector."
A 120 credit course (full HNC) will cost a total of £3,192.00 Inc VAT. A 60 credit course (half an HNC) costs £1,596.00 inc VAT (excluding exam fee of around £190)
For more information and to apply for the courses visit www.tandemeducation.com
Your Comments