Canon Digital IXUS 80 IS / PowerShot SD1100 IS ELPH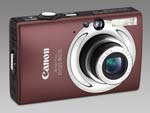 The Canon Digital IXUS 80 IS (Europe) / PowerShot SD1100 IS ELPH (US) is a new 8 megapixel compact digital camera. The IXUS 80 IS / SD1100 IS offers a 2.5" PureColor LCD II screen, DIGIC III image processor, upgraded High ISO Auto mode with new Motion Detection Technology, and 3x zoom with optical Image Stabilizer. The Canon IXUS 80 IS / SD1100 IS features Canon's 'perpetual curve' design and is available in four subtle colour variations. The Canon Digital IXUS 80 IS will be available from March 2008 priced at £219.00 / €319.00.
Canon Europe Press Release
Digital IXUS 80 IS: Attractive colours and vivid images
Amstelveen, The Netherlands, 24 January, 2008: Canon announces a fresh addition to its Digital IXUS range: the 8.0 Megapixel Digital IXUS 80 IS. The Digital IXUS 80 IS is available in four subtle colour variations and incorporates Canon know how: intelligent automatic features that produce flawless snapshots. Canon know how includes the brand new Motion Detection Technology feature, which determines the movement of the camera and subject so that everyone can say bye-bye to blur.
The Digital IXUS 80 IS incorporates other leading technologies including a 2.5" PureColor LCD II screen, DIGIC III image processor and 3x zoom with optical Image Stabilizer (IS). Together with enhanced Face Detection Technology and Auto Red-Eye Correction as an option in shooting mode, these features offer a significant step up in technologies.
"The Digital IXUS 80 IS is an attractive, intelligent addition to the Digital IXUS range," said Mogens Jensen, Head of Canon Consumer Imaging, Europe: "It gives users access to the latest Canon technologies to assist them in tricky shooting situations, making even difficult set-ups simple point-and-shoot affairs. They can also match their camera to their personal style, by choosing from one of four colour options."
Features:
???? Stylish perpetual curve design in four colours
???? 8.0 Megapixel image sensor
???? 3.0x optical zoom lens with optical Image Stabilizer
???? High ISO Auto with new Motion Detection Technology
???? Face Detection Technology with new White Balance and Face Select & Track functions
???? DIGIC III with Noise Reduction technology
???? Automatic Red-Eye Correction in shooting and playback
???? 2.5" PureColor LCD II
???? 18 shooting modes including new Sunset mode and My Colors photo effects
???? Extensive movie options including VGA 30fps, Long Play and Time Lapse movie modes
Pure aluminium body The Digital IXUS 80 IS unites style and practicality. The perpetual curve body incorporates pure aluminium, giving the camera a smooth yet solid texture and the unmistakable feel of quality that is inherent throughout the Digital IXUS range. Available in four colours – Classic Silver, Caramel, Chocolate, and Candy Pink – the Digital IXUS 80 IS offers users the chance to express their personality.
All about the image In a first for an entry level Digital IXUS, the Digital IXUS 80 IS includes a 3x optical Zoom with Canon's lens-shift type optical Image Stabilizer (IS). The lens gives a 38-114mm (35mm equivalent) field of view, perfect for the people shots at the heart of Digital IXUS photography. Canon's lens-shift optical IS has the advantage over rival ISO-based stabilisation systems because it physically corrects the light path to stabilise the image, rather than simply boosting ISO. Canon's IS produces blur-free images with no related increase in noise.
Bye-bye to blur – new Motion Detection Technology New for 2008, Motion Detection Technology continues Canon's drive to make high quality images easy universally achievable. Activated when High ISO Auto is selected, Motion Detection Technology uses data gathered from four sources – Face Detection Technology, the optical Image Stabilizer, scene brightness and subject movement – to detect and calculate the appropriate exposure values. Blur is eliminated by boosting ISO to the optimum level between ISO 80-800. The system works intelligently, increasing ISO only when needed, avoiding the unnecessary increase in noise caused by other, less-intelligent, systems.
Enhanced Face Detection Technology The Digital IXUS 80 IS introduces newly enhanced Face Detection Technologies to Digital IXUS. The Face Select and Track feature follows a user-selected face for as long as it remains in the frame, ensuring excellent results whenever the shutter button is pressed. New AF Point Zoom allows the photographer to magnify the AF frame when the shutter button is pressed half way, so that facial expressions can be checked before shooting. AF performance in low light has been significantly improved to achieve focus in scenes at around one stop darker.
Face Detection Technology now includes Face Detection White Balance (WB). This function prioritises the colour temperature of the detected face over background colours, setting the optimum white balance for natural skin tones.
Red-Eye Correction is also enhanced for 2008. The popular feature can now remove red-eye automatically during shooting, as well as in playback mode.
Easy viewing The Digital IXUS 80 IS features a 230,000 dots resolution 2.5" PureColor LCD II screen. The screen offers high colour contrast and an exceptionally wide viewing angle – the image remains clear at virtually any angle. The Digital IXUS 80 IS also includes a real-image zoom optical viewfinder (OVF), enabling the screen to be turned off to conserve battery power.
Enhanced flexibility The Digital IXUS 80 IS adds new Sunset Mode to its complement of Special Scene modes. Sunset optimises camera settings for improved capture of this popular, but sometimes tricky, photographic subject. The new Trimming function allows users to quickly and easily remove unwanted parts of the image. Trimming integrates with Face Detection to snap to faces, enabling the easy creation of portrait images. The new image can be saved to a separate file, or the original image can be overwritten. The Digital IXUS 80 IS retains My Colors in-camera photo effects, Long Play (LP) Movies and Time Lapse Movies from previous models, making it a high-powered, flexible addition to the Digital IXUS range.
About Canon Consumer Imaging, Canon Europe
Canon Europe is a subsidiary of Canon Inc. of Japan, a world-leading innovator and provider of photographic and imaging technology. Canon Inc. was founded in 1937 and has a heritage of 70 years in optics research and development.
The Consumer Imaging division incorporates the following product groups: photo, video, ink jet and laser printers and multifunctional devices, projectors, scanners and fax machines.
Further information about Canon Europe is available at: http://www.canon-europe.com
Additional Information
Printing The Digital IXUS 80 IS features a dedicated Print menu for quick access to direct print options. Full PictBridge support means users can print directly to any PictBridge compatible printer without the need for a PC. A Print/Share button allows one-touch printing and easy uploads to Windows or Mac systems. New for 2008, print order settings can be made in Playback mode by pressing the Print/Share button. When connected to a PictBridge compatible printer, the camera offers the option to print the print list by the quickest method.
Memory card support
In addition to SD, SDHC and MMC memory cards, the camera supports the new MMCplus and HC MMCplus formats for storage of up to 32GB. The Digital IXUS 80 IS comes supplied with a 32MB memory card.
Software
The Digital IXUS 80 IS comes bundled with the following Canon Software:
???? ZoomBrowser EX 6.1 (Windows), ImageBrowser 6.1 (Mac): For organising and editing images, movies and slideshows, or creating and printing digital photo albums.
???? PhotoStitch 3.1 (Windows), PhotoStitch 3.2 (Mac): For creating panoramic photos from multiple images.
The bundled software supports Windows 2000 (SP4), XP (SP2), Vista and Macintosh OS X v10.3-10.4.
Purchasers of the camera are eligible for membership of CANON iMAGE GATEWAY1, 100MB of online 'personal gallery' space for sharing stills and video with family and friends.
Accessories
A range of optional accessories includes:
???? Waterproof Case (40m) (WP-DC22)
???? High Power Flash (HF-DC1)
???? Soft Leather Case (DCC-60)
???? AC Adapter Kit (ACK-DC10)
???? Digital IXUS Metal and Leather Straps
1 CANON iMAGE GATEWAY is not available in all European countries. Please see http://www.cig.canon-europe.com for available countries. Movie upload requires users to download and install the movie upload task, available after registration from the CANON iMAGE GATEWAY site.
Technologies Explained
DIGIC III
Canon's DIGIC III (DIGital Imaging Core) image processor manages all of the camera's primary functions to optimize operating efficiency. Advanced image processing algorithms deliver superb image detail and colour reproduction with accurate white balance. High-speed processing results in outstanding responsiveness, rapid auto focus and extended continuous shooting ability. DIGIC III also powers advanced Noise Reduction Technology and Face Detection Technology.
Face Detection Technology
Canon's Face Detection AF/AE/FE/WB system automatically detects up to nine faces within a frame before adjusting the focus, exposure, flash and white balance to ensure optimal results. It is able to determine which faces are intended to be the subject, instantly reverting to the partnering 9-point AiAF system if no face is detected as the primary subject. Auto Red-Eye Correction integrates with Face Detection Technology to remove red-eye during shooting.
Motion Detection Technology Canon's Motion Detection Technology uses several methods to detect camera and subject movement and set exposure accordingly. The brightness of subject and background, movement of the subject (based on comparison of frames over time) Face Detection information and camera shake information from the optical Image Stabilizer (IS) gyros are all taken into account. Where motion is detected the camera automatically selects the appropriate ISO level between ISO 80-800 to achieve a shot with minimal noise and zero blur.
iSAPS
iSAPS (Intelligent Scene Analysis based on Photographic Space) automatically optimises key camera settings before every shot. Each scene is analysed and cross-referenced against Photographic Space – a vast in-camera library of photographic data. This enables the camera to make optimal adjustments to auto exposure, auto focus and auto white balance before image capture occurs.
Ultra-High Refractive Index Aspherical (UA) lens technology
Canon's UA lens was the world's first ultra-high refractive index glass molded aspherical lens. Made from glass with a higher refractive index than other aspherical lenses, it allows for an exceptionally slim and compact lens unit. The glass molded aspherical shape delivers remarkable image quality and helps avoid the image aberrations that can occur with spherical lens designs.
Optical Image Stabilizer
The Digital IXUS 80 IS uses a lens shift-type Image Stabilizer (IS) system to detect and correct slight camera shakes that can cause image blur. Minute vibration gyros detect lens tilting caused by hand shake. These signals – 4,000 per second – are processed by a single-chip IS controller, which discriminates between hand shake and intentional camera movements. Shake signals are sent to the IS unit, which moves one of the lens elements accordingly to deflect the light rays and cancel out the effects of shake. For improved accuracy and responsiveness, the moving lens element is supported on tiny ceramic spheres. In addition to minimising friction, ceramic spheres avoid some of the problems that can affect metal systems, such as thermal expansion and magnetism. The optical IS of the Digital IXUS 80 IS allows photographers to shoot at shutter speeds up to 3 stops slower with no perceptible increase in image blur due to camera shake.
Digital Tele-Converter and Safety Zoom
Similar to placing an accessory lens on the front of the camera, Canon's Digital Tele-Converter adds a constant zoom to every shot – 1.6x or 2.0x, depending on the image size selected. While optical converter lenses cause a reduction in aperture and consequently require a slower shutter speed, the Digital Tele-Converter maintains aperture size, reducing the risk of image blur.
Safety Zoom protects the image from interpolation at high levels of Digital zoom, allowing users to extend zoom magnification without sacrificing image quality.
Level of Safety Zoom possible at each image size setting:
Large
Medium 1
Medium 2
Medium 3, Postcard Date Imprint
Small
3.0x
3.8x
4.8x
6.1x
12x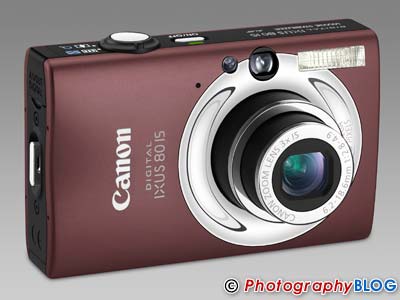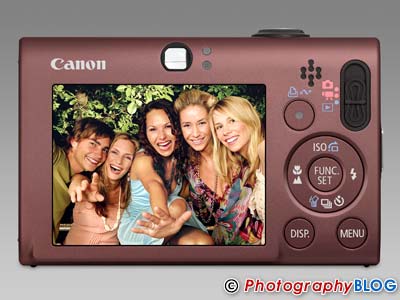 Share this article