Canon Digital Rebel XT / EOS 350D eBook Released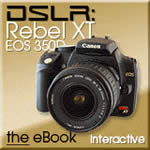 Graphics Management Press - Press Release
Digital Secrets and Graphics Management Press have released DSLR: Canon Digital Rebel XT / EOS 350D eBook.
A deep camera deserves a deep eBook. Something that goes beyond the manual and explores how to get much more out of the camera and its features. That's the targeted goal of the DSLR series of eBooks.
The Canon Digital Rebel XT is an amazing camera with features so deep that virtually no single photographer uses them all. There are even four different functioning cameras inside the XT and each behaves with different buttons in different ways for different kinds of photographic results.
Here's a camera that has redefined the DSLR market and the new Rebel XT eBook digs deep beneath its surface to bring out its secrets, special techniques, tricky technologies and wide range of accessories and lenses.
Secrets: Inexpensive remote slave flash units fire off of a single flash pulse. Do you know you can fire these units with the XT? Do you know how to do it without seeing the camera's flash in the picture? Do you know how the wireless flash transmitter for 50 cents?
Special Techniques: Did you know you can shoot images with about 90% of Large frame resolution and store them in 60% of the memory space? You?ll want to know this when your memory card is beginning to overflow.
Tricky Technologies: You have two subjects four feet apart with the nearest six feet in front of you and you want both of them plus the horizon to be razor sharp while your Kit lens is zoomed to 23mm. Now what do you do? You compute the Depth Of Field because you printed out those pages from the eBook and had them in your camera bag. Or perhaps you just printed out the handy hyperfocal distance chart.
Wide Range of Accessories and Lenses: Did you know that you can buy a Canon 50mm f/1.8 EF Macro lens with auto focusing down to 1:1.5 (making an image bigger than actual size!) if you know how to buy it? Price: about $160. Canon can?t sell it to you directly, but the eBook tells you how to get it overnight.
DSLR: Rebel XT brings you 546 giant pages with a wide range of topics and activities every digital photographer ought to know or do:
Camera and digital history from ancient times to yesterday afternoon
Interactive visual explorations of color theory
Demonstrations of optical illusions never before seen on a page that will rattle your retina and show how seeing is far from
A beginners course in Photoshop ? the seven steps that will tame this beast and make it your pet program
Using Photoshop Layers to expand your image manipulation abilities
Overcoming photographic myths and turning them into opportunities
Learning the camera?s every nook and cranny button by button and menu by menu as a series of photographic options for real-world image gathering
Getting 21 photographic assignments to expand your digital image shooting skills
Understanding the answers to the top 80+ How Do I? and What The? questions all photographers ask
Knowing what to print and how
Experiencing the wonderful world of special effects
Plus two deep chapters on the iNovaFX Photoshop Actions that are included on the CD with versions for Photoshop 6, 7, CS and CS2.
Now numbering over 530, these custom bits of Photoshop code automate six main types of image manipulations for the Rebel XT's unique frames:
Image Correction. Wrong colors, barrel distortion and aberrations: gone in a mouse click
Image Refinement. Sharper, better color, clearer tonalities, grad and cross star filters added after the shot was made
Push processing. ISO boosting up to 6400 and useful images from up to 5+ extra stops of underexposure
Artful Transformations. Turn images into drawings, painting and original effects that can only be done in the digital darkroom
Exotic Frames. Turn XT images into roll film, 35mm and even 4x5 sheet film frames or graphic postage stamp frames
Tutorials. Perspective control, tele pano and wide field stitched panoramic skills in Photoshop and PS Elements
Plus many that defy categorization like the Panacea filter, the commercial ad special effects and the series of motion picture-inspired graphic treatments that bring exotic visual effects from The Aviator, Sin City and Sky Captain and the World of Tomorrow to your images.
There?s even a custom PS Action included that absolutely flattens images shot with the Sigma 8mm AF fisheye lens on the Rebel XT.
The second iNovaFX chapter features over 60 vital manipulations translated into procedures for Photoshop Elements 2 and 3.
For the advanced Rebel XT photographer, Uwe Steinmueller?s deep penetration into the world of RAW image photography, RAW Materials XT edition is included interactively as a separate volume.
Additionally, capping the eBook is the large interactive Appendix which connects you to the Internet through its live links, plus the interactive Index that lets you search the entire text with clicks on its list of references.
At the end of eBook, just for desert, there is an expanded Gallery of XT photography with interactive final/before examples and visual essays that inspire and teach interesting ways of seeing.
"I?m chagrinned at how long this volume took to produce,? said Peter iNova, designer and author of the intricate 130-page camera operations chapter, ?but the camera kept delivering so many rewarding experiences, I couldn?t bear to pass them by without burrowing into each one and revealing how best to use them all."
Other eBooks by iNova and Steinmueller include the very popular DSLR: Nikon D70 and DSLR: Canon Digital Rebel. More eBooks in the series are in production.
DSLR: Canon Digital Rebel XT. 546 pages. 1450+ images, charts, tables, practice and demo images, animations, test carts, in-camera color filters, demo and reader software from Adobe and others, Shooting for FX color booklet and a new poster-size chart of Canon lens data, lens accessories and specs with current street prices. Price of the eBook: $49.95 US plus p/h.
You may order the eBook from GMBooks.com or save $6.50 on postage and handling.