Canon EOS-1Ds Mark II Firmware 1.1.6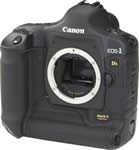 Canon have released a new firmware update (version 1.1.6) for the EOS-1Ds Mark II DSLR.
It fixes the phenomenon wherein the camera does not detect the capacity correctly when high-capacity recording media are initialized. 
a) SDHC cards with capacities exceeding 2GB (e.g., 4GB, 8GB) are now supported.
b) The phenomenon wherein the camera cannot correctly detect the capacity of CF cards with capacities exceeding 8GB (e.g., 12GB, 16GB) correctly when they are initialized has been corrected.
Website: Canon EOS-1Ds Mark II Firmware 1.1.6