Canon EOS 30D vs 20D Noise Comparison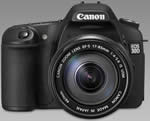 Does the 8 megapixel Canon EOS 30D DSLR (pictured) produce noisier images than its older sibling, the EOS 20D? Website Digit.no certainly seem to think so, as they have just published a whole article about it (in English).
"Does the EOS 30D deliver more image noise than the EOS 20D? I have analysed the results of all four cameras and the consice answer is: Yes. Although there are some variations between the two samples of each model, the tendency is clear: Both samples of the EOS 30D delivered more image noise than the two samples of the the EOS 20D."
Website: Digit.no - More image noise in Canon EOS 30D than EOS 20D?
Share this article