Canon Pixma iP1300, iP1700, iP3300, iP4300, iP5300 and iP6700D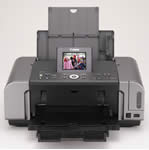 Canon UK Press Release
Canon is launching six new photo lab quality printers as part of the third generation PIXMA range: the iP1300,  iP1700, iP3300, iP4300, iP5300 and iP6700D. Benefiting from advantages derived from the unique combination of Canon's digital imaging, media handling and print head know-how, these PIXMA printers also showcase an eye-catching new range design and continue the PIXMA tradition of delivering the finest in photo lab quality output at outstanding print speeds. With the iP4300, Canon introduces the successor to the PIXMA iP4200, Europe's best selling inkjet printer,  while the iP5300 sets new records for PIXMA, slashing speeds for a single 10x15cm (4"x6") print to just 21 seconds. With this new generation, PIXMA gets even better.
"By extending our range of photo printers with the third generation of PIXMA, Canon offers ever more choice to consumers and proudly introduces the iP4300 as the successor to Europe's best-selling inkjet printer," said Alessandro Stanzani, CCI Country Director Canon UK. "PIXMA printers allow consumers to unlock their creativity, combining the finest in photo lab quality and stylish contemporary designs."
The new range of PIXMA photo printers features:
- Superior quality photo printing, incorporating the next generation of FINE (Full-photolithography Inkjet Nozzle Engineering) print head technology with ink droplets as small as 1pl (depending on model) and ChromaLife1004 for exceptional print longevity
- Eye-catching designs that combine functionality with style, in keeping with the face of today's technologically advanced homes
- A complete range of stylish print options, offering a photo printer to suit every requirement, including: direct printing, compatibility with a range of media types and sizes and advanced functionality (dependent on model)
Even better – the 21 second iP5300
The third generation introduces several new models and key technology advances to the PIXMA line up. The headline iP5300 sets new speed records for PIXMA, delivering a 10x15cm (4"x6") borderless photograph in only 21 seconds. The printer has a maximum resolution of 9600 x2400dpi, employing approximately 9 µm Micro-Nozzles delivering droplets as small as 1pl for superior photo lab quality. The PictBridge-ready iP5300 also offers a versatile range of additional printing options, including auto duplex, 2-way paper feeding and direct printing onto DVD and CD.
Superior quality
Photo lab quality at high speed is a shared characteristic of all six printers, with even the entry level iP1300 delivering a print in only 70 seconds. The iP1300, iP1700 and iP3300 offer great value for money without compromising on quality. Each has a print resolution of 48005x1200dpi, employing ink droplets as small as 2pl for photo lab quality prints.
At the upper end of the range, the iP4300, iP5300 and iP6700D offer 9600x2400dpi resolution. Using tiny droplets as small as 1pl, colour clarity is consistently maintained and print speeds boosted.
Eye-catching designs
Eye-catching new design concepts characterise third generation PIXMA printers, noticeably with the iP5300 and its stunning black and metallic effect finish. Across the range, control systems have also been refined – the range leading iP6700D features a full size 3.5" (8.9cm) colour LCD screen and operation panel, incorporating a range of sophisticated imaging tools, such as red eye correction, and the ability to print out a contact sheet of up to 35 images on a single piece of A4 media.
Photos that last 100 years
While the iP1300 and iP1700 use the convenient, easy-to-maintain FINE Cartridge system, the mid-range iP3300 offers consumers Single Ink tank printing at a new low price. The iP4300, iP5300 and iP6700D also feature Canon's economical Single Ink system. Canon's ChromaLife100 system delivers exceptional print longevity for up to 100 years in an album with all new PIXMAs, regardless of whether Single Inks or a cartridge is used.
More print options with new PIXMA
With PIXMA, every user can decide on the printing option best suited to their needs.
While it's a simple process to connect every PIXMA to a computer via USB for fast printing, with all necessary imaging software supplied,  all models (apart from the iP1300 and iP1700) offer USB2.0 Hi-Speed and PictBridge direct printing. For users requiring even greater flexibility, the iP6700D also offers multi-format Card Direct printing, as well as IrDA and optional Bluetooth connectivity (using the separate Bluetooth Unit BU-20). Even photographs stored on mobile phones can be printed wirelessly without fuss. All new PIXMA printers support a range of Canon Media, from credit card to A4 size.6 Two-way paper feeding with the iP3300, iP4300, iP5300 and iP6700D, employing front and rear trays, allows both plain and photo paper to be held at the same time for greater convenience when document and photo printing are regularly required. The iP4300, iP5300 and iP6700D also feature auto duplex functionality, for 2-sided text and photo printing, as well as direct printing onto a compatible DVD or CD.
Pricing and availability
PIXMA iP1300: Available from October 2006 priced at £35.00 RRP inc. VAT and €50.53 RRP inc. VAT
PIXMA iP1700: Available from October 2006 priced at £39.00 RRP inc. VAT and €56.31.00 RRP inc. VAT
PIXMA iP3300: Available from September 2006 priced at £59.00 RRP inc. VAT and €85.18 RRP inc. VAT
PIXMA iP4300: Available from September 2006 priced at £79.00 RRP inc. VAT and €114.06 RRP inc. VAT
PIXMA iP5300: Available from October 2006 priced at £129.00 RRP inc. VAT and €186.25.00 RRP inc. VAT
PIXMA iP6700D: Available from September 2006 priced at £149.00 RRP inc. VAT and €215.13 RRP inc. VAT
Reader enquiries
UK – 08705 143723 / www.canon.co.uk    
Eire – (01) 2052400 / www.canon.ie
Software
PIXMA photo printers are bundled with Canon image control software:
- Easy-PhotoPrint – prints photos in three easy steps. Assisting with options such as media selection and scaling, it includes features such as Face Sharpener for out-of-focus face correction, Red Eye Correction and Digital Face Smoothing to reduce the appearance of wrinkles.
- Easy-WebPrint (Windows only) – sits on the Explorer toolbar and takes the frustration out of web page printing, saving time, ink and paper by correctly scaling output to prevent the loss of any information.
- PhotoRecord (Windows only) – guides users through printing a personalised photo album, including assistance with printing on Canon's double-sided photo paper.
- CD-LabelPrint – simplifies printing directly onto print-ready DVDs and CDs (iP4300, iP5300, iP6700D).
Compatibility
PIXMA printers are compatible with Windows 98/Me/2000/XP and Mac OS X v10.2.8 to 10.4.
Media
Canon's competitive advantage in printer hardware technology is fully realised when genuine Canon photo grade media and inks are used. The diverse and growing range of Canon media is developed specifically to work in combination with Canon's FINE print technology. Photo papers and media are available in a wide range of formats (including mini stickers), finishes (from matte to semi-gloss to super high gloss) and sizes: from credit card and a new 10x18cm Wide size (4"x7.1") to 8"x10" (20x25cm) and A4. Glossy Photo Paper "Everyday Use" (GP 501) is ideal as an affordable way of sharing digital photographs. The flagship Photo Paper Pro (PR-101) offers the highest-grade professional results with ultimate durability. A double-sided photo paper (PP-101D 13x18cm (5"x7") and PP-101D A4) is also available together with a high quality Photo Album Kit (PAK-101).
Technologies Explained
FINE
Canon's patented FINE semi-conductor manufacturing technique is used to create print heads with exceptionally high nozzle count and nozzle density.  This enables Canon printers to achieve market-leading print speeds and photo quality for photo and document printing. These get more ink on the page in less time than is possible with traditional inkjet technology, delivering fast borderless photo prints.
FINE print heads can also achieve grain free photo lab quality by delivering millions of microscopic droplets at a minimum size of 1pl (depending on model) each second with extremely high consistency and accuracy from approximately 9 ?m diameter Micro-Nozzles.
ChromaLife100
For improved fade resistance, PIXMA photo printers support Canon's ChromaLife100: a system of genuine Canon dye-based inks, which deliver exceptionally broad colour gamut, and specialised photo paper designed to work together with FINE print heads. The technology 'triangle' of nozzle design, ink and media produces prints that rival silver halide quality and longevity. Prints resist fading for 100 years when album-stored, 30 years when displayed under glass and 10 years when exposed to the effects of the air.
1 Available in selected regions.
2 GfK, Jan-Feb 2006.
3 Borderless 10x15cm photo lab quality print speed based on Standard driver setting using Canon Photo Paper Plus Glossy media.
4 See Technologies Explained.
5 See specifications
6 See Additional Information.
7 All figures are estimates based on accelerated tests and are not guaranteed. 100 year figure applies to PR-101, PP-101, SG-101/SG-201, GP-401, GP-501 media, images stored behind plastic cover sheet. 30 year figure applies to PR-101 and PP-101 media, 10 year figure to PR-101 only. Lightfastness and gasfastness figures assume a typical indoor environment avoiding direct sunlight. For more information on ChromaLife100 please visit www.canon-europe.com/chromalife100