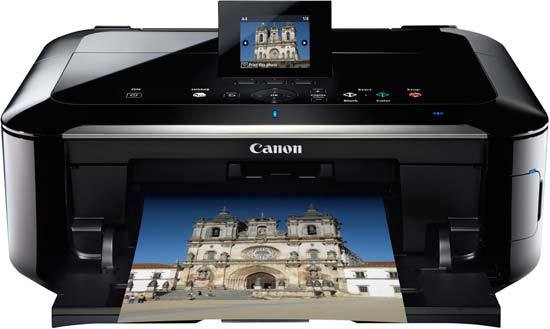 The Canon PIXMA MG5350 is an advanced wireless All-In-One printer with enhanced Wi-Fi connectivity. The stylish PIXMA MG5350 offers quick and easy print, copy and scan functionalities, along with access to the new PIXMA Cloud Link. The Canon MG5350 will be available across Europe from September 2011, pricing to be announced.
Canon UK Press Release
Canon PIXMA MG5350: Fast, superior All-in-One with enhanced Wi-Fi connectivity
United Kingdom, Republic of Ireland, 23rd August 2011 – Canon has today announced the launch of an advanced wireless All-In-One printer for users seeking superior print quality and fast print speeds. Ideal for professionals looking for optimum performance, the stylish PIXMA MG5350 offers quick and easy print, copy and scan functionalities, along with access to the new PIXMA Cloud Link.
The glossy black PIXMA has a central user interface with a large 7.5cm colour TFT display and offers enhanced connectivity, including the ability to print and scan photos via mobile devices. FINE print technology with a minimum 1pl droplet and up to 9600dpi print engine ensures high quality printing.
Enhanced connectivity
The PIXMA MG5350 brings users enhanced connectivity by allowing access to internet content directly from the printer. The new PIXMA Cloud Link lets users print their favourite photos from online albums using CANON iMAGE GATEWAY[1] and Google's Picasa. It also offers direct access to a wide range of printable templates, such as stationary and calendars. The PIXMA MG5350 incorporates the new Canon Easy-PhotoPrint App (for iOS and Android products), which allows photo printing and scanning directly to a mobile device.
Environmental savings
The PIXMA MG5350 features a new ECO Information application, which allows users to monitor how much CO2 and paper they save when engaging the Auto Duplex feature. Users can also save energy by using the Auto Power Off function so the printer switches itself off after a selected delay. Additionally, the PIXMA MG5350 incorporates Quick Start so there is no need to wait for the device to 'warm up' and operation is almost instantaneous. The 5 Single Ink tanks are individually replaceable to minimise ink wastage and save money.
Easy creativity
The PIXMA MG5350 makes it easy to get creative with images and produce fresh and innovative content. The simple-to-use Easy-PhotoPrint EX software gives the freedom to get creative with favourite images – printing photos, calendars and albums. The updated version comes with Fun Filter Effect, which allows photos to be selected and fun and artistic image effects applied, including Blur Background, Fish-eye, Soft Focus, Miniature and Toy Camera.
Full HD Movie Print gives users the ability to capture and print treasured moments as stills from full HD video footage captured on Canon's range of Digital SLRs or Canon Digital Still Cameras. Creative effects can also be applied including Merge Frames, where multiple images can be combined to give a sense of motion to the printed photos. The newly introduced Layout Print allows movie clips to be selected and a comic-strip effect used to print a storyboard.
Owners of the PIXMA MG5350 have access to CREATIVE PARK PREMIUM, featuring exclusive photos and illustrations from internationally recognised photographers and artists which can be used to create greetings cards, calendars and other paper crafts using the easy to follow templates. This is exclusive to PIXMA owners who use genuine Canon consumables and enables them to get even more creative with their new PIXMA printer.
Availability
The PIXMA MG5350 will be available across Europe from September 2011 (NSOs to adapt according to market).     

PIXMA MG5350 – key features:
• Advanced Photo All-In-One with 7.5cm TFT display: print, copy and scan
• Photos with up to 9600dpi, minimum 1pl droplets, 5 single inks and ChromaLife 100+
• Fast document print speed of approximately 12.5ipm mono and 9.3ipm colour (ISO ESAT), 10x15cm borderless photo in approximately 20 seconds
• Print from anywhere at home with built-in Wi-Fi
• Advanced media handling: Auto Duplex, 2 way paper feed and Direct Disc Print
• Print photos from your HD movies with Full HD Movie Print
• PIXMA Cloud Link: access and print content directly from the internet
• Intelligent web printing with Easy-WebPrint EX
• Access to CREATIVE PARK PREMIUM when used with genuine inks
Pricing and Availability
The PIXMA MG5350 is available from September 2011, priced at £129.00/€149.00 RRP incl. VAT.
[1] Where available
Your Comments