Canon Pixma mini 260 and Canon Pixma mini 220
The PIXMA mini260 and PIXMA mini220 will be available from October 06, priced at: £119.00 inc. VAT/ €171.81 inc. VAT and £79.00 inc. VAT/ €114.06 inc. VAT respectively.
Canon UK Press Release
Canon is launching its latest must-have products from the PIXMA range of home, office and professional quality photo printers - the compact PIXMA mini series. Comprising of the PIXMA mini 260 and entry-level PIXMA mini 220, PIXMA mini combines superior photo lab quality with high print speeds. The flagship mini 260 also features Canon's innovative new easy-scroll wheel – the very first time this popular type of controller has been incorporated into a compact printer's design. The refined user interface makes menu navigation and operation of the printer's functions a far easier and more intuitive process. The easy-scroll wheel allows users to spend more time exploring the many creative printing possibilities available to them. The printer's eye-catching design incorporates a foldaway carry handle for on the move printing – a perfect partner for the latest compact digital cameras and other mobile imaging devices.
"PIXMA photo printers are already enjoyed by many home, Small Office-Home Office (SOHO) and Pro users and we expect the new PIXMA mini series to be just as popular in the growing compact photo printer market," said Alessandro Stanzani, CCI Country Director Canon UK. "All PIXMA printers inherit a unique combination of core Canon technologies: innovative digital image processing, media handling and print head systems. The third generation of PIXMA will introduce PIXMA mini, combining elegance and style with superior print performance."
PIXMA mini printers offer:
- Intuitive navigational features with the new easy-scroll wheel controller and built-in 2.5" (6.3cm) high quality, colour TFT display (mini260); or 2.5" LCD screen (mini220)
- FINE (Full-photolithography Inkjet Nozzle Engineering) print head technology for better than photo lab quality, high speed printing and a maximum 9600 x2400dpi resolution with minimum 1pl ink droplets (mini260)
- ChromaLife1001 technology for long lasting, beautiful photos
- PictBridge, Bluetooth (using optional Bluetooth Unit BU-20) and IrDA direct printing from compatible mobile imaging devices
- Compact designs for portability and printing on the move
Easy-scroll wheel and intuitive controls
As the flagship of the new PIXMA mini range, the mini260 showcases Canon's new easy-scroll wheel interface. Also found on other new high-end PIXMA models, easy-scroll wheel works in conjunction with the printer's high definition 2.5" TFT screen, making menu navigation easier and more intuitive. The full range of print options can be selected by simply spinning the easy-scroll wheel to select icons displayed on the high definition TFT screen. As simple and fun as selecting tunes on an MP3 player, the enhanced interaction of the easy-scroll wheel leaves users free to discover the creative choices that PIXMA mini offers.
The entry-level model in the new range, the mini220, features a crisp 2.5" colour LCD display, with menu functions that are operated via easy-to-use key controls.
Photo enhancement features built into both PIXMA minis enable users to quickly and easily print beautiful photos. Digital images, previewed on the 2.5" screen, can be enhanced easily using red-eye correction, face brightening and the image Optimizer tool. Image Optimizer is designed for use with low resolution images, such as those captured using a camera phone.
High speed, high resolution printing
Stylish and compact, PIXMA mini printers inherit the next generation of Canon's advanced FINE print head technology for superior photo lab quality.
The range-leading mini260 offers print resolution up to 9600x2400dpi with ink droplets as small as 1pl for greater image clarity and colour reproduction at faster print speeds. The mini260 is capable of printing a borderless 10x15cm (4"x6") photograph in just 59 seconds and includes Canon's ContrastPLUS technology: an additional black ink is used, adding more contrast and depth to photos. The entry-level mini220 provides photo lab quality prints at up to 48002x1200dpi resolution, using a FINE print head with 2pl Micro-Nozzles. It uses a convenient tri-colour ink cartridge that is simple to change. The mini220 delivers a 10x15cm photo print in approximately 67 seconds.
Direct printing with full control
PIXMA mini printers offer a versatile range of direct print options without the need for a computer. Users can instantly print their photographs from digital cameras and many other portable imaging devices.
It's simple to connect a compatible camera to a PIXMA mini printer using a PictBridge connection. Alternatively, photographs can be printed directly from a memory card inserted into the printer's convenient card slot. Printing is possible from most popular digital camera and camcorder memory cards. Additional IrDA and Bluetooth compatibility (using the optional Bluetooth Unit BU-20) allows images stored on a mobile phone or PDA to be sent to the printer wirelessly and instantly. Connection to a computer is also possible, via USB2.0 Hi-Speed, with Canon imaging software supplied.
PIXMA mini supports a range of genuine Canon media for greater creativity, including glossy photo papers, new 10x18cm Wide size (4"x7.1") photo paper, credit card size and mini photo-stickers.6
Pricing and availability
The PIXMA mini260 and PIXMA mini220 will be available from October 06, priced at: £119.00 inc. VAT/ €171.81 inc. VAT and £79.00 inc. VAT/ €114.06 inc. VAT respectively.
Reader enquiries
UK – 08705 143723 / http://www.canon.co.uk
Eire – (01) 2052400 / http://www.canon.ie
Software
Both PIXMA mini printers are supplied with Canon imaging software:
- Easy-PhotoPrint – provides three easy steps to printing photos. Assisting with options such as media selection and scaling, it includes features such as Face Sharpener for out-of-focus face correction, Red Eye Correction and Digital Face Smoothing to reduce the appearance of wrinkles.
Compatibility
PIXMA mini printers are compatible with Windows 2000/XP and Mac OSX v10.2.8 to 10.4.
Media
Canon's competitive advantage in printer hardware technology is fully realised when genuine Canon photo grade media and inks are used. The diverse and growing range of Canon media is developed specifically to work in combination with Canon's FINE print technology. Photo papers and media are available in a wide range of formats (including mini stickers), finishes (from matte to semi-gloss to super high gloss) and sizes. New Glossy Photo Paper "Everyday Use" (GP-501) is ideal as an affordable way of sharing digital photographs. The flagship Photo Paper Pro (PR-101) offers the highest grade professional results with ultimate durability.

Technologies Explained
FINE
Canon's patented FINE semi-conductor manufacturing technique is used to create print heads with exceptionally high nozzle count and nozzle density. This enables Canon printers to achieve market-leading print speeds and photo quality for photo and document printing. These get more ink onto the page in less time than is possible with traditional inkjet technology, delivering fast borderless photo prints.
FINE print heads can also achieve grain free photo lab quality by delivering millions of microscopic droplets at a minimum size of 1pl (depending on model) each second with extremely high consistency and accuracy from approximately 9 ?m diameter Micro-Nozzles.
ChromaLife100
For improved fade resistance, PIXMA mini supports Canon's ChromaLife100: a system of genuine Canon dye-based inks, which deliver exceptionally broad colour gamut, and specialised photo paper designed to work together with FINE print heads. The technology 'triangle' of nozzle design, ink and media produces prints that rival silver halide quality and longevity. Prints resist fading for 100 years when album-stored, 30 years when displayed under glass and 10 years when exposed to the effects of the air.
1 See Technologies Explained.
2 See specifications
3 Printing a 6 Megapixel image from selected digital cameras via PictBridge, using default settings on Canon Photo Paper Plus Glossy media (borderless printing). (Actual print speed may vary.)
4 Printing a 6 Megapixel image from selected digital cameras via PictBridge, using default settings on Canon Photo Paper Plus Glossy media (borderless printing). (Actual print speed may vary.)
5 Compatible card formats include: CompactFlash ®, Microdrive, Smart Media ®, Memory Stick ®, Memory Stick Pro ™, SD Memory Card ® and MultiMediaCard ™ (V3.31); and using recommended adapter not supplied: xD-PictureCard ™, Memory Stick Duo ™, Memory Stick PRO Duo ™, RS-MMC ™ (V3.31) and miniSD ™.
6 See Additional Information.
7 All figures are estimates based on accelerated tests and are not guaranteed. 100 year figure applies to PR-101, PP-101, SG-101/SG-201, GP-401, GP-501 media, images stored behind plastic cover sheet. 30 year figure applies to PR-101 and PP-101 media, 10 year figure to PR-101 only. Lightfastness and gasfastness figures assume a typical indoor environment avoiding direct sunlight. For more information about ChromaLife100 please visit http://www.canon-europe.com/chromalife100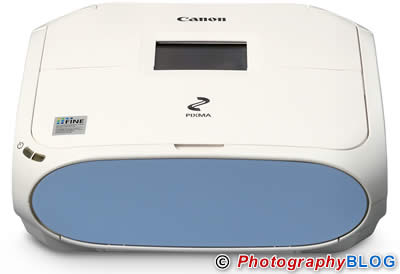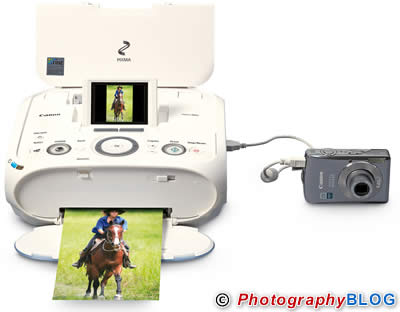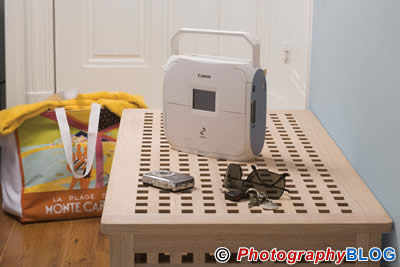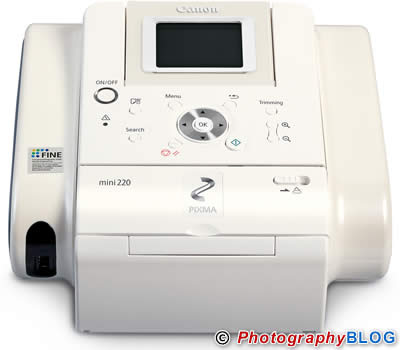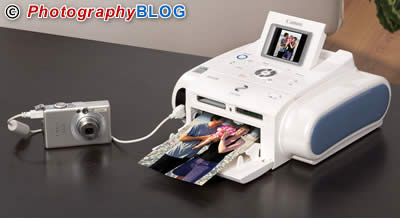 Share this article