Canon Pixma MP600, MP600R and MP810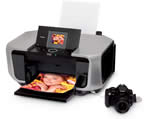 The PIXMA 600 will be available from October 06 priced at £159.00/ €229.56 RRP inc. VAT. The PIXMA MP600R and PIXMA MP810 will be available from November 06, priced at: £249.00inc. VAT/ €359.51 inc. VAT and £249.00 inc. VAT/ €359.51 inc. VAT respectively.
Canon UK Press Release
Canon is launching a new intuitive user interface featuring an easy-scroll wheel on three of its high specification PIXMA Photo All-in-One printers. The easy-scroll wheel, which will be featured on the new MP600, MP600R and MP810, will change the way that people interact with their All-in-One photo printers. Similar to controllers found on other popular digital devices – such as MP3 players and mobile phones – the easy-scroll wheel is rotated to operate the printer and make selections from the menu, displayed on a high quality colour TFT screen. With the easy-scroll wheel built into an eye-catching contemporary design, these new PIXMAs move All-in-Ones out of the office and into the home, delivering a 10x15cm (4"x6") print at speeds as fast as 21 seconds (MP810).
"All-in-One photo printers are often regarded as tools only for office use. But with the new easy-scroll wheel enhancing the user experience, these stylish new PIXMAs offer new creative possibilities," said Alessandro Stanzani, CCI Country Director Canon UK. "Benefiting from the unique PIXMA combination of Canon imaging know-how, media handling and print head technologies, the new MP600, MP600R and MP810, redefine the All-in-One as a stylish and creative tool that is perfectly suited to the home."
New PIXMA MP600, MP600R and MP810 feature:
- Striking design concept, incorporating Canon's new easy-scroll wheel for enhanced user interaction
- Superior 9600 x2400dpi resolution with advanced FINE (Full-photolithography Inkjet Nozzle Engineering) print heads and 1pl minimum droplet size
- Print speeds as fast as 21 seconds (MP810), benefiting from Canon's ChromaLife100,2 delivering prints that last up to 100 years in an album
- Photo and document copying at speed, incorporating Canon's 'Dual Colour Gamut Processing Technology'
- Advanced printing functions offering further creative options, including printing onto inkjet printable DVDs and CDs and auto duplex function for double sided prints and copies
- 3" (7.6cm) or 2.5" (6.3cm) colour TFT screen for high quality image preview and menu display, featuring 170-degree horizontal and vertical wide angle viewing
- Wireless and wired network connectivity (MP600R)
- Up to 4800dpi scan resolution with Super Toric (ST) lens (MP810)
Easy-scroll wheel unlocks creativity
Moving All-in-Ones out of the office, the new MP600, MP600R and MP810 are welcome additions to any home. A striking combination of black and metallic effect finishes is a distinctive style statement, framing the centrally positioned easy-scroll wheel. This new Canon feature is an innovative control that allows users to interact with print, copy and scan functions in a far more intuitive way. Offering a more comfortable user-experience, MP600, MP600R and MP810 make it easier than ever for users to unlock their creativity.
Premium photo lab quality
The FINE print head incorporates newly developed technologies that allow more precise ink placement by delivering droplets as small as 1pl. With additional mechanical refinements also made, superb images are now delivered at even greater print speeds.
MP810 sets new standards as Canon's fastest ever PIXMA All-in-One, printing a borderless 10x15cm (4"x6") photograph in just 21 seconds. MP600 and MP600R require just 28 seconds. These remarkable figures are achieved by the unique combination of Canon innovations.
For standalone operation, the MP600, MP600R and MP810 all offer a comprehensive range of direct photo printing options, including PictBridge and Card Direct. IrDA and optional Bluetooth (a separate adapter is required) are also possible and are ideal for images captured on a mobile phone. In addition, MP810 allows users to digitally re-print old photographs directly from 35mm film and slides.
Advanced copying and scanning
The MP600, MP600R and MP810 inherit benefits of Canon's leadership in scan and copy technologies. At the higher end of the range, with 4800x4800dpi optical resolution, MP810 features a high quality Super Toric (ST) lens. The lens is effective in eliminating aberrations and maintains image sharpness.
'Dual Colour Gamut Processing Technology' is featured on all models and ensures accurate colour reproduction with fine gradation when copying. Two types of colour space scanning are employed (colorimetric and perceptual): those colours that fall within the printer's colour gamut are reproduced identically. The remaining colours are scaled to achieve best possible results based on human perception.
MP600, MP600R and MP810 achieve copy speeds up to 30 cpm (copies per minute) for black and white and 24 cpm for colour.
All necessary imaging software comes supplied, including a new advanced version of Canon's MP Navigator.
High quality colour TFT screen
Canon's easy-scroll wheel is used in conjunction with a high quality colour TFT screen. Incorporating IPS (In Plane Switching) technology, the screen provides bright, high contrast images with an extremely wide 170-degree viewing angle on both horizontal and vertical planes. The MP810 features an extra-large 3" (7.6cm) screen while both MP600 and MP600R have a large 2.5" (6.3cm) screen.
Wireless and wired networking
MP600R is ideal for wireless (IEEE802.11g/b) and wired (Ethernet) home networks. The supplied software guides users through a simple, step-by-step installation process. Once configured, memory card reading, printing and scanning are all possible via the network.6
Advanced creativity
The MP600, MP600R and MP810 include a range of advanced features that offer greater convenience and wider creative possibilities. With dual paper trays, photo and plain paper can be loaded at the same time, eliminating the inconvenience of having to make paper changes when photo and document printing are both regularly required. Printing and copying onto the surface of compatible DVDs and CDs is also possible and enables users to personalise home movies and photo albums stored on disc. Integrated duplex printing makes double sided document and photo printing an easy and convenient process.
Pricing and availability
The PIXMA 600 will be available from October 06 priced at £159.00/ €229.56 RRP inc. VAT. The PIXMA MP600R and PIXMA MP810 will be available from November 06, priced at: £249.00inc. VAT/ €359.51 inc. VAT and £249.00 inc. VAT/ €359.51 inc. VAT respectively.
Reader enquiries
UK – 08705 143723 / http://www.canon.co.uk
Eire – (01) 2052400 / http://www.canon.ie
Software
MP600, MP600R and MP810 are bundled with Canon image control software:
- MP Navigator 3.0 – helps users achieve more with their All-in-One. Version 3.0 has been further developed and offers advanced users greater control and creativity or simple one-click operation for quick tasks. The re-designed UI provides a simple yet intuitive interface to the wide range of creative functions and capabilities.
- Easy-PhotoPrint – prints photos in three easy steps. Assisting with options such as media selection and scaling, its features include Face Sharpener for out-of-focus face correction, Red Eye Correction and Digital Face Smoothing to reduce the appearance of wrinkles.
- Easy-WebPrint (Windows only) – sits on the Explorer toolbar and takes the frustration out of web page printing, saving time, ink and paper by correctly scaling output to prevent the loss of any information.
• ScanSoft OmniPage SE – Optical Character Recognition application that converts scanned text into characters for editing or storage as a searchable text file.
• ArcSoft Photo Studio – image-editing program featuring automatic colour and tone enhancement, cloning, animated 3D text and over 40 special effects.
Compatibility
MP600, MP600R and MP810 are compatible with Windows 98/Me/2000/XP and Mac OS X v 10.2.8 to 10.4.
Media
Canon's competitive advantage in printer hardware technology is fully realised when genuine Canon photo grade media and inks are used. The diverse and growing range of Canon media is developed specifically to work in combination with Canon's FINE print technology. Photo papers and media are available in a wide range of formats (including mini stickers), finishes (from matte to semi-gloss to super high gloss) and sizes: from credit card and a new 10x18cm Wide size (4"x7.1") to 20x25cm (8"x10") and A4. Glossy Photo Paper "Everyday Use" (GP 501) is ideal as an affordable way of sharing digital photographs. The flagship Photo Paper Pro (PR-101) offers the highest-grade professional results with ultimate durability. A double-sided photo paper (PP-101D 13x18cm (5"x7") and PP-101D A4) is also available together with a high quality Photo Album Kit (PAK-101).
Technologies Explained
FINE
Canon's patented FINE semi-conductor manufacturing technique is used to create print heads with exceptionally high nozzle count and nozzle density. This enables Canon printers to achieve market-leading print speeds and photo quality for photo and document printing. These get more ink on the page in less time than is possible with traditional inkjet technology, delivering fast borderless photo prints.
FINE print heads can also achieve grain free photo lab quality by delivering millions of microscopic droplets at a minimum size of 1pl each second with extremely high consistency and accuracy from approximately 9 ?m diameter Micro-Nozzles.
ChromaLife100
For improved fade resistance, PIXMA All-in-Ones support Canon's ChromaLife100: a system of genuine Canon dye-based inks, which deliver exceptionally broad colour gamut, and specialised photo paper designed to work together with FINE print heads. The technology 'triangle' of nozzle design, ink and media produces prints that rival silver halide quality and longevity. Prints resist fading for 100 years when album-stored, 30 years when displayed under glass and 10 years when exposed to the effects of the air.
1 See Technologies Explained.
2 See Technologies Explained
3 Borderless 10x15cm photo lab quality print speed based on Standard driver setting using Canon Photo Paper Plus Glossy media.
4 Compatible card formats include: CompactFlash ®, Microdrive, Smart Media ®, Memory Stick ®, Memory Stick Pro ™, SD Memory Card ® and MultiMediaCard ™ (V3.31); and using recommended adapter not supplied: xD-PictureCard ™, Memory Stick Duo ™, Memory Stick PRO Duo ™, RS-MMC ™ (V3.31) and miniSD ™.
5 Copy speed (cpm) based on Canon standard pattern in fast mode setting using plain paper. Copy speed may vary depending on document complexity, copy mode, page coverage, type of paper used and the number of copies selected.
6 See Additional Information.
7 All figures are estimates based on accelerated tests and are not guaranteed. 100 year figure applies to PR-101, PP-101, SG-101/SG-201, GP-401, GP-501 media, images stored behind plastic cover sheet. 30 year figure applies to PR-101 and PP-101 media, 10 year figure to PR-101 only. Lightfastness and gasfastness figures assume a typical indoor environment avoiding direct sunlight. For more information on ChromaLife100 please visit http://www.canon-europe.com/chromalife100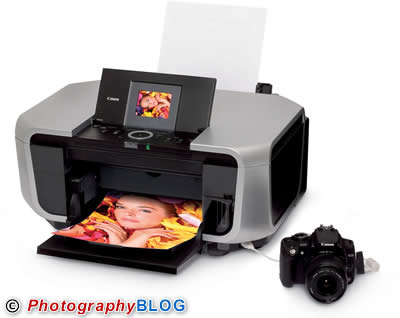 Share this article