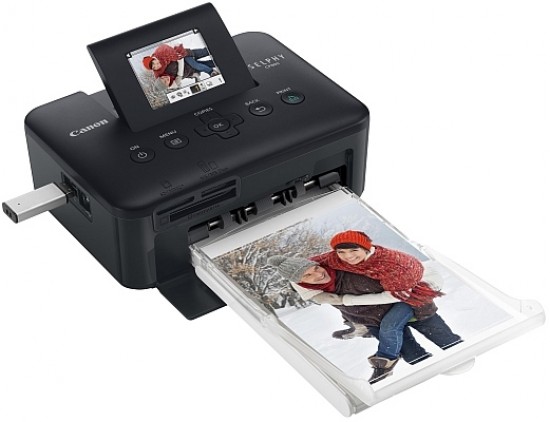 The Canon Selphy CP800 is an ultra-compact photo printer that replaces the existing Canon Selphy CP780. The new Selphy CP800 features a simple user interface alongside a large-button layout and a tilting 6.2cm (2.5") colour LCD screen. Photos can be selected quickly and easily and lab-quality 4x6" prints are produced in approximately 47 seconds. Prints are dry and ready for handling the second they leave the printer, and a special over-coating provides protection from spills and splashes, so they will remain rich and vivid for up to 100 years when stored in an album. The Canon Selphy CP800 is available from September 2010, priced at £99.00/€119.00/$99.99
Canon Press Release
Instant, convenient, lab-quality prints – Canon introduces the stylish, ultra-compact SELPHY CP800 photo printer
United Kingdom, Republic of Ireland, 19th August 2010 – Canon today unveils its new SELPHY compact photo printer, the SELPHY CP800, designed to make photo-lab quality printing at home quick and easy. Replacing the SELPHY CP780, the new model offers a number of improvements, boasting a slimmer and more stylish design, more creative features and improved usability.
The SELPHY CP800 is ideal for those looking for a convenient printer that delivers high quality images at the touch of a button. Available in sleek black or white colour variations, prints produced by the SELPHY CP800 can be made into personal photo albums for families to treasure. It also provides an attractive option for small businesses who want to offer on-the-spot ID Photos or instant photo printing services.
Quick, easy operation
The SELPHY CP800 is designed to enable users to enjoy great quality prints in seconds – even if they've never used a photo printer before. It features a simple user interface alongside a large-button layout and a tilting 6.2cm (2.5") colour LCD screen. Photos can be selected quickly and easily and lab-quality prints produced with superb tonal gradation in approximately 47 seconds (applicable to postcard size-printing).
Photos can be printed directly from a range of compatible memory cards (see specifications for details), or from any PictBridge-compatible device, such as a camera or camcorder. The SELPHY CP800 can also print from USB flash memory (Not all image file types or USB devices are supported. See specifications for details) or from mobile phones (Optional adapter required), enabling instant output without the need for a computer.
Lab-quality prints, whenever you want them
To produce the best results, the SELPHY CP800 features Auto Image Optimize which analyses faces, contrast, and brightness levels in the image before making appropriate corrections so prints are bright, clear and of optimum quality. In addition, a selectable Smooth Skin effect evens out skin blemishes for more flattering portraits, and manual brightness adjustment can be applied to fine-tune the prints produced.
By using dye sublimation technology, the SELPHY CP800 gives images a smooth, glossy result so that finished prints have the quality, look and feel of a traditional lab photo. Prints are dry and ready for handling the second they leave the printer, and a special over-coating provides protection from spills and splashes, so they will remain rich and vivid for up to 100 years (100 year figure based on accelerated tests. For further information see specifications) when stored in an album. The SELPHY CP800 prints photos to a variety of different sized media, including Postcard size, L Size (Optional paper tray PCL-CP300 required) and Credit Card Size (Optional paper tray PCC-CP300 required).
The SELPHY CP800 also offers a range of image layout options. The ID Photo layout enables a selection of recognised ID Photo sized images to be printed on a single sheet of paper. A Shuffle layout option arranges multiple images in an enjoyable and creative format, allowing users to be more imaginative with the composition of their prints. The MyColors feature extends creativity and fun by offering the selection of Vivid, Neutral, Sepia, Positive Film and Black & White on the printer.
By connecting the SELPHY CP800 to a personal computer and installing the easy-to-use SELPHY Photo Print software, users can add frames, speech bubbles and clip art to their pictures using the creative and intuitive interface with voice guidance. The SELPHY CP800 also offers fully portable printing with an optional battery pack, so printing can take place instantly on the move. A security cable, such as a Kensington lock, can be attached to the added security slot on the printer body, allowing it to be easily secured if required.
Share stories with CANON iMAGE GATEWAY
Owners of the SELPHY CP800 can join the CANON iMAGE GATEWAY, an online facility for sharing photos and video. Users can take advantage of up to 2GB of personal storage capacity, creating enough room for hundreds of high-quality images. Mobile browsing is also supported, making it easy for friends and family to view photos on the move.
SELPHY CP800 Key features:
·      Stylish, ultra-compact photo printer
·      6.2cm (2.5") tilt LCD
·      Prints in under 1 minute2
·      Range of print sizes
·      Auto Red-Eye Correction
·      Print from memory card, camera and USB stick3
·      100 year prints5
·      ID Photo layout
·      Optional battery
·      Software with voice guidance
Pricing and Availability
The SELPHY CP800 is available from September 2010, priced at £99.00/€119.00 RRP inc. VAT.
Your Comments