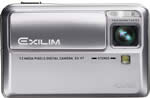 CES 2007: The Casio EX-V7 is the world's slimmest digital camera with a 7X optical zoom lens (equivalent to 38-266mm on a 35mm film camera) and measures less than 1 inch thick. The EX-V7 has a 7.2 megapixel sensor, mechanical CCD shift technology and Anti Shake DSP, and 33 Best Shot Modes. The Casio EX-V7 will have a price-tag of $399.99 in the USA and will be available in March. In the UK, the EX-V7 will be on sale from April 2007 with an RRP of £299.99.
Casio Press Release
Casio Introduces the World's Slimmest Digital Camera with a 7X Optical Zoom Lens - Motion Analysis Technology Reduces Photo Blur, Enables Auto Tracking AF Function and Built-in Camera Shake Compensation Uses Mechanical CCD Shift Technology
LAS VEGAS, NV, January 8, 2007- Casio, Inc. and its parent company Casio Computer Co., Ltd., announced today the release of the 7.2-megapixel EXILIM Hi-ZOOM EX-V7, the most powerful zoom in the stylish EXILIM® series of compact digital cameras. This new model is the world's slimmest digital camera with a 7X optical zoom lens*. Thinness is a defining quality in the EXILIM line, and the EX-V7 is no different as it easily fits in a shirt pocket or small purse. The EX-V7 will be on display at Casio's Booth #9808.

In recent years, a number of compact, high-performance digital cameras have appeared on the market, but the trade-off between zoom power and camera size was evident in those models. Users who wanted to capture subjects at a distance were forced to buy bulkier cameras while other consumers sacrificed zoom for portability.
"The newest edition to the EXILIM line, the EX-V7, solves this problem, giving users the best of both worlds," said Bill Heuer, Vice President of Casio's Digital Imaging Division. "It's an exceptionally portable, great-looking digital camera with a powerful zoom lens — just what the world has been waiting for."
The new camera also introduces an innovative function for reducing photo blur, made possible by Casio's mechanical CCD shift technology. It also combines Casio's well-received Anti Shake DSP, which reduces blur due to shaky hands or a moving subject by using higher ISO sensitivity and faster shutter speeds, with new motion analysis technology that uses the most appropriate ISO sensitivity and shutter speed to capture a moving photo subject. Even at high zoom settings, the EX-V7 reduces most occurrences of image blur. Everyone from first-time photographers to seasoned professionals will love this latest photographic marvel from Casio.
* As of January 8, 2007, for digital cameras with a zoom ratio of 7x or above. Based on a Casio survey.
Exclusive to the Casio EXILIM line of digital cameras in the U.S., is the eBay® Best Shot mode. The eBay Best Shot mode is one of 33 Best Shot Modes featured in the EX-V7. eBay Best Shot takes photos at a size that is image optimized for display on eBay, allowing picture takers to more quickly and easily create photos for selling items on eBay. eBay Best Shot mode also includes Auto Macro, an ideal setting for capturing images of small items such as jewelry, tags, etc., thus automatically adjusting the focus from acquiring fine details in close up shots to capturing large items from a distance. eBay Best Shot mode allows users to capture optimized images at an ideal size for eBay. For ease of use, eBay photos are stored in a special eBay directory.
The EXILIM Hi-ZOOM EX-V7 will have a suggested retail price of $399.99 and will be available at retail in March.
Main features
* The world's slimmest* digital camera with a 7X optical zoom lens, as stylish as any EXILIM
o 2.35" high, 3.76" wide, and .99" thin ( .82" at the thinnest part)
o Incorporates a cutting-edge, non-protruding 7X internal optical zoom lens.
o Offers 10X-equivalent zoom without loss of picture quality (in 3.0-megapixel mode).
* Four blur reduction technologies with new CCD shift system
o New CCD shift system actually mechanically compensates for camera shake.
o Automatically analyzes the velocity and vector of a moving subject and sets the most appropriate ISO sensitivity and shutter speed.
o Anti Shake DSP reduces blur due to shaky hands and subject movement, using high shutter speeds and high sensitivity settings.
o Electronic camera shake compensation function eliminates blur when shooting in movie mode.
* Newly designed EXILIM Engine 2.0 image processor
o "Auto Tracking AF" function follows moving subjects, keeping them continuously in focus until the photo is taken.
o Tonal control lets users keep bright areas of the scene bright by limiting the occurrence of dark pixels.
o Offers ability to selectively eliminate noise in designated color regions, such as the sky.
o Boasts faster image processing functions that enable instantaneous color correction or angle adjustment.
* High-quality movies using next-generation H.264 video encoding method
o Creates movies at high compression ratios that save storage space.
o Records about 1.5 times longer, with the same capacity and same picture quality as conventional MPEG-4.**
o Silent lens motion enables optical zooming while recording movies in stereo sound.
o Records 16:9 wide-aspect movies compatible with wide-screen TVs.
* As of January 8, 2007, for digital cameras with a zoom ratio of 7x or above.
Based on a Casio survey.
** Casio comparison, at Normal picture quality setting.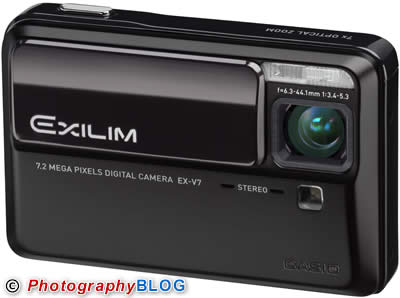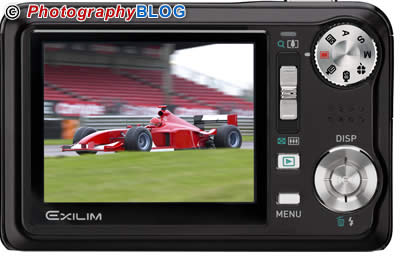 Share this article