ColorVision Digital Imaging Products at PMA 2005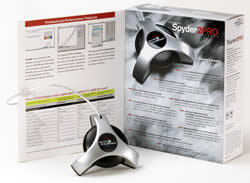 Datacolor Press Release
ColorVision Digital Imaging Products From Datacolor At Industry's Premier Photography Show
A family of color correction tools for the photo digital imaging market on display at internationally attended PMA 2005
Orlando, FL, Photo Marketing Association Show (PMA) – February 9, 2005 Datacolor, a world color technology leader, unveils breakthroughs in its ColorVision® digital photo imaging product line at one of the industry's most important international shows. Photo Marketing Association (PMA) serves over 18, 000 members in more than 100 countries.  Its 2005 Annual Convention and Trade Show runs from February 20 - 23 in Orlando, Florida.
The PANTONE® COLORVISION® family of products will be showcased at the ColorVision Booth No. 1908 at PMA 2005. The newest member of the family product line, ColorVision® Spyder2 Plus™ (The Digital Darkroom In a Box™) will debut at the show's premiere press event, SNEAK PEAK on Saturday, February 19th, 2005.
According to Datacolor Vice President Brian Levey, PMA provides the perfect venue for an ever-expanding digital imaging market. "PMA's annual tradeshow highlights the latest trends in the industry, the most exciting of which is a convergence that is embracing every form of communication.  Our product line perfectly reflects this convergence, and our job is to make sure that color stays true as we move across various media channels."
Levey also notes that consumer demand for color correction tools continues to escalate as the digital imaging market expands, encompassing all levels of expertise from the professional to the enthusiast.
Since their inception in 2000, ColorVision products have delivered award-winning options to professional photographers and creative designers crying for consistent color display and output calibration systems at affordable prices.  In that same tradition, Datacolor displays some of the hottest advancements in professional color correction tools for the photo digital imaging market at PMA 2005.
ColorVision® ColorPlus™ is an affordable, easy-to-use, entry-level color-correcting product that delivers professional-looking images on screen.  The latest update–V1.0.3 (available for FREE at http://www.colorvision.com/sup_dl-upgrades.shtml) software for ColorVision® ColorPlus™ - produces a wider range of colors, better flesh tones, more defined shadows and realistic highlights and is available in 8 languages.

ColorVision® Spyder2™
Includes the Spyder2 colorimeter, monitor calibration software that can be used at multiple workstations with no additional licensing required, and a FREE copy of PANTONE® colorist™ software ($49 value).
ColorVision® Spyder2 Plus™ (Digital Darkroom in a Box™)
Provides a full suite of tools for anyone frustrated by color discrepancy between monitor and printout.  Based on ColorVision's award-winning color display and output technology, Spyder2 Plus is combined (for FREE) with the latest digital imaging software from Adobe®–its hot new PhotoShop® Elements 3.0. The Spyder2 Plus Digital Darkroom in a Box also includes ColorVision ProfilerPLUS™, Pantone's colorist™ offering easy access to PANTONE MATCHING SYSTEM® Colors.
ColorVision® SPYDER2PRO™Studio
Combines Spyder2 hardware with Spyder2PRO™ advanced software for improved white-point correction routines, automated black and white luminance adjustments, and enhanced methodology for loading calibration data at start-up. A Profile Chooser makes it easy to select and change profiles. Additionally, it allows multiple monitor calibration support for both Macintosh and Windows® systems.  Software can be used at multiple workstations with no additional licensing. Comes with FREE ColorVision DOCTORPRO™ software (a $110 value), PANTONE® colorist™ software ($49 value) and nik Color EfexPRO™ 2.0, standard edition software ($99 value).
ColorVision® PRINTFIX™Suite
Builds profiles for a wide range of inkjet printers to be produced on virtually any paper, even watercolor.  This value-added package includes patch-reader hardware and the v1.2 software that works within Adobe® Photoshop® and Photoshop Elements as well as the all-new Spyder2 colorimeter and Spyder2PRO monitor calibration software for accurate monitor calibration. Can be used at multiple workstations with no additional licensing. Comes with FREE ColorVision DOCTORPRO™ software (a $110 value), PANTONE Colorist software ($49 value), and nik Color EfexPRO 2.0, standard edition software ($99 value). 
ColorVision® SpectroPro2™ Suite
Is the most inclusive suite, with all the tools for high-level color control, professional monitor calibration, outstanding spectro-built printer profiles and sophisticated profile editing.  It is compatible with the most popular editing tools. 
"With the mushrooming digital photography - almost half the country owning digital cameras and rapidly expanding home-office markets - we could not have picked a better time to expand our product line," Datacolor's Levey concludes. "We continue to bring professional expertise to retail products at the most competitive price points for every level of the market."
For more information about ColorVision digital imaging technology from Datacolor, visit www.colorvision.com
 
About Datacolor
The ColorVision digital imaging product line by Datacolor provides affordable, easy-to-use digital color control products to creative professionals, photographers, corporate customers and consumers around the world.
Because color matters, leading businesses, creative professionals, and consumers worldwide choose Datacolor's innovative technology solutions to consistently achieve the right color.  A Swiss-held company, Datacolor's strong worldwide presence encompasses global manufacturing and operational facilities with an international strategic network of sales and support offices.