Concord EasyShot Digital Cameras Introduced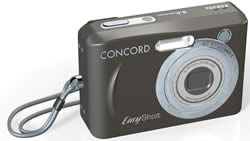 Concord Camera Press Release
CONCORD CAMERA CORP. INTRODUCES EASYSHOT—THE ULTIMATE FAMILY-FRIENDLY POPULAR PRICED DIGITAL CAMERAS

8 Megapixel & 5 Megapixel Digital Cameras Offer Key Features, such as One-Touch ImageEnhance™, Extra-Large 2.5-Inch LCD & Direct Print Capabilities

Hollywood, FL, February 17, 2005—Concord Camera Corp. ("Concord") (Nasdaq:LENSE), a leader in award-winning, high-quality, affordably-priced image capture products, announced the unveiling of the new EasyShot line at the Photo Marketing Association Trade Show PMA on February 20th 2005. The ultimate line of family-friendly digital cameras, EasyShot was designed to offer unsurpassed ease of use, advanced features at popular prices, and an exciting new look and feel that family memory keepers and first-time digital camera users will prefer.
Select EasyShot digital cameras are packed with family-friendly features, such as:

-One-Touch Image Enhancement- Offered on select EasyShot digital cameras, Concord's exclusive one-touch ImageEnhance™ feature provides hassle-free in-camera image correction that instantly improves poor color and lighting situations to achieve the best possible photo.
-Extra Large LCD Screens - EasyShot digital cameras feature extra large 2.4" and 2.5" LCD's, enabling easy photo viewing for the whole family.
-Direct Print Capability - Select EasyShot cameras will offer the capability of printing directly from the camera, making it easy for users to print and share photos.
-Ruggedized non-slip Rubber Base - Currently offered on the 510z, the rubberized base keeps the camera from sliding on smooth surfaces, and makes it easier to hold while taking pictures by providing a more secure surface for fingers to grip.

The EasyShot Line Includes: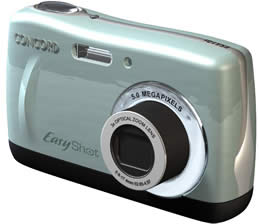 EasyShot 510z – Slim and Stylish 5 Megapixel
The EasyShot 510z is a slim and stylish 5 Megapixel CCD digital camera and the first to feature Concord's advanced ImageEnhance™ button feature for instant image correction directly on the camera. It offers 12X zoom (3X optical/4X digital), features a large 2.5" LTPS LCD, and comes with rechargeable lithium batteries. The EasyShot 510z takes MPEG-4 movies with sound up to 30 frames per second and has 16MB of internal memory. The camera's all metal housing is ergonomical with an exciting new look and feel for ease-of-use and is accented with a ruggedized non-skid rubber base. The camera will be available in two stylish colors: Gun Metal Gray with silver accents and Aqua blue with silver accents, is priced at $229 and is expected to be available in October 2005.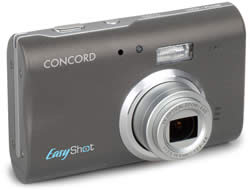 EasyShot 500z – Popular Priced 5 Megapixel
The EasyShot 500z is a 5 Megapixel CCD, 12x zoom (3X optical/4X digital) digital camera, with a unique voice recording feature, that enables the recording of voice memos on still images. The EasyShot 500z comes with a 2" LCD and takes MPEG-4 movies with sound up to 30 frames per second. Users can also choose from 6 preset scene capture modes: portrait, landscape, sports, night, backlit and macro. The EasyShot 500z is available in stylish Gun Metal Gray with silver accents and will have direct print capability. The EasyShot 500z is priced at $179.99 and is expected to be available in April 2005.

EasyShot 820z – 8 Megapixel
Scheduled for introduction at the beginning of the fourth quarter of 2005, the EasyShot 820z, will be the first 8 Megapixel digital camera under $250. The EasyShot 820z features a super-sharp 8 Megapixel CCD sensor, 12X zoom (3X optical/4X digital) and large 2.4-inch color LCD. The camera utilizes SD memory cards, but for times when no card is available, it also has 16MB of internal memory. The EasyShot 820z takes MPEG-4 movies with sound for up to 30 frames per second and will be available in Gun Metal Gray with metallic silver accents at a price of $249.99.

For more information, see the web site: http://www.concord-camera.com .

About Concord Camera Corp.
Concord Camera Corp., through its subsidiaries, is a global producer of popularly priced, digital, 35mm traditional and single use cameras. Concord markets its cameras under the trademarks POLAROID, EASYSHOT, CONCORD, CONCORD EYE Q and JENOPTIK. Concord sells and markets its camera products worldwide through direct sales offices in the United States, Canada, Germany, Hong Kong, the Peoples Republic of China, the United Kingdom, Japan and France and through independent sales agents. The Polaroid trademark is owned by Polaroid Corporation and is used by Concord under license from Polaroid. CONCORD, EASYSHOT, CONCORD EYE Q and ImageEnhance are trademarks and/or registered trademarks of Concord Camera Corp. in the United States and/or other countries. The JENOPTIK trademark is owned by Jenoptik AG and is used by Concord under license from Jenoptik AG. Learn more about Concord Camera Corp. at http://www.concord-camera.com
Share this article