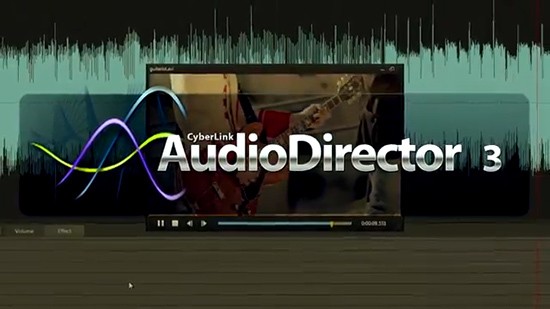 CyberLink has launched AudioDirector – a sound design solution for creating effective audio for video projects. "AudioDirector occupies a unique middle ground to suit professionals and budding creators alike: software that isn't a down-scaled version of an incredibly complex tool, yet isn't too simplistic for power users," the company says. CyberLink AudioDirector is available today for £99.99.
Cyberlink Press Release
CyberLink Unveils Powerful Sound Design for Videos with AudioDirector
Striking audio enhancement and state-of-the-art restoration tools bring clean, crisp and rich audio to video projects
London, UK, 21 September 2012 — CyberLink Corp. (5203.TW), a provider of innovative media creativity solutions, today launched AudioDirector – a professional sound design solution that features everything needed to create effective audio for video projects. AudioDirector brings together CyberLink innovations in audio and expertise in video technology in a powerful yet easy-to-use software package.
AudioDirector occupies a unique middle ground to suit professionals and budding creators alike: software that isn't a down-scaled version of an incredibly complex tool, yet isn't too simplistic for power users. Instead, it presents a unique, truly visual approach to sound design, which makes blending the audio and video aspects of movie-making an intuitive process. A dockable video preview window enables users to watch video while audio waveform data is cross-checked to ensure sound effects and dialogue are timed precisely. Additionally, removing audio imperfections in sound recordings is made easy with an advanced visual restoration interface that accurately visualizes what the ears hear.
"Sound design and audio restoration can be an extremely complex process and a stumbling block for many aspiring videographers," said Alice H. Chang, CEO of CyberLink. "AudioDirector offers professional-level audio tools but presents them in a way that makes producing stunning soundtracks for videos accessible to all users, regardless of proficiency."
AudioDirector is a title in CyberLink's brand new Director Suite – a collection of software solutions designed to empower users with a complete set of tools to create compelling and professional digital media content. Other products in Director Suite include the award-winning PowerDirector 11 video editor, PhotoDirector 4 digital photography workflow solution, and new ColorDirector, a professional video color correction and enhancement tool.
Benefits to Video Editors
Powerful Sound Design for Video – Craft dramatic moments into video with precise audio-in-video editing.
Visual Audio Repair – An advanced feature that generates a visual energy map of a soundtrack and makes it a simple and quick process to remove unwanted sounds – such as sirens or alarms – while restoring and preserving desired elements such as dialogue; consumers will enhance their home movies and professionals will save footage that might otherwise be unusable.
Dynamic Recording, Mixing, Producing & Sharing – Record vocal and live performances in pro quality. Build rich soundtracks with powerful multi-track mixing and effects tools, then produce and share it with others on DirectorZone.
Total Editing Control – Quickly enhance audio with high quality Reverb, EQ control, and more. Flexibly adjust volume level and audio length in non-linear fashion.
Professional Audio Restoration – Use intuitive selection tools to visually and precisely extract and heal sounds and automatically repair imperfections in audio.
Round-Trip Editing with PowerDirector 11 – Enjoy AudioDirector as a standalone audio editor or experience a seamless audio & video editing workflow with PowerDirector 11 integration.
Product Availability and Pricing
CyberLink AudioDirector is available today and can be purchased from the CyberLink online store. It is available in the following languages: English, French, German, Italian, Spanish, Dutch, Chinese (Simplified and Traditional), Japanese and Korean.
AudioDirector: GBP 99.99
AudioDirector is also available in PowerDirector Ultimate Suite.
PowerDirector Ultimate Suite: GBP 199.99
(Includes PowerDirector 11 Ultimate, ColorDirector, AudioDirector, NewBlueFX Paint and Motion Effects and three CyberLink Creative Design Packs)
About CyberLink
CyberLink Corp is the leader and pioneer in enabling digital multimedia on PCs, CEs and mobile devices through the use of video editing software, video player software, and other multimedia solutions. Backed by a group of high-caliber software engineers, CyberLink owns its core codec and a number of patented technologies. CyberLink has built a solid reputation for delivering high-quality, interoperable, and fast time-to-market solutions that keep our OEM partners on the leading edge. Our business partners include leaders in the PC industry: top-5 desktop and notebook providers, optical drive manufacturers and graphic-card makers. Today, CyberLink's software solutions include: complete applications for Blu-ray Disc playback and creation; digital home entertainment; and touch-enabled media solution. With customers spanning from multi-national corporations to small/medium-sized businesses, and from power users to home users, CyberLink has enjoyed rapid and consistent growth leading to a record breaking IPO in 2000 on the Taiwan Over The Counter Exchange (OTC: 5203). Currently, CyberLink is listed on the Taiwan Stock Exchange (ticker symbol: 5203.TW). CyberLink's worldwide headquarters is located in Taipei. To keep up with market demands, CyberLink has operations in North America, Europe and the Asia Pacific region, including Japan. For more information, please visit CyberLink's website at www.cyberlink.com.
Your Comments