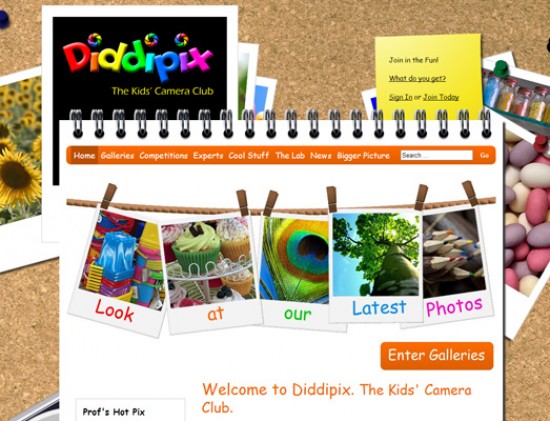 Photography instructor Kirsten Harvey has combined her love of photography, teaching and writing for children to create an innovative website for 6-16-year-olds. The main attraction of the site is the gallery section where children can showcase their best photographs. They can also offer and receive constructive comments and star ratings, encouraging an appreciation of photography as an art form. Additionally, Diddipix is billed as "excellent preparation for any child who may wish to study photography for GCSE."
Website: Diddipix
Diddipix Press Release
LAUNCH OF BRAND NEW PHOTOGRAPHY WEBSITE FOR CHILDREN. www.diddipix.com
Award Winning Website, Diddipix, Immerses Children in the Photography World and Encourages them to be Creative With Cameras.
Diddipix is the brain child of Kirsten Harvey. She has combined her love of photography, teaching and writing for children to create this innovative and inspiring site. It encompasses all things fun and creative for the budding young photographer. Diddipix is aimed at 6-16 year olds and is run by the fictional cartoon character, Professor Pixel.
The main attraction of the site is the gallery section where children can show-case their best photographs. They can also offer and receive constructive comments and star ratings, encouraging an appreciation of photography as an art form.
Professor Pixel not only offers advice but also invites children to send in their own photos and ideas. He keeps abreast of current photographic news and events and reviews cameras and photographic gadgets. Diddipix is packed with photo ideas and techniques as well as featuring photographers from the past and present. There are competitions with amazing prizes too and photo projects to raise money for children's charities.
Not only is Diddipix fun and exciting, it is also educational. It ticks boxes for ICT and Art within the National curriculum and is excellent preparation for any child who may wish to study photography for GCSE.
Cameras are fast becoming more affordable for children and many are very easy for them to use. Whether the child uses a camera, phone or iPad to take the photograph; it is what the child gets out of it that matters.
Children are naturally inquisitive and creative. They see the world through fresh eyes, so what could be better than encouraging them to record what they see and interpret it in their own way? If we give children the tools, the inspiration and the know-how, then they can create amazing images and have fun in the process. That is what Diddipix is all about.
One of Kirsten's pupils said, 'Now I have started photography, I don't want to stop. I take photos of ordinary objects that I would normally have just walked past and I transform them into amazing pictures. Taking photos is like going on an adventure.'
Kirsten teaches photography at Hazlegrove Preparatory school but is also available for teaching work in other schools. She can also be booked for children's workshops or private tuition. As well as holding an honours degree in Education and a Masters in writing for children, Kirsten has been awarded Associateship qualifications by the four main British photographic bodies. Kirsten has worked and lived in many countries abroad, including Kenya, France and Italy. She now lives in North Dorset with her furniture making husband and two small boys. Kirsten has her own photographic gallery site where she sells her work www.kirstenwheeler.com
Your Comments