Digi-Slave L-Ring Ultra II Announced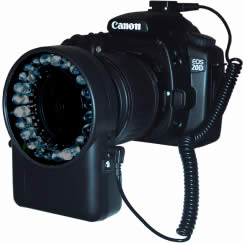 SR Inc. Press Release
SR Inc. has released the Digi-Slave L-Ring Ultra II, an upgraded LED ring light that is a powerful, versatile tool for macro digital photography.  The L-Ring Ultra II features:
*24 oversized, super-bright LEDs for maximum power (up to 12W)
*Larger inner diameter that can accommodate any lens size (no more vignetting)
*Continuous light or flash mode
*Sync connector for PC or hot-shoe connection
*Full or half light capability (modes for full ring, left side only, and right side only)
*Variable power dial to easily control the exposure
*Threaded lens adapter (49mm, 52mm, 55mm and 58mm versions are available)
*4AA Batteries (NiMH, Nicad, Alkaline or Lithium)
*External power jack (adapter optional)
The L-Ring Ultra II can be used with any digital camera and is perfect for a variety of macro photography including dental, medical, catalog and jewelry to name just a few.  For more information, please call 800-324-7745 or visit   www.srelectronics.com.