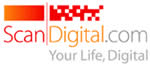 ScanDigital is a new online service that digitizes your photographs and slides. Simply send in your prints and slides with the UPS label provided by ScanDigital (for free), and ScanDigital creates an online gallery and sends a CD with the digitized and restored images within a few days. "Most people have hundreds of photos stored in boxes where no one can enjoy them," said Mike Mothner, co-founder of ScanDigital. "With ScanDigital now they can. We believe there is strong demand for this kind of service that provides the highest levels of quality, security and convenience."
ScanDigital Press Release
ScanDigital Launches U.S.-Based Photo Digitization Service
Free Online Gallery Makes it Easy to Share, Upload and Order Reprints
El Segundo, CA – ScanDigital, the world's premier, high quality photo digitization service, announced that it has launched a number of services to help people preserve, share and enjoy their photographs and slides.
Unlike other digitization companies, all processes are completed in the U.S. at the company's El Segundo, CA headquarters. This enables faster turnaround time and virtually eliminates the likelihood of precious photographs getting lost during shipment. In addition to providing customers with a DVD/CD of their images, ScanDigital also provides customers with a complimentary, fully interactive online gallery. This makes it easy to manage and share photos with friends and family, upload additional digital images as well as order reprints and numerous other print products (i.e. mugs, key chains, t-shirts) through the company's printing partner Qoop. This online gallery also saves customers a considerable amount of time compared to uploading photos to other sharing sites.
"As the world's first and only full service web-based scanning service, we have developed a very user-friendly process that preserves memories forever while providing the ability to share and enjoy photographs with family and friends," said Anderson Schoenrock, president and co-founder of ScanDigital. "We've spent a considerable amount of time perfecting and simplifying our process to make it convenient and secure for our customers."
After setting up an account at http://www.scandigital.com and placing an order, the website will automatically generate a shipping label with UPS to enable package tracking. Once photos are received at ScanDigital's headquarters, they are scanned using professional grade equipment. The next step in the process is editing the image and it is here that ScanDigital stands apart from other digitization services.
"Once an image is scanned it is cropped, properly oriented, and color corrected. Any dust that is present is removed along with minor scratches, blemishes and red eyes," said Schoenrock. "Many companies apply batch processing techniques to multiple images where at ScanDigital we work image-by-image using the well-trained eyes of our photo technicians."
Final images are then uploaded to a personal online gallery where friends and family can view and purchase reprints or other printed merchandise. At no additional charge, ScanDigital provides a CD or DVD containing digital scans of the customer's original photos, which are returned through one of the company's secure shipping partners. For those in the Los Angeles area, ScanDigital also offers a secure pick-up and delivery service or alternatively photos can be dropped off at the company's El Segundo headquarters. Typically it takes just one week to complete an order from the time the originals are received.
Mr. Schoenrock points out a number of advantages of digitizing photos. By keeping a copy both on DVD/CD and online, memories are preserved forever and protected from loss in the event of a catastrophic event like flooding or fire. Secondly, having photos in a digital format opens up many new and exciting options compared to traditional printed photographs. For example, they are much easier to organize, share, reprint and compile into a photo library. In addition, today's simple software applications enable custom slideshows, photo books, calendars, screensavers, mousepads and other items to be created.
ScanDigital's professional grade scanning equipment enables it to scan black and white and color photos on printed paper as well as 35 mm negatives, 35 mm slides, APS film and photo albums. A wide range of pricing and resolution options are available starting at $0.48 for each color photo at 300 dpi up to $0.88 per slide at 4,000 dpi. Higher resolution options are ideal for customers who want to print large images or use them professionally.
"Most people have hundreds of photos stored in boxes where no one can enjoy them," said Mike Mothner, co-founder of ScanDigital. "With ScanDigital now they can. We believe there is strong demand for this kind of service that provides the highest levels of quality, security and convenience."
About ScanDigital
ScanDigital is the world's premier, high quality photo digitization service that enables people to preserve, share and enjoy their photographs and slides. Using professional grade scanning equipment and skilled technicians based in the U.S., ScanDigital is able to deliver the highest levels of quality, security and convenience. ScanDigital was founded in January 2007 and is headquartered in El Segundo, CA. More information is available at http://www.scandigital.com.
Share this article