Epson and Panasonic Recognise Importance of 16:9 Format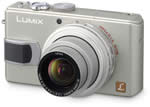 Epson and Panasonic Press Release
6 September 2006 - As 16:9 ratio has become the international standard of HDTV, a new photo culture is emerging, raising the demand for true 16:9 format cameras, printers and photo paper. At the forefront are Epson and Panasonic with new products to meet the needs of photographers who want to shoot, view and print in 16:9 format which brings wider breadth and deeper perspective into the picture. Panasonic has introduced its LUMIX LX2 digital camera to feature a 16:9 CCD sensor and LCD screen. Epson is launching Premium Glossy Photo Paper 16:9 (101.60mm x 180.60mm). It features a smooth, bright white resin-coated layer for a vibrant high-gloss finish and is compatible with a range of Epson printers including the new Epson Stylus Photo R360 and Stylus Photo RX560. As an introductory offer Epson and Panasonic are joining together to provide a trial sample of the new 16:9 Premium Glossy Photo Paper with every purchase of the Panasonic DMC-LX2.
The Panasonic Lumix DMC-LX2, 10.2-megaixel advanced compact camera, is unique in that it incorporates triple-wide features of 28 mm wide angle Leica DC lens, 16:9 wide CCD and 16:9 wide LCD. The DMC-LX2 also features MEGA O.I.S. (Optical Image stabilizer) and Intelligent ISO control to compensate for any kind of blur caused by hand shake and subject movement. Not only the DMC-LX2 but all other LUMIX cameras can record 16:9 aspect photos to support this new photographic experience.
The Epson Stylus Photo RX560 and Stylus Photo R360 are premium quality 10x15cm photo printers, incorporating Epson's latest printing technologies, PhotoEnhance and Advanced Variable-Sized Droplet technology. Both work in standalone mode, so you don't even need to connect to your computer. To print your 16:9 ratio photo, simply insert your digital camera memory card into the printer, select the 16:9 Epson Premium Glossy Photo Paper option and print. Both printers also provide direct printing from digital camera memory cards, USB DIRECT-PRINT™, PictBridge and an optional Bluetooth® adapter.
Esther Smirnovs, product manager, Panasonic Marketing Europe says, "Panasonic has established a new photo culture for the digital age with our LUMIX range. As customers are increasingly demanding 16:9 ratio in the home, Panasonic is meeting their needs through our wide range of products including High Definition plasma TVs, DVD recorders and digital cameras. We believe 16:9 photography is a key function for digital imaging and Epson's new printers and 16:9 papers are also playing an important part."
Yasbir Sihan, Senior Product Manager, Epson Europe says, "Epson recognises that 16:9 format is increasingly being required in digital photography. Where Panasonic has provided the technology to ensure it is possible to shoot images in true 16:9, Epson has used its expertise to provide a premium quality photo paper and printer range. The result is that digital photographers can produce perfect 16:9 format photos without losing any part of the image or sacrificing quality".
Epson 16:9 Premium Glossy Photo Paper features summary:
• 16:9 (101.60mm x 180.60mm)
• Smooth, bright white resin-coated layer for a vibrant high-gloss finish
• 20 sheets per pack
• 255 gsm
• RRP including tax £5.49
About Epson
Epson is a global leader in imaging products including printers, 3LCD projectors and small- and medium-sized LCDs. With an innovative and creative culture, Epson is dedicated to exceeding the vision and expectations of customers worldwide with products known for their superior quality, functionality, compactness and energy efficiency.
Epson is a network of 90,701 employees in 120 companies around the world, and is proud of its ongoing contributions to the global environment and to the communities in which it is located. Led by the Japan-based Seiko Epson Corp., the Group had consolidated sales of 1549.5 billion yen in fiscal 2005.
About Panasonic
Best known by its Panasonic brand name, Matsushita Electric Industrial Co., Ltd. is a worldwide leader in the development and manufacture of electronic products for a wide range of consumer, business, and industrial needs. Based in Osaka, Japan, the company recorded consolidated net sales of US$76.02 billion for the year ended March 31, 2006. The company's shares are listed on the Tokyo, Osaka, Nagoya and New York (NYSE:MC) stock exchanges. For more information on the company and the Panasonic brand, visit the company's website at http://panasonic.net
Share this article