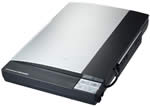 The Epson V200 Photo is a cost effective, high-quality scanner in a compact and slim design. It features 4800dpi optical resolution, Auto Photo Orientation to straighten photos, and a built-in transparency unit with film holding storage. The Epson V200 can scan a range of document sizes, including A4, 35mm strip film x 6 frames and 35mm slide x 4 frames. The Epson V200 Photo will cost £69.99 / $99, available July 2007.
Epson UK Press Release
With Epson's superior Matrix Charged-Coupled Device™ (CCD) scanning technology, exceptional image quality, high resolution and slim design, the Perfection V200 Photo is the ideal scanning and copying partner for users with restricted space.
18th June 2007 – The Epson Perfection V200 Photo is a compact, stylish photo and film scanner designed to meet the needs of the photo enthusiast.  It features a remarkable 4800dpi optical resolution with Epson Matrix CCD technology for premium image quality. A new Auto Photo Orientation feature will straighten photos, which have been inserted off-angle, on the flatbed to produce a perfectly aligned image.  For added convenience a multiple scan to PDF button has been added, automatically saving documents into PDF format so they are easy to email and file. Hassle-free film scanning is delivered with the built-in transparency unit which scans six frames of 35mm stripfilm or four frames of slides at once. 
With an extendable hinge and fully open lid design, the Perfection V200 Photo scans documents up to 25mm thick with the lid closed. When open fully to 180° it can copy large document formats, crucial for scanning thick textbooks with heavy spines. 
The modern black and silver slim-line body of the Perfection V200 Photo includes four quick-start buttons to immediately access the power on/off, scan to PDF, scan to email and copy making the scanning process fast and convenient, from start to finish. When the power button is selected, the Perfection V200 Photo will start immediately and power down in just three seconds, eliminating unnecessary waiting time once scanning is complete. It is Energy Star compliant and features a power saving mode that is automatically activated after 14.5 minutes of inactivity or immediately under manual operation.
Also in the box is a range of software to help with image manipulation.  The latest version of Epson Scan 3.1 offers up-to-the-minute photo enhancement technology including Auto Photo Orientation.  It analyses the image content to detect the top direction of the image and automatically rotates itself, meaning photos don't have to be carefully laid out on the scanner. Epson Easy Photo Fix™ offers colour restoration, backlight correction and improved digital dust correction to restore old or faded images and bring them back to life.  Epson Creativity Suite offers a new red-eye reduction feature. In automatic mode, red-eye will reduce automatically, or if preferred users can choose the manual option.  Additional software includes ArcSoft PhotoImpression® 6 and ABBYY FineReader® Sprint 6 Plus
Mark Robinson, Senior Product Manager, Epson UK, says, "In spite of almost all photos now being taken on digital cameras, there remains customer demand for a scanner that is affordable and offers the wide range of features and software necessary for digitising or enhancing photo collections.  The Epson Perfection V200 Photo will satisfy the needs of the home or small office customer who may also want to scan important documents or letters to email.  The Perfection V200 Photo is a high-quality scanner with flexibility to serve the needs of all markets. It is also fully compatible with Epson's range of Claria Photographic Ink printers for premium quality photo prints."
Epson Perfection V200 Photo key features:
Stylish and slim black design
4800dpi optical resolution
Superior scanning capabilities with Matrix CCD (12 line colour) scanning technology
Flexible 2-way design for portrait or landscape scanning
Scan thick materials easily with the extendable hinge and fully open 180° scanning
Four quick-start buttons for fast and convenient scanning and copying
Instant start up and power down in only three seconds
Low power consumption and Energy Star compliant
Scan multiple pages to PDF at the touch of a button
Auto Photo Orientation and improved dust removal sensors for hassle-free scanning
Epson Creativity Suite software, including red-eye reduction and ArcSoft Photo Impression® 6 and ABBYY FineReader® Sprint 6 Plus1
Built-in transparency unit with film holding storage
Scan a range of document sizes, including A4, 35mm strip film x 6 frames and 35mm slide x 4 frames
Mac and PC compatible
USB 2.0 Hi-Speed connectivity for fast plug and play
 
1. ABBYY FineReader 5 Sprint Plus for Mac
Epson America Press Release
EPSON ANNOUNCES PERFECTION V200 PHOTO SCANNER AS THE SMART SCANNING SOLUTION FOR THE PHOTO HOBBYIST
Epson Perfection V200 Photo Offers High-Quality 4800 dpi at $99
LONG BEACH, Calif. – June 25, 2007 – Designed for Chief Memory Officers™ and active photo enthusiasts, Epson America, Inc. today announced the Perfection® V200 Photo, its newest consumer scanner featuring a high-quality 4800 dpi optical resolution – for only $99. Equipped with the ability to scan photos or film with just one touch, scan 3D objects with the unique high-rise 180-degree lid and offer features such as photo restoration and Advanced Digital Dust and Scratch Correction, the versatile Perfection V200 offers remarkable results.
"At Epson America, we strive to enhance the value our products deliver and exceed our customers' expectations for imaging technology," said Grace Huang, senior product manager, Epson America, Inc. "Without question, the Epson Perfection V200 Photo is a breakthrough scanner that offers an amazing degree of high-quality 4800 dpi at just $99."
The Perfection V200 Photo features 4800 dpi optical resolution with 48-bit color scanning and 3.2 dynamic range for high quality scans of images, documents and objects with brilliant clarity and accuracy. Furthermore, its four convenient front panel one-touch buttons make it simple for users to scan, copy directly to e-mail or produce PDFs to facilitate sharing and archiving.  Scanning to e-mail, copying and producing PDFs is easy and affordable.
For more advanced photo enthusiasts, the Perfection V200 Photo offers precision film scanning to create enlargements up to 14 by 21 inches and features an innovative high-rise lid to accommodateoversized and 3D objects, also making it a natural choice for scapbookers who like to create custom background pages. It is also equipped with a built-in transparency unit to scan 35mm slides and negatives with ease and offers one-touch restoration of faded color photos. 
The Perfection V200 Photo comes with Epson Easy Photo Fix® for automatic color restoration of faded photos, dust removal and grain reduction, Epson Creativity Suite which includes ArcSoft PhotoImpression™ 6 (PhotoImpression 5 for Mac), ABBYY® Fine Reader® 6 Sprint Plus (ABBYY® Fine Reader® 5 Sprint Plus for Mac). The scanner is compatible with popular programs including Microsoft® Windows® 2000, Windows Me, Windows XP, Windows Vista, Macintosh OS X 10.2.08 and later, and is also TWAIN compliant.
The Epson Perfection V200 Photo comes with a one-year limited warranty. To learn more about the Perfection V200 Photo and other Epson scanners, please visit www.epson.com or call 1-800-GO-EPSON (1-800-463-7766) for more information.
About Epson America, Inc.
Epson offers an extensive array of award-winning image capture and image output products for the consumer, business, photography, and graphic arts markets. The company is also a leading supplier of value-added point-of-sale (POS) printers and transaction terminals for the retail market. Founded in 1975, Epson America, Inc. is the U.S. affiliate of Japan-based Seiko Epson Corporation, a global manufacturer and supplier of high-quality technology products that meet customer demands for increased functionality, compactness, systems integration and energy efficiency. Epson America, Inc. is headquartered in Long Beach, Calif.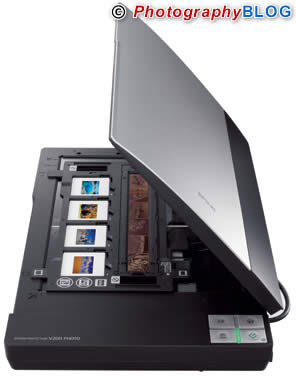 Your Comments