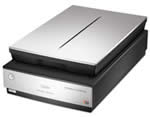 Epson UK Press Release
EISA chooses Epson for professional photo scanning - EISA European Scanner 2006-2007 is the Epson Perfection V700 Photo/V750 Pro
15 August 2006 – The European Imaging and Sound Association (EISA), Europe's biggest multimedia press organisation, has singled out the Epson Perfection V700 Photo/V750Pro professional scanner series as best "European Scanner 2006-2007".  The Perfection V750 Pro is ideal for the professional photographer while the Epson Perfection V700 Photo is suitable for the photo enthusiast or advanced amateur photographer. The Photo Panel, responsible for judging and selecting the best products for the photography industry is made up from editors of 16 leading photography magazines across Europe.  The reasons for choosing the Perfection V700/V750 series were based upon its features and professional performance.
The A4 flatbed scanner series features a Dual Lens System with Super Resolution Lens offering up to 6400dpi film scanning (up to 5.9" width) and a High Resolution Lens offering up to 4800dpi reflective scanning and film scanning (over 5.9" width.) Two lenses mean the scanners deliver a high resolution of 6400dpi without increasing the A4 footprint or compromising on quality. Digital ICE™ Technologies automatically remove dust, scratches, dirt and fingerprints from film and photos.  They also feature a large scanning area reaching up to 8x10" (203 x 254mm) and four film holders that support 35mm film strips and slides, medium and large format film.  You can insert four strips of 35mm films, twelve 35mm mounted slides, two 6x20cm (max) 120/220 frames and two 4x5" frames.
The Epson Perfection V750 Pro features a High Pass Optics system to improve scanning speed and quality. An Anti-Reflection Optical Coating is applied to the glass on the scanner to eliminate reflection and ghosting, producing a sharp and clear image, while a High Reflection Mirror improves the reflection of the scanned light to the sensor, resulting in faster scanning speeds. It is bundled with a fully comprehensive software suite that includes, Adobe® PhotoShop® Elements 3.0, SilverFast® Ai and Monaco EZcolor™.
Barbara Kuhr, Head of Strategic Marketing, Epson Europe says, "Epson continues to develop highly innovative products for professional and amateur photographers that combine the best in quality with the best in value. At launch these scanners were, and still are, the world's first flatbed scanners at less than £550 to offer these features. Therefore it is great that the features and quality of output has been rewarded with a 'best in class' seal of approval by such a prestigious collective of photo industry experts. 
Epson Perfection V750 Pro and V700 Photo key features summary:
Scan documents and film with the unique Dual Lens System
Super Resolution Lens for 6400 dpi film scanning
High Resolution Lens for 4800 dpi film and reflective scanning
Create colour-managed reproductions with a maximum resolution of 6400 dpi for film scanning and 48-bit colour
Scan many different film formats: 4x5", 35mm strip-film, 35mm mounted slides and medium format film of up to 6x20cm
Remove dust and scratches with DIGITAL ICE™ Technology
Excellent tone reproduction with 4.0 DMax optical density
Enjoy faster scanning and easy connection with USB 2.0 and IEEE 1394 (FireWire)
Scan film of up to 8x10" with the use of Film Area Guide
Increase productivity with batch scanning
Track scanning with the moving blue LED
Preview and retrieve images with Epson Creativity Suite
Epson Perfection V700 Photo RRP including tax £399
Epson Perfection V750 Pro RRP including tax £549
Epson Perfection V750 Pro additional features summary:
Superior image quality and scanning speed due to High Pass Optics system: Anti-Reflection Optical Coatings and a High Reflection Mirror
Enhance images and productivity further with SilverFast Ai and Monaco EZcolor™ software.