Family Snappers on the Increase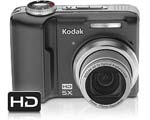 According to a report by InfoTrends, the number of snapshot photographers has increased, while the number of hobbyists has decreased. Kodak is the leading brand among "family memory keepers", maintaining its lead since 2004, while Canon leads the way in the hobbyist sector. According to InfoTrends' Director Mette Eriksen, "This is important for Canon because it will have helped secure sales of entry-level digital single-lens reflex (DSLR) cameras to brand loyal hobbyists."
InfoTrends Press Release
Photographer Type Influences Selection of Digital Camera Brand
According to a new report from InfoTrends entitled Digital Camera Brand Ownership Trends, the type of photographer a consumer identifies with has significant influence over the brand of the digital camera they choose to purchase. What's more, as the digital camera market has matured, the proportion of family memory keepers and snapshot photographers has increased, while the number of hobbyists has decreased. This is significant for vendors because there are important differences in the buying habits of the various groups of consumers.
Although Canon was the leading digital camera brand among all digital camera owners in 2007, when we look at brands owned by photographer type, it is clear that some other brands are gaining strength. Among family memory keepers, Kodak has been the top brand since 2004. Although Canon has strengthened its position to close the gap with Kodak, Kodak reigns as the brand of choice among family memory keepers.
Hobbyists, although a relatively small group, represent the most attractive segment because these consumers are willing to spend money to upgrade their camera more frequently than family memory keepers or snapshot photographers. Canon has been the leading brand among this group of consumers since 2004. According to InfoTrends' Director Mette Eriksen, "This is important for Canon because it will have helped secure sales of entry-level digital single-lens reflex (DSLR) cameras to brand loyal hobbyists." Both Canon and Nikon will likely see an increase in share among hobbyists as the proportion of DSLR owners increases.
In addition to analyzing how respondents' attitudes toward technology or the type of photographer they identify with can impact the digital camera brand that is owned, this assessment explores the changes that have occurred in digital camera brand ownership from 2004 through 2008. The data reveals which brands are increasing in popularity and which are becoming less popular. The brands examined include: Kodak, Canon, Sony, Olympus, Fujifilm, and Nikon.
For more information or to make a purchase, visit our online store or contact Michelle Boczanowski at +1 781-616-2100 ext. 109 or via e-mail at michelle_boczanowski@infotrends.com.
InfoTrends, a Questex company, is the leading worldwide market research and strategic consulting firm for the digital imaging and document solutions industry. We provide research, analysis, forecasts, and advice to help clients understand market trends, identify opportunities, and develop strategies to grow their businesses. Additional information about InfoTrends is available on the Web at http://www.infotrends.com
Share this article