Five Photojournalists and Four Students Receive Latest Getty Images Grants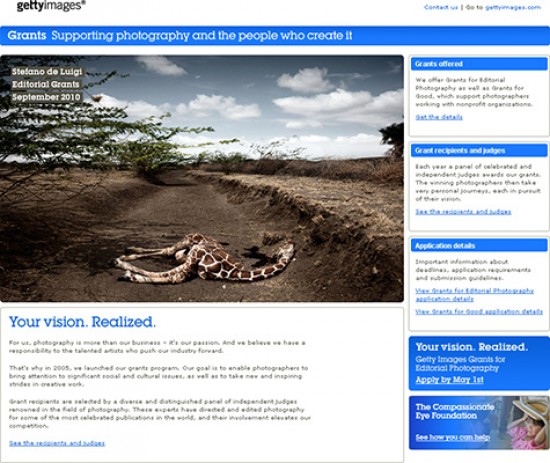 Getty Images has completed its sixth annual photojournalism grants programme by announcing the names of those who have been selected to receive the grants. The winners include working photojournalists Stefano De Luigi, Miquel Dewever-Plana, Edwin Koo, Darcy Padilla and Jerome Sessini, while the student awardees are Bryan Anselm, Julie Glassberg, Julia Marie Rendleman and Paris Visone. Each of the five photojournalists will receive $20,000, while each of the four student winners will be awarded $5000. Aidan Sullivan, vice president of photo assignments, Getty Images, commented, "I am delighted that our editorial photography grants programme continues to empower photojournalists and enable them to bring these important visual essays to the world's attention. This year's judging panel carefully considered the 260 applications and proposals we received from professional photojournalists, along with the 48 student proposals, from around the world and we are thrilled with the winners selected for 2010, whose projects deal with a range of compelling and complex issues."
Getty Press Release
Winning Photojournalists Awarded Getty Images Latest Grants for Editorial Photography
Five professional and four student grants are awarded $120,000 collectively, to pursue their documentary photography projects
NEW YORK, NY and PERPIGNAN, France – Sept. 2, 2010 – Getty Images Inc. announced today that the following five photojournalists have been selected to each receive $20,000 Grants, as well as collaborative editorial support from Getty Images, to pursue their documentary photography projects:
  * Stefano De Luigi, Italy, for "TIA – This is Africa"
  * Miquel Dewever-Plana, France, for "The Other War"
  * Edwin Koo, Singapore, for "Paradise Lost: Pakistan's Swat Valley"
  * Darcy Padilla, USA, for "The Julie Project"
  * Jerome Sessini, France, for "So far from God, too close to America"
Getty Images also awarded the following four student winners, all of whom are studying photojournalism in the United States, who will each receive $5,000 and editorial support to develop their projects:
·      Bryan Anselm, Western Kentucky University, for "A Generation in Limbo"
·      Julie Glassberg, International Center of Photography, for "Bike Kill"
·      Julia Marie Rendleman, Southern Illinois University, Carbondale for "Impact Incarceration at Dixon Springs"
·      Paris Visone, The Art Institute of Boston, for "Gender Roles and Appearance"
Aidan Sullivan, vice president of photo assignments, Getty Images, commented, "I am delighted that our editorial photography grants programme continues to empower photojournalists and enable them to bring these important visual essays to the world's attention. This year's judging panel carefully considered the 260 applications and proposals we received from professional photojournalists, along with the 48 student proposals, from around the world and we are thrilled with the winners selected for 2010, whose projects deal with a range of compelling and complex issues."
The grant judges included:
·      Stephen Frailey, Chair, Photography Department, School of Visual Arts
·      Jean-Francois Leroy, Director General, Visa Pour l'Image
·      Eugene Richards, Photojournalist
·      Kathy Ryan, Director of Photography, The New York Times
·      Jamie Wellford, Senior Photo Editor, Newsweek
The Getty Images Grants for Editorial Photography was established in 2004, to enable emerging and established photojournalists to pursue projects of personal and editorial merit. Since 2004, Getty Images has provided Grants in excess of $600,000 through the Grants for Editorial Photography and the Grants for Good.
More information about the judges, the new grant winners and their projects, as well as galleries of their portfolio images, can be found at www.gettyimages.com/grants.
Your Comments