Focus On Imaging 2012 Draws 37,684 Attendees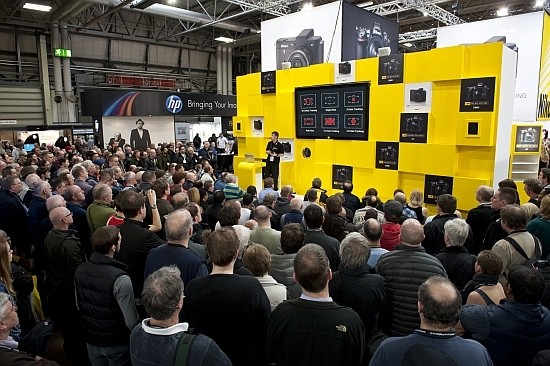 Focus On Imaging has released official visitor statistics for this year's show. The total number of attendees was 37,684 which, according to the organisers, made for a very busy show floor across all of the four days. Stars of the show included the Canon EOS 5D Mark III, the Fujifilm X-Pro1 (read review), the Nikon D800 and the Olympus OM-D E-M5. Alongside these exciting new products, many of the exhibitors at this year's show presented an array of talks, seminars and demonstrations on a wide range of subjects.
Browse our photos from the Focus on Imaging 2012 photography show
Focus On Imaging Press Release
Focus On Imaging 2012 Draws the Crowds Once Again
Focus on Imaging 2012 took place at the Birmingham NEC between the 4th and 7th of March. This year's Show was attended by 37, 684 individual visitors which made for a very busy show floor across all of the four days, created a real buzz of activity and with it an infectious atmosphere.
Focus 2012 was characterised by the launch of a raft of new products from the biggest names in imaging. Canon announced its EOS 5D Mk III just hours before Focus began, and visitors who had got themselves to the front of the queue were able to be some of the first in the world to get their hands on the camera. Meanwhile Nikon was rightly boasting about its ground-breaking 36 mega-pixel D800 that takes D-SLR photography to new levels of resolution and refinement.
However, in some ways the Show was stolen by the new niche cameras from Olympus and Fujifilm.
As visitors were constantly suggesting on social media, could this be the future? Certainly, the
Olympus OM-D and Fujifilm X-Pro1 attracted a huge amount of attention – again both being seen first at Focus 2012. Olympus particularly rose to the occasion, giving visitors ample photographic opportunities with celebrity appearances on its runway-style stand. Naturally, it was always going to be hard to get a good place to capture all the action. Celebrity photographer Perou made the day for many as he casually visited stands and listened to talks.
Focus is not just about new and exciting products, however. Many of the exhibitors at this year's Show presented an awe-inspiring array of talks, seminars and demonstrations on a dizzying range
of subjects. But the prize for the longest queue before a talk at Focus goes to Lara Jade on the Canon stand – the young fashion photographer, who now works out of the US and has a client list many would dream of, was a sensation and visitors started queuing for a spot up to two hours beforehand. In many ways her talks summed up the overall feel of the Show that so many commented on via Twitter and the like and which goes beyond the new products and tempting kit to buy. Focus 2012 saw a new generation of young photographers coming through who are both eager for the best technological advances and fresh creative inspiration.
Your Comments