Four Corner Store Presents 35mm Film Collection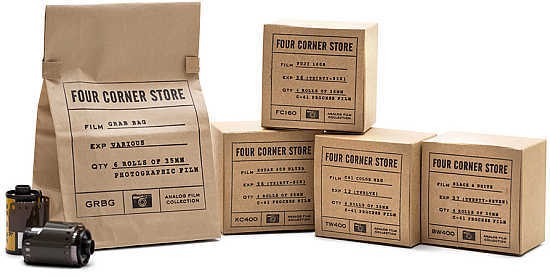 Four Corner Store has announced a new 35mm Film Collection, which combines colour and black-and-white, Kodak, Fuji and even its own private label films. The films, ranging from 12 to 36 exposures per roll, are packaged in recycled boxes and bags, each one hand stamped and filled. Boxes are four rolls each, bags are six rolls and there's even a hard film case that holds 10 rolls. Boxes start at $7.95, while the Hard Case sells for $14.95.
Website: Four Corner Store
Four Corner Store Press Release
Four Corner Store proudly presents the new 35mm Film Collection.

In these days of mobile phones, instagram and Facebook, digital photographs have become part of our daily life. But remember when we actually loaded film and took real photographs?

Slow down for a bit and break out that 35mm camera. Instead of shooting hundreds of quick images on your mobile phone, take 36 images that you really want to preserve. Four Corner Store's 35mm film collection will give you all of the films you need for a great day of shooting.
So you've always wanted to shoot black and white film, but didn't have the facilities to process or print it? Try some of our new Black and White C-41 process film. C-41 process is the standard color negative process, and is exactly what that hour-lab on your corner uses. That means you can drop off your black and white film to any hour-lab and 60 minutes later have the depth and impact of monochrome without the messy chemicals or high price.

The Four Corner Store 35mm Film collection includes 12 exposure color film for those days when your attention is short, and 36 exposure Kodak for those days when it is not. Fuji 160s rounds out the foursome, with a slower ASA and a warmer tone that is great for portraits.
Our famous 35mm Film Grab bag returns with six assorted rolls of film. We'll load the bag with a mix of color, black and white, Kodak, Fuji and more. Each bag may differ slightly which makes the surprise even better.

Having trouble keeping your film organized? Can't remember which films have been shot? Load your film into our 35mm Film Hard case. Each case holds 10 rolls in their own compartment, making organization a breeze. Easily see which are shot or not shot, and never again get that 'is there a missing roll?' feeling in your gut. Start with 10 rolls and end with 10 rolls safe inside the durable plastic container.

Our films are packaged in Recycled boxes and bags, each one hand stamped and filled. Boxes are four rolls each, bags are six rolls and the hard film case holds 10 rolls. Boxes start as low as $7.95, and the Hard Case is only $14.95.
Your Comments