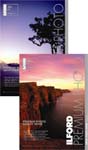 Ilford now offers over 145 free ICC profiles for their Premium Plus and Premium Photo inkjet papers. Available to download for free from http://www.ilford.com , each ICC profile is built by in-house specialists at Ilford, allowing you to obtain a more striking and professional look in your prints. "ILFORD is dedicated to developing premium digital imaging technology for photographers, whether they are enthusiastic amateurs or 'happy snappers'," said Andrew Stewart, Sales and Marketing Director, ILFORD Imaging Switzerland GmbH. "We are delighted at the feedback we've been getting from the public. The increasing number of users downloading our profiles further proves that more and more people are turning to home printing."
Ilford Press Release
ILFORD ICC Profiles an Instant Success
Printer Compatibility, Image Enhancement and Consistently Stunning Results at the Click of a Button

Marly, Switzerland, 16 April, 2008 – Following the successful launch of its Inkjet Photo Paper Range last year, ILFORD is fast becoming the obvious choice for consumers looking for a reliable and user friendly printing solution.
Today ILFORD offers over 145 free profiles that have been specifically developed for the Premium Plus and Premium Photo product lines, both part of the ILFORD Inkjet Photo Paper Range. Using standard printer drivers does give exceptional results, however, ICC profiles - unique files which optimise your printer and OEM ink to obtain the finest quality prints - enable amateur photographers to obtain a more striking and professional look. The end-user simply selects the printer and the media they are using and then downloads the profile from the ILFORD website, www.ilford.com
In the last two months alone, 1 profile has been downloaded for every 10 packs purchased as opposed to 1 profile for every 22 packs bought at the time of the consumer range launch. Each ICC profile is built by in-house specialists at ILFORD who have dedicated their time to creating a user friendly solution.
"ILFORD is dedicated to developing premium digital imaging technology for photographers, whether they are enthusiastic amateurs or 'happy snappers'," said Andrew Stewart, Sales and Marketing Director, ILFORD Imaging Switzerland GmbH. "We are delighted at the feedback we've been getting from the public. The increasing number of users downloading our profiles further proves that more and more people are turning to home printing. In addition, sales results show that customers are making a conscious decision to buy ILFORD products as they associate our name with quality and experience," he concluded.
The profiles are easy to use and the clear, step-by-step instructions available on the ILFORD website (www.ilford.com) have helped to gain customer confidence. Furthermore, as new printers come to market, corresponding profiles are created and added to the site enabling users to get the best from their images.
The ILFORD Inkjet Photo Paper range offers free ICC profiles for the Premium Plus and Premium Photo ranges. Both product lines are available in the UK through JP Distribution.
About ILFORD
Founded in 1879, ILFORD is a leading player in the development and manufacture of photo quality media for both inkjet printing and colour** photographic processes. The ILFORD worldwide Digital Imaging and Colour Photo businesses, including the R&D and manufacturing operations in Switzerland have been owned by Oji Paper, Japan, since July 2005. ILFORD now operates as a fully owned subsidiary within Oji's Communications Paper Division, enabling the ILFORD capabilities to run all the way from raw paper through to the highly sophisticated product design and manufacturing processes incorporated in the end product made in Switzerland.
The ILFORD name is well established in the history of Imaging and today it continues to be associated with cutting edge technology thanks to its strong links to the photo imaging marketplace, R&D, technical know-how and manufacturing capabilities.
For more information on ILFORD, please visit www.ilford.com
** The ILFORD Black and White Photo business, including the UK Manufacturing facility, was acquired by HARMAN technology Limited. Trading as ILFORD Photo, HARMAN is licensed to use the ILFORD brand in association with traditional Black and White silver halide products only.
About JP Distribution
JP Distribution is a successful division of Johnsons Photopia Ltd., an independent, privately owned company that can trace its roots back to 1743. JP Distribution is committed to providing an exclusive complimentary portfolio of leading brands for the professional and enthusiast photographer via a dedicated network of retail partners.
Mamiya, Sekonic, Lastolite, Gepe, Geimuplast, Billingham, Giottos, Peli and Schneider are all part of the JP Distribution brand portfolio.
JP Distribution is located in the heart of England at the company headquarters in Newcastle under Lyme, Staffordshire, where the company employs a wealth of experienced personnel with an unrivalled level of imaging knowledge, expertise and experience.
For more information on JP Distribution, please visit www.johnsons-photopia.co.uk
Your Comments