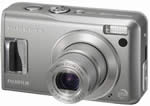 The new Fujifilm F31fd camera adds face detection and infra-red communication to the 6 months old F30 model. The Fujifilm FinePix F31fd will be available in December at a retail cost of $399.
Fujifilm USA Press Release
Valhalla, NY, September 25, 2006 - Fuji Photo Film U.S.A., Inc., is proud to unveil the Fujifilm FinePix F31fd, the first pocketable digital camera from Fujifilm to feature the company's new Face Detection Technology. Fujifilm's Face Detection Technology debuted on the SLR-styled FinePix S6000fd. It has a tremendous impact on the quality of "people pictures" by ensuring that cameras like the Fujifilm F31fd will automatically focus on and expose for faces, rather than details that lead to less-than-desirable photographs. Identifying up to 10 faces in a frame, Face Detection Technology ensures photos of friends and family are crisp, clear and properly exposed for a natural feel. It has an advantage over the few other face detection systems currently on the market as the technology is built-in to the camera's processor, enabling the Fujifilm F31fd to identify faces and optimize settings within a scant 0.05 seconds. With the Fujifilm F31fd, which is similar in style to the FinePix F30, Fujifilm adds Face Detection to the many significant breakthrough features in the award winning and critically-acclaimed FinePix F30 - unprecedented light sensitivities up to ISO 3200 at full resolution, Fujifilm's Picture Stabilization, the 'i-Flash' system, and best-in-class 580-shot battery life. Add a 3x optical zoom lens from Fujinon, a 6-MegaPixel Super CCD HR sensor, and a 2.5 inch LCD screen with glare-reducing coatings and the Fujifilm FinePix F31fd is an ideal companion for consumers looking for a first-class upgrade to their current digital cameras.
Photokina Update: We now have some product photos live from Photokina 2006 - just click the link below to view them.
Face Detection Technology
Fujifilm's Face Detection Technology was originally developed for the company's photofinishing division where it has been improving the quality of photos produced at retail photo centers nationwide by Fujifilm's Frontier Digital Lab Systems. Fujifilm's Research & Development team adapted the technology for use within digital cameras, where it is now a genuinely useful tool for making subjects look their best.
A selectable option, Fujifilm's Face Detection Technology identifies faces by triangulating a subject's eyes and mouth using an algorithm to optimize focus and exposure. It simultaneously displays a green rectangle around the primary subject, while white squares identify up to nine other subjects. Movement tracking keeps the camera 'locked on' to its subjects until they move out of the picture. The technology works regardless of the subject's position in the frame, and is not confused by eyeglasses.
In Playback mode, Face Detection automatically zooms to subjects' faces and trims the shot for optimum portraits.
Low Light Photography and Picture Stabilization
Fujifilm has identified low light photography as one of the true benchmarks of a digital camera's performance, as many images are taken when light is limited. Limited light requires the use of a flash, however, a flash can leave subjects looking 'washed out' and background detail almost non-existent. Higher light sensitivities make flash-free photography possible with available light, balancing foreground and background exposure and contributing to a natural look and feel.
Higher light sensitivities also enable the camera to shoot with faster shutter speeds, which lessen the likelihood of blurry pictures caused by a moving subject or the shake of an unsteady hand. To make it easy for consumers to achieve blur-free results, the FinePix F31fd features a helpful "Picture Stabilization" mode dial setting. This easy-to-identify, automatic setting lets the FinePix F31fd choose the correct light sensitivity and best-matching shutter speed, producing the highest quality digital pictures without blur and the noise often associated with high sensitivity photographs.
i-Flash
For those occasions when flash is required, Fujifilm's intelligent 'i-Flash' system sets flash power output to achieve natural foreground illumination with balanced background exposure. Fujifilm's i-Flash system is more advanced than similar flash systems because it can detect more accurately the subtle lighting differences within a scene, and then light the subject accordingly with a wider range of flash intensities. Together, the Face Detection and i-Flash technologies produce photographs with prominent subjects exhibiting pleasing, natural tones.
"Fujifilm set the benchmark for digital camera performance earlier this year with the introduction of the FinePix F30, a model that helped consumers take better pictures through innovative technology breakthroughs and best-in-class performance," remarked David Troy, Senior Product Manager, Consumer Digital Cameras, Electronic Imaging Division, Fuji Photo Film U.S.A., Inc. "With the addition of Face Detection Technology to an already outstanding camera package, the FinePix F31fd will turn just about any picture-taker into a top-notch photographer."
The FinePix F31fd has a number of useful features that make it easy to snap outstanding photos:
* "Natural Light & with Flash" Dual Shot Mode: In this mode the FinePix F31fd quickly shoots two images in succession—one with and one without the flash—saving both. This convenient function lets the user perform an on-the-spot picture comparison and decide whether the FinePix F31fd produced the most pleasing photo with flash, or without.
* "Natural Light" shooting mode: This mode preserves scene mood and enhances background detail by shooting with faster shutter speeds at higher light sensitivities (if necessary) with a suppressed flash.
* Fast Operation: The camera's fast response times, 0.01 second shutter lag and 1.5 second start-up time, ensure it will catch all the action and spell the end for missed photo opportunities.
* LCD: The FinePix F31fd features a large 2.5 inch, 230,000 pixel LCD screen coated with Fujifilm's proprietary CV film. This minimizes glare and reflection so that images can be viewed from any angle and even in sunny conditions, when glare would usually be a problem. In addition, the screen's brightness adjusts automatically, depending on the amount of light available, to further enhance ease of viewing.
* Better Movie Quality: Movie capture for the FinePix F31fd is enhanced by noise reduction, making it possible to capture clear, sharp moving images even at high ISO sensitivity speeds. It is also capable of VGA movie capture at 30 frames per second with sound.
* Special scene modes: The FinePix F31fd has 15 scene positions including beach, snow and fireworks for optimum photography, no matter what the event.
* Manual settings: Includes shutter and aperture priority, for more user control.
The FinePix F31fd will be available in December at a retail cost of $399.
About Fujifilm
Fuji Photo Film U.S.A., Inc. is a subsidiary of Fuji Photo Film Co., Ltd. and delivers technology solutions to meet the imaging and information needs of retailers, consumers, professionals and business customers. As a global leader in digital imaging, Fujifilm pioneered the development of digital medical systems, and today is the leader in digital minilab systems. The company was ranked number 18 for U.S. patents granted during 2005, employs more than 75,000 people worldwide and in the year ending March 31, 2006, had global revenues of more than $22.8 billion.
In the United States, Fujifilm is a leader in delivering high quality, easy-to-use imaging and information solutions in the following categories: Digital Imaging Systems, Film and Imaging Systems, Recording/Storage Media, Motion Picture Film, Graphic Arts and Printing Systems and Medical Imaging and Diagnostics Systems. Fujifilm is an environmentally friendly, humane enterprise and an exemplary corporate citizen.
For more information on Fujifilm products, consumers can call 800-800-FUJI or access the Fujifilm USA Web site at http://www.fujifilmusa.com
.
Consumers also can receive news and information direct from Fujifilm USA via RSS. Subscription is free at http://www.fujifilmusa.com/rss
.
###
All product and company names herein may be trademarks of their registered owners.
FinePix F31fd Specifications
CCD Sensor 1/1.7-inch Super CCD HR
Number of Effective Pixels 6.3MP
Number of Recorded Pixels
Still image: 2848 X 2136 (6.1M) / 3024 X 2016 (3:2 format) /2048 X 1536 / 1600 X 1200 / 640 X 480 pixels
Movie: 640 x 480 pixels (30 frames/sec.), 320 x 240 pixels (30 frames/sec.)
Storage Media Internal memory (approx. 26MB) /xD-Picture Card (16MB - 2 GB)
File Formats • Still image: JPEG (Exif Ver. 2.2), JPEG)
• Movie: AVI (Motion JPEG)
(Design rule for Camera File system compliant / DPOF-compatible)
Lens Fujinon 3.0x Optical zoom lens , F2.8 - F5.0
Lens focal length
8.0 – 24.0mm (36-108mm on a 35mm camera)
Focus
Auto Focus ( Single, Continuous )
(Center, Multi)
AF assist illuminator available
Focus distance
Normal : Approx. 2.0 ft. to Infinity
Macro: Wide Angle: Approx. 2.0 in. to 2.6 ft.
Telephoto: Approx. 1.0 ft. to 2.6 ft.
Recording capacity with 256MB xD Picture Card (not included)

Still image:
• 6MP (F) 85
• 6MP (N) 169
• 3:2 169
• 3MP 325
• 2MP 409
• 0.3MP 1,997
Movie:
• 640x480 Approx. 3.4 min
• 320x240 Approx. 7.2 min
Shutter speed
15 sec. to 1/2000 sec. (depend on Shooting mode),15 sec.(long exposure mode)
Aperture F2.8 - F8, 10 steps in 1/3 EV increments
Sensitivity
Auto /Equivalent to 100/200/400/800/1600/3200
Exposure control
256-zones TTL metering(Multi/Spot/Average)
Exposure mode Programmed AE, Shutter Priority AE, Aperture Priority AE
White balance
Automatic scene recognition
Preset (Fine, Shade, Fluorescent light (Daylight), Fluorescent light (Warm White), Fluorescent light (Cool White), Incandescent light), Custom
LCD Monitor 2.5 inches, Aspect ratio: 4:3, Amorphous silicon TFT, Approx 230,000 pixels, Coverage Approx. 100%
Flash
Auto flash
Effective range: (ISO AUTO): Wide-angle: approx. 2.0 - 21.3 ft
Telephoto: approx. 2.0 – 11.5 ft
Macro: approx. 1.0 ft - 2.6 ft
Red-eye Reduction + Slow Synchro.
Self-timer
Approx. 10 sec./2 sec. delay
Video output
NTSC / PAL selectable
Digital input/output
USB High-speed
Power supply NP-95 Rechargeable Battery, AC Power Adapter AC-5VC (included)
Dimensions 3.6(W)× 2.2(H)× 1.1(D) in. (excluding accessories and attachments)
Weight Approx. 5.5 oz. (excluding accessories, batteries and xD-Picture Card)
Camera functions
Digital zoom 6.20x
Shooting modes
Normal : Auto, Picture Stabilization, Scene Position, Macro, Movie, Burst/Continuous,
SP: Natural Light, Natural Light & with Flash
Position: Portrait, Landscape, Sport, Night, Fireworks, Sunset, Snow, Beach, Underwater, Museum, Party, Flower Close-Up, Text
Continuous:1.Top-3 ( max.2.2 frames/sec., up to 3 frames)
2.Final-3 ( max.2.2 frames/sec., up to 3 frames )
3.Long-period ( max.0.7frame/sec. Up to memory card size)
Movie recording
640 x 480 pixels, 30 frames/sec.
320 x 240 pixels, 30 frames/sec.
With monaural sound, AVI format (Motion JPEG)
Voice Memo
Up to 30 sec. WAV format
Color modes
B&W/Chrome/Standard
Photography functions
Face Detection, High-speed shooting, Best framing, Frame No. memory
Playback functions
Face Detection, IR Communication (IR simple™), Single frame, 9 Multi-frame , Sorting by date, Image rotate, Voice Memo, Trimming, Automatic playback
Accessories included
Li-ion battery NP-95
AC Power Adapter AC-5VC
Hand Strap
USB cable for the FinePix F31fd
A / V cable for the FinePix F31fd
CD-ROM
-FinePixViewer
-ImageMixer VCD2 LE for FinePix
Owner's Manual
Optional accessories
xD-Picture Card: 128MB, 256MB, 512MB, 1GB, 2GB
PC Card Adapter DPC-AD
CompactFlash Card Adapter DPC-CF
AC Power Adapter AC-5VX
Battery Charger BC-65S
Soft Case SC-FXF30
Waterproof Housing WP-FXF30
* With Fujifilm's commitment to constant improvement, the company reserves the right to alter specifications without prior notice.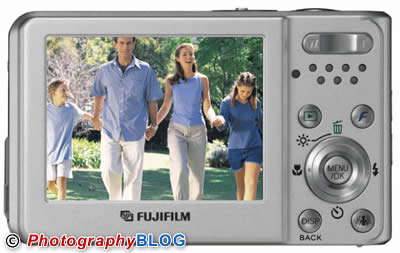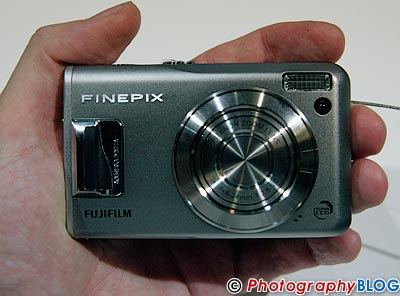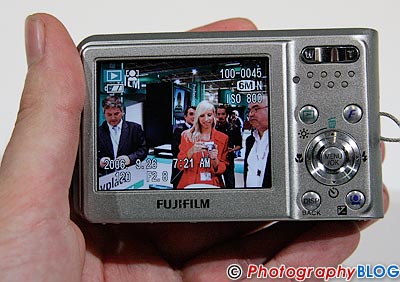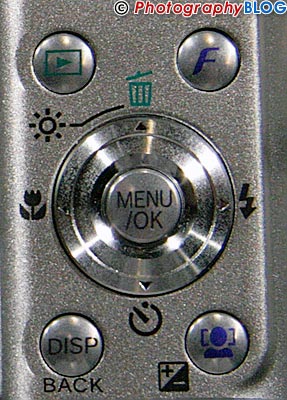 Share this article