Fujifilm FinePix F550 EXR Launches in UK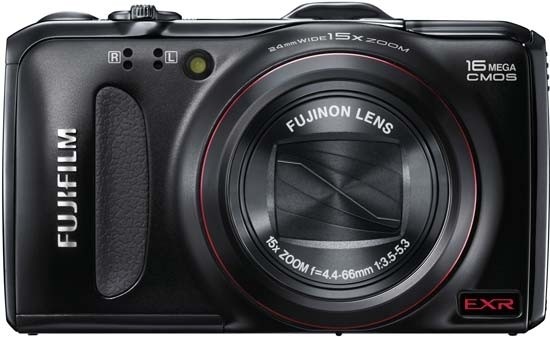 Fujifilm UK has announced the availability of the Fujifilm FinePix F550 EXR, a 16-megapixel digital compact camera with raw image capture and built-in geotagging; as well as that of the very similar F500 EXR that lacks these features but is offered at a more attractive price. Each model boasts a 24-360mm equivalent 15x optical zoom and a 16-megapixel back-illuminated Fuji EXR sensor with three modes of operation: High Resolution, High Dynamic Range and Pixel Fusion. Furthermore, both cameras record 1080p Full HD video at 30fps, with stereo sound. The Fujifilm FinePix F550 EXR is available now for £329 in black, while the F500 comes in a choice of five colours and carries a price tag of £279.
Fujifilm Press Release
The perfect super zoom, super slim, premium compact adds GPS and RAW
London, 13th April 2011: The FujiFilm FinePix F550 EXR is a premium compact camera that's big on image quality and picture-taking versatility. Perfect for the discerning point-and-shoot photographer or a D-SLR user who's travelling light, the FinePix F550 is available today from leading photographic retailers nationwide, with a list price of £329.
Superb results are assured thanks to features including: an advanced 16-megapixel CMOS sensor, powerful new EXR processor, RAW capture facility, advanced GPS functions, high-speed shooting capabilities, a 15x wide-angle zoom lens, Full HD video functionality and an improved user interface – all in a stylish design with very pocket-friendly dimensions.
Perfect pictures in every situation
Thanks to a brand new hybrid sensor, the FinePix F550 EXR delivers extra-fast, high-quality results in a wide range of lighting conditions. The EXR processing engine uses a clever combination of a bespoke 16-megapixel Back Side Illuminated CMOS sensor (BSI-CMOS) and Fujifilm's new triple-core EXR processor, to deliver superior results, particularly in low light conditions - plus high-speed shooting facilities and Full HD movie capture.
Users can still select from three different EXR shooting modes, or can simply allow the FinePix F550 EXR to choose the best option by selecting Auto EXR.
      EXR High Resolution mode utilises the full 16-megapixel resolution of the sensor for high quality results that can be printed out at A3-size, and without the need for any re-sizing by software.
·      EXR Dynamic Range mode employs dual capture-technology to provide a dynamic range of up to 1600% – almost a full stop wider than any other camera. Two images are captured at different exposures and are then merged to produce superb results on high-contrast scenes.
·      EXR Signal to Noise mode utilises Pixel Fusion, pairing pixels to increase sensitivity. Coupled with the BSI sensor technology, this mode delivers superb images in low lighting conditions.
RAW image capture
With the ability to shoot in RAW or JPEG format (or both simultaneously), the F550 EXR has real appeal to those that want to be in full control of their images. By shooting in RAW mode users are guaranteed the true uncompressed image.
You are here
Regardless of where you are in the world, the FinePix F550 EXR will recognise your location and display it either as longitude and latitude co-ordinates or by place name - thanks to the camera's embedded list of locations. A tag is placed on the image which can then be easily searched for, allowing shots of a specific location or point of interest to be found quickly and by name.                                                                                                                                                                                                           
Additional functionality is also provided by the Photo Navigation mode, allowing users to find their way back to where a particular photo was taken. The FinePix F550 EXR can store location data every 10 minutes* and, once the images are downloaded to a PC, a map of the route along with the pictures taken along the way can be created using Google Maps.
* Anytime On or Only Power On must be selected for data to be logged.
Keep up with the action – no matter how fast it's moving
The FinePix F550 EXR isn't just clever – it's quick as well, boasting a range of features that will keep pace with even the fastest-moving action. At the full 16-megapixel resolution, the FinePix F550 EXR is capable of delivering up to 8 frames per second for up to 8 frames - and without compromising picture quality.
And, if you're worried that your reaction times might not match, select the Best Frame Capture mode and the FinePix F550 EXR automatically starts recording images the moment the shutter release is half-pressed and focus locked. Once the picture has been taken, the F550 EXR records the seven frames before or after the shutter was fully released to allow the choice of at least one shot that's pin sharp and perfectly framed.
Huge zoom range, tiny camera
Despite having a body that measures just 22.9mm deep, the zoom lens range extends from a wide-angle setting of 24mm through to 360mm (35mm equivalents) giving users a huge range of shooting options from sweeping landscapes through to tightly-cropped details. Image quality and sharpness is also assured thanks to the combination of a high quality Fujinon lens and the new triple core EXR processing engine that automatically reduces colour fringing and boosts corner resolution for uniform image sharpness.
Using longer focal lengths can cause camera shake, but the FinePix F550 EXR has its bases covered on three fronts. First, the sensor moves to counter any hand movements. Second, sensitivity is boosted using Pixel Fusion to allow faster shutter speeds, and third, users can select Advanced Anti-blur when in EXR Auto mode giving a sequence of four images which are then combined to provide one, shake-free result.
Full HD for stunning videos
Not only does the FinePix F550 EXR record videos in stunning Full HD (1080p) at 30 frames per second, it also boasts stereo sound for high-quality audio and outputs the files in H.264 (MOV) format. Fuji's EXR Signal to Noise mode is now also available when shooting Full HD videos, using Pixel Fusion Movie technology to fuse pixels together for extra sensitivity, and therefore much crisper low-light videos with lower levels of noise.
And, finally, the F550 EXR also offers a class-leading selection of high-speed video capture options. No other compact camera comes close to the F550 EXR's incredible 320 frames per second capture at 320 x 100 pixels.
Don't need GPS and RAW? No problem
Fujifilm also offers a second model, the F500 EXR with a similar specification – excluding the GPS and RAW capture capabilities - and in the same super slim design but in a range of five stylish colours.
Your Comments