Fujifilm FinePix XP150 Launches in UK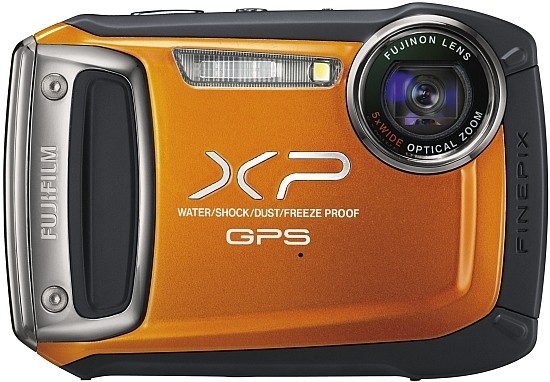 The Fujifilm FinePix XP150 is now available in the United Kingdom. Billed as "Fujifilm's most robust camera ever", the 14-megapixel Fujifilm FinePix XP150 is water resistant down to a depth of 10m and will keep functioning all the way down to -10 °C. The 28-140mm equivalent zoom lens comes with a water repellent coating to prevent water droplets spoiling your shots and even the battery/memory slot cover comes with a new double lock design for ultimate protection from the elements. Also featuring an integrated high-sensitivity GPS module, the Fujifilm FinePix XP150 is available now for £219.
Fujifilm Press Release
Fujifilm FinePix XP150 – Tougher than ever before
23 March 2012 - With the launch to market of the FinePix XP150, Fujifilm will introduce its most robust camera ever. Water-proof to 10m, freeze-proof to -10C, dust-proof and drop-proof from up to 2m, this camera can handle nearly anything you can throw at it.
It's got brains to match the brawn too, thanks to the new high sensitivity GPS antenna the FinePix XP150 is now quicker and easier at pinpointing your location and the camera can even track your movements and show the route on the LCD. And with an electronic compass and Photo Navigation functions, the XP150 can show the direction of shooting, altitude as well as direction and distance to a previous location
The FinePix XP150 isn't just built to take the most extremes of what life can throw at it, it's also a high quality picture-taking machine that is designed to deliver superb results time after time.
The 14-megapixel CMOS sensor and 5x optical zoom lens provide a focal range of 28-140mm (35mm equivalent) for a wide variety of shots. The camera also offers CMOS sensor shift image stabilisation to reduce camera shake and has a wide ISO range from 100 to 3200. Couple this to a wide range of shooting modes plus continuous shooting at up to an impressive 10fps and you'll soon realise what a tough customer the FinePix XP150 is.
The FinePix XP150 also allows Full 1080p HD movie capture at 30fps and an underwater movie function to capture life under the waves in superb quality. Watching back on an HD ready TV is simple too, thanks to the micro HDMI connection that allows a quick, simple hook-up for instant reviews.
The FinePix XP150 is available now for £219 in a range of five colours: black, silver, orange, green and blue.
Fujifilm FinePix XP150: key features
  * 14.4 megapixel CMOS sensor
  * 5x optical zoom (28-140mm equivalent to a 35mm camera) with water repellent coating
  * Waterproof to 10m
  * Shockproof to 2m
  * Freezeproof to –10°C
  * Dust/sandproof
  * High sensitivity GPS
  * Full HD movie capture and underwater movie mode
  * Improved 2.7-inch LCD with anti-reflection coating
Your Comments