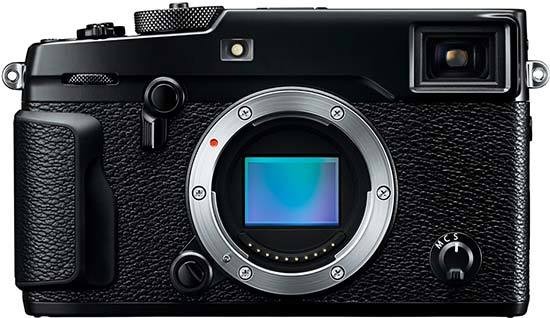 The Fujifilm X-Pro2 compact system camera features the world's only Hybrid Multi Viewfinder and a brand new 24 megapixel X-Trans III sensor. The X-Pro2 delivers the best ever results from an X-series camera thanks to an updated image sensor and processor. The X-Pro2 also offer a robust, weather resistant body, new focal plane shutter with a top speed of 1/8000 sec. and flash sync up to 1/250 sec, 77 AF points, and support for dual SD memory cards. The Fujifilm X-Pro2 will be on sale in the UK from February 2016 for £1349.
Fujifilm Press Release
The FUJIFILM X-Pro2
Taking performance to new heights, the FUJIFILM X-Pro2 offers the world's only Hybrid Multi Viewfinder and features a brand new 24MP X-Trans III sensor
FUJIFILM Corporation (President: Shigehiro Nakajima) is proud to announce the release of the FUJIFILM X-Pro2 premium interchangeable lens camera. The new model boasts a Hybrid Viewfinder capable of instantly switching between optical and electronic finders, plus an updated image sensor and processor, which dramatically improve image quality. By combining these features with the ultra-high image quality of FUJINON X-Mount lenses and the colour reproduction technology accumulated through more than 80 years as a photographic film manufacturer, the X-Pro2 delivers the best ever results from an X-series camera.
Electronic viewfinders (EVF) used by mirrorless cameras are said to be superior to optical viewfinders because settings including white balance and exposure can be checked instantly, and the displayed image can be enlarged to check focusing accuracy. However, in some cases, photographers prefer a more natural view. In particular, the optical rangefinder, which allows the user to view the subject in almost the same way as the naked eye, is extremely effective and often preferred by documentary, reportage and street photographers. The X-Pro2 is the only interchangeable lens camera in the world featuring a Hybrid Viewfinder system that incorporates both types of viewfinder. 
Key features of the X-Pro2
Newly developed 24.3MP X-Trans CMOS III sensor
The unique random color filter array reduces moiré and false colors without the need for an optical low-pass filter. By shooting with a high-quality Fujinon lens, the camera delivers images with a perceived resolution far greater than the actual number of pixels used.
New high-performance X Processor Pro image processing engine
Boasting 4x the processing speed of conventional image processing engines, the X Processor Pro has increased all response times, despite the increased resolution. Write speeds, start-up time and high-speed continuous shooting speeds have all been increased. Combined with the X-Trans CMOS III sensor, the new image processing engine achieves even faster autofocus, lower noise and both tonal and color reproduction that surpasses the previous EXR Processor II.
The world's first Advanced Hybrid Multi Viewfinder offering the benefits of both optical and electronic viewfinders
The X-Pro2 features optical and electronic viewfinders so users can take advantage of both: optical for a direct view of the subject, electronic to preview settings. The ability to instantly switch between these two types of viewfinders was first installed on the X100 in 2011, but the latest version found on the X-Pro2 is the most advanced Hybrid Viewfinder. It features a Multi-Magnification function that automatically switches viewfinder magnification according to the lens in use and an Electronic Rangefinder that simultaneously displays the electronic viewfinder on top of the optical viewfinder.
New focal plane shutter with a top speed of 1/8000 sec. and flash sync up to 1/250 sec.
A faster mechanical shutter gives extra flexibility for aperture selections in bright conditions or when shooting with flash during the day. In addition, while noise and vibration levels typically increase with faster shutter speeds, the X-Pro2 is quieter and vibrates less compared to conventional models thanks to the optimization of key controls and parts.
Robust, weather resistant body meets the needs of professional photographers.
The camera's chassis is made from four pieces of magnesium alloy and is sealed in a total of 61 points on each section, making it dust-proof, splash-proof and capable of operating in temperatures as low as -10°C.
Product Features
(1) Ultimate image quality thanks to the highest resolution sensor to date in an X-series camera and unique color technologies developed over more than 80 years as a film manufacturer
The X-Pro2 features the new 24.3MP X-Trans CMOS III sensor that uses a unique random color filter array to reduce moiré and false colors without the need for an optical low-pass filter (OLPF). By eliminating the OLPF the resolving power of FUJINON lenses is maximized to deliver images comparable to a larger, higher resolution sensor.
Fujifilm's unique color reproduction technology, developed through over 80 years of producing photographic film, delivers beautiful colors just as you remember them, including warm skin tones, clear blue skies, and the vivid greens of foliage.
The X-Pro2 features the new ACROS Film Simulation mode. Harnessing the high processing performance of the X Processor Pro, this mode produces smooth tones, deep blacks and rich textures that are far superior to conventional monochrome modes.
A new Grain Effect mode adds graininess to photographs. This mode produces images reminiscent of old film photos, especially when printed
Improved noise reduction has been made possible by an improvement in signal processing technology. High ISO sensitivity performance has also been improved to the point that the whole sensitivity range – up to the maximum ISO 12,800 in RAW – can now be used with confidence. Even the higher settings - up to ISO 51,200, there are smoother gradations and deeper blacks, vastly increasing low light shooting options.
An improved electric charge transfer rate and algorithm means ultra-fast readout speeds are possible. This has led to a significant improvement in functions including AF speed and continuous shooting performance.
(2) Ultra-high performance X-Processor Pro boosts processing speeds by 4x that of a conventional processor
The powerful X-Processor Pro dramatically improves a wide range of response times. Start-up time is now just 0.4sec., plus the camera also boasts the shortest shooting interval of 0.25sec., a shutter time lag of 0.05 sec. and AF in 0.06 sec.)
By using compressed RAW files, performance and functionality now meets the needs of professional photographers, including faster live view and even higher definition movies.
 (3) The world's first Advanced Hybrid Multi Viewfinder, which combines switchable optical and electronic viewfinders
The EVF uses an LCD with 2.36 million dots. The display speed has been improved from the 54fps of the previous model to a maximum speed of 85fps, which substantially reduces the image delay phenomenon when tracking a moving subject. Blackout time after release has also been reduced by approximately half, to 150ms, so it's comparable to an optical viewfinder.
The optical viewfinder's design is based on the proven system from the X-Pro1. It incorporates a diopter correction mechanism and has a longer eye point of 16mm so the finder is easier to see through. In addition, the telephoto bright frame has been enlarged from a focal length of 60mm to 140mm, further enhancing practicality and convenience.
The X-Pro2 features an Electronic Rangefinder (ERF) mode that was highly rated on the X100 series. It displays a small electronic viewfinder on top of the optical viewfinder, which can be used to check focus, the angle-of-view, exposure and white balance in real-time, even when taking photos through the OVF.
(4) The number of selectable focusing points has been expanded from 49 on previous models to 77 for greater functionality and faster autofocus
Approximately 40% of the imaging area is now covered by fast, precise phase detection AF pixels, which means focusing speeds when photographing moving subjects have improved dramatically. By combining the processing capabilities of the new X Processor Pro with a contrast AF readout speed that's 2x faster than before, the X-Pro2 delivers the fastest AF performance ever in an X-Series camera.
By improving the predictive AF algorithm and increasing the accuracy of the phase detection AF information continuous shooting at up to 8.0fps is possible.
 (5) Rugged and reliable body that is ready for anything professional users can throw at it
The body is made from rigid magnesium alloy and has seals in approximately 61 places making it splash and dust resistant. It will also continue to operate in temperatures as low as -10°C so it can be used almost anywhere without having to worry about the conditions.
It features the same semi-gloss black finish as the X-Pro1. This finish can only be added after a thorough polishing and adds a luxurious touch that will please câmera enthusiasts.
The focal plane shutter now boasts a top speed of 1/8000 sec., flash sync at up to 1/250sec and shutter durability of 150,000 shots, making it both versatile and reliable.
A dual SD slot has been added for the first time in an X-series camera. Not only does this reduce the need to replace cards frequently, it also enables multi-shot continuous shooting and reduces the risk of data loss.
The rear LCD uses a 3 inch display with 1.62-million dots. This makes it perfect for composing images as well as assessing shots from the X-Trans CMOS III sensor for sharpness, colour accuracy and white balance.
 (6) With key functions located on the right hand side of the camera body, all main controls can be accessed without taking your eye from the viewfinder
The shutter speed dial, exposure compensation dial and finder switching lever are all milled from aluminium for a premium look and comfortable feel.
Reminiscent of old film cameras, the ISO sensitivity dial is now built-in to the shutter speed dial. This means camera settings can be confirmed at a glance without having to turn the power on.
A command dial position (C) has been added to the exposure compensation dial. Selecting this function switches exposure compensation operation to the front command dial and expands the range to ±5EV.
Command dials are now featured on both the front and rear of the camera. By adding a push function, they are easier to use, but still retain dust and splash resistance.
A total of six function buttons are included, allowing easier access to regularly used functions.
The addition of center-weighted metering is ideal for everyday shooting when using the optical viewfinder. As it is a more basic metering method, it's perfect for photographers who don't want to rely on high levels of metering automation.
A new Focus Lever enables users to quickly select a focusing point, speeding up operation.
 (7) New graphical user interface design
New categories have been added to the tabs on the menu screen, allowing faster access to the menu required.
A maximum of 16 frequently used items can be registered to the new My Menu feature. When combined with the 16 items from the Q Menu, a total of 32 shortcuts can be created.
The finder display offers a greater level of customization so it can further match the individual needs of the photographer.
The menu screen font and layout have been changed for a cleaner and more stylish look.
A Bright Frame Simulation function has been added to the optical viewfinder mode. Here, the angle of view of each focal length can be confirmed without having to replace the lens, so the user can change lenses more accurately.
 (8) Accessories for extra convenience
Hand Grip MHG-XPRO2
Improves the grip on the camera and reduces the chances of camera shake, especially when using heavy, large aperture lenses. This grip can be left in place when using a tripod and enables users to change the battery and SD card without having to remove the grip from the body. The Arca Swiss plate can be used as a quick release with compatible tripods.
Leather Case BLC-XPRO2
This genuine-leather bottom case elegantly shows off the X-Pro2's classic design while protecting the camera body. The battery can be replaced while the case is attached to the camera and the case comes with a cloth to wrap the entire camera body when storing it in a bag.
By downloading the free FUJIFILM Camera Remote app to your smartphone or tablet device*17, users can use the Remote Control function, which allows a wealth of control, even from a distance. This functionality is great for a wide variety of shots, including group photos, self-portraits and animals in their natural habitat.
Photos and videos can be sent to devices such as your smartphone with an easy one-touch operation. Pictures and videos on the camera can be browsed, selected, and imported using your smartphone, all without the hassle of inputting an ID or password. It is also possible to add location information acquired by the smartphone or tablet to the image.
Wi-Fi® Transfer*18 is supported, enabling wireless backup of the data to a computer*19.
*17 Android™, smartphone and table devices, iPhone / iPad.
        *18 Wi-Fi® is a registered trademark of the Wi-Fi Alliance®.
        *19 Requires advanced installation of the free dedicated software FUJIFILM PC AutoSave to your computer.
 (9) Interval timer shooting
An interval timer for shooting time-lapse sequences is available offering intervals of one second to 24 hours for up to 999 frames.
Full Specifications
Model name 
FUJIFILM X-Pro2
Number of effective pixels 
24.3 million pixels
Image sensor 
23.6mm×15.6mm(APS-C) X-Trans CMOS III with primary colour filter.
Sensor Cleaning system 
Ultra Sonic Vibration
Storage media 
SD Card(~2G)/SDHC Card(~32G)/SDXC Card(~256G)
UHS-Ⅰ/UHS-Ⅱ(Only Slot 1) *1
File format    
Still image
JPEG:Exif Ver.2.3 *2、RAW:14bit RAW(RAF original format)/RAW+JPEG
Movie
MOD (MPEG-4 AVC/ H.264, Audio: Linear PCM/ Stereo sound 48KHz sampling)
Number of recorded pixels
L: <3:2>6000×4000 / <16:9>6000×3376 / <1:1>4000×4000
M: <3:2>4240×2832 / <16:9>4240×2384 / <1:1>2832×2832
S: <3:2>3008×2000 / <16:9>3008×1688 / <1:1>2000×2000
Lens mount
FUJIFILM X mount
Sensitivity
AUTO1/AUTO2/AUTO3(up to ISO12800)/ISO200~12800(1/3 step)(Standard Output Sensitivity)
Extended output sensitivity:ISO100/25600/51200
Exposure control 
TTL 256-zone metering, Multi / Spot / Average/ Centre Weighted
Exposure mode 
P(Program AE)/A(Aperture Priority AE)/S(Shutter Speed Priority AE)/M(Manual Exposure)
Exposure compensation 
-5.0EV~+5.0EV 1/3EV step (Movie: -2.0EV~+2.0EV)
Image Stabiliser 
Supported with OIS type lenses
Shutter type 
Focal Plane Shutter
Shutter speed
Mechanical Shutter
4sec.~1/8000sec(P mode)(*3)、30 sec.~1/8000 sec.(All modes)
Bulb mode (up to 60min)、TIME:30sec.~1/8000sec.
Electronic Shutter
1sec~1/32000sec(P/A/S/M modes)
Bulb mode:1sec. fixed、TIME:1sec~1/32000sec
Mechanical + Electronic Shutter
4sec~1/32000sec(P mode)、30sec~1/32000sec(All modes)
Bulb mode(up to 60 min)、TIME:30sec.~1/32000sec.
Synchronised shutter speed for flash
1/250sec. or slower
Continuous shooting
Approx. 8.0 fps(JPEG:83 frames Lossless compression RAW:33 frame Uncompressed RAW:27 frames)
Approx. 3.0fps(JPEG:endless Lossless Compression RAW:endless Uncompressed RAW:36frames)
* recordable frames depends on recording media
* Speed of continuous shooting depends on shooting environment and shooting frames
Auto bracketing 
AE Bracketing(±2EV/±5/3EV/±4/3EV/±1EV/±2/3EV/±1/3EV)
Film simulation bracketing(Any 3 types of film simulation selectable)
Dynamic Range Bracketing (100%・200%・400%)
ISO sensitivity Bracketing (±1/3EV/±2/3EV/±1EV)
White Balance Bracketing (±1/±2/±3)
Focus   
mode
Single AF / Continuous AF / MF
type
Intelligent Hybrid AF (TTL contrast AF / TTL phase detection AF)
AF frame selection
Single point AF:EVF/LCD/OVF:11x7/21x13(Changeable size of AF frame among 5 types)、
Zone AF:3×3/5×5/7×7 from 77 areas on 11x 7 grid、Wide/Tracking AF:(up to 18 area)
※AF-S:Wide ※AF-C:Tracking
White balance 
Automatic Scene recognition/Custom1~3/Color temperature selection(2500K〜10000K)/Preset : Fine, Shade, Fluorescent light (Daylight), Fluorescent light (Warm White), Fluorescent light (Cool White), Incandescent light, Underwater
Self-timer
10sec/2sec
Interval timer shooting 
Yes (Setting : Interval, Number of shots, Starting time)
Flash modes
Red-eye Removal OFF
Auto / Forced Flash / Slow Synchro / Suppressed Flash / Rear-curtain Synchro / Commander
Red-eye Removal ON
Red-eye Reduction Auto / Red-eye Reduction & Forced Flash / Red-eye Reduction & Slow Synchro / Suppressed Flash / Red-eye Reduction & Rear-curtain Synchro / Commander
Hot shoe
Yes (Dedicated TTL Flash compatible)
Viewfinder (Hybrid Viewfinder)
OVF
everse Galilean viewfinder with electronic bright frame display  Coverage of frame area vs. capturing area: approx.92% Magnifications approx. x0.36/x0.60
EVF
0.48-in TFT colour viewfinder Approx. 2.36 million dots(4:3) Coverage of viewing area vs. capturing area : approx. 100%
Eyepoint:approx 16mm(from the rear end of the camera's eyepiece) Dioptre adjustment:-4~+2m-1
Magnification:0.59x with 50 mm lens (35mm equivalent) at infinity and dioptre set to -1.0m-1
Diagonal angle of view : approx. 29.1°(Horizontal angle of view:approx 24.4°)
Built-in eye sensor
LCD monitor 
3.0-inch, aspect ratio 3:2, approx. 1.62 million dots
Movie recording
Full HD 1920×1080 60p/50p/30p/25p/24p up to 14 min.
HD 1280×720 60p/50p/30p/25p/24p up to 28 min
* Use a card with SD Speed Class with class 10 or higher
Film simulation modes 
15 modes (PROVIA/Standard、Velvia/Vivid、ASTIA/Soft、Classic Chrome、PRO Neg.Hi、PRO Neg.Std、Black& White、Black& White+Ye Filter、Black& White+R Filter、Black& White+GFilter、Sepia、ACROS、ACROS+Ye Filter、ACROS+R Filter、ACROS+G Filter)
Dynamic range setting 
AUTO、100%、200%、400%
ISO restriction(DR100%:No limit、DR200%:ISO400 or more、DR400%:ISO800 or more )
Advanced filter 
Toy camera / Miniature / Pop colour / High-key / Low-key / Dynamic tone / Soft focus / Partial colour (Red / Orange / Yellow / Green / Blue / Purple)
Wireless transmitter        
Standard
IEEE802.11b/g/n(standard wireless protocol)
Encryption
WEP/ WPA/WPA2 mixed mode
Access mode
Infrastructure
Wireless function 
Geotagging, Wireless communication (Image transfer), View & Obtain Images, Remote camera shooting, PC Autosave, instax printer print*3
Other functions 
Exif Print 、PRINT Image Matching II 、Language(35 languages including JP/EN)、Time difference、exposure preview on LCD during Manual mode、EVF brightness、EVF colour、LCD brightness、LCD colour、Mode effect on monitor、Customize
Terminal
Digital interface 
USB2.0(High-Speed)/micro USB
* connectable with Remote Release RR-90 (sold separately)
HDMI output
HDMI micro connector
Other 
Microphone / shutter release input: ø2.5mm, stereo mini connector
Hot shoe、Syncronized terminal *Mechanical release S1 button
Power supply 
NP-W126 Li-ion battery (included)
Dimensions 
(W)140.5mm×(H)82.8mm×(D)45.9mm (minimum depth 34.8mm)
Weight 
Approx. 495g(including battery and memory card)/Approx. 445g(excluding battery and memory card)
Operation Environment
Operating Temperature
 -10℃~+40℃
Operating Humidity
10%~80%(no condensation)
Battery life for still images *4 
Approx. 250/350 frames (EVF/OVF, When XF35mmF1.4 R is set)
Battery life for movies *4 
single consecutive movie: approx. 110 min. (Face detection is set to OFF)
Starting up period 
Approx. 0.4sec.
Accessories included 
Li-ion battery NP-W126、Battery Charger BC-W126、Shoulder strap、Body cap、Strap clip、Protective cover、Clip attaching tool、Owner's manual、Warranty+D66
*1 Please see the Fujifilm website (http://www.fujifilm.com/support/digital_cameras/compatibility/card/x/) to check memory card compatibility.
*2 Exif 2.3 is a digital camera file format that contains a variety of shooting information for optimal printing.
*3 The Electronic Shutter may not be suitable for fast-moving objects. Flash cannot be used.
*4 Approximate number of frames / period that can be taken with a fully-charged battery based on CIPA standard.
Image Gallery
Click on a thumbnail to see the full version.
Your Comments