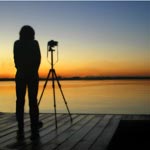 This week's Gary's Parries topics are:
1. Artistic Photos Gone Wild
2. No Red-Eye, I Want My Money Back
3. Good Camera, Cheap Lens
4. DVD-R For Video Versus For Data
5. April Fools
Introducing this week's Gary's Parries column. Everything you always wanted to know about digital cameras, but were afraid to ask. No question too difficult, or too easy. As a Senior Principal Software Engineer, and a former Assistant Professor of Computer Information Systems, as well as a recording studio owner/operator, and now, a digital camera enthusiast, GARY has more digital camera knowledge in his entire brain than most people have in their little finger. In the unlikely event that GARY would not know the answer to your question, he will answer it anyway, true to the spirit of the word "Parries", a fencing term which, in this context, implies "cleverly evasive answers". So let your imagination run wild. Email all your nagging digital camera questions to: garysparries@photographyblog.com, and then, En Garde!
You may also attach to your email an ORIGINAL PHOTO of your choosing for display with your question. No personal information will be published with your question unless you specifically include it in the text or attached photo of your email. Emails selected for publication may also be edited for grammar, content, or other reasons.
Here are this week's questions and answers
*** QUESTION 1—- ARTISTIC PHOTOS GONE WILD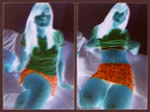 Dear Gary:
I've really enjoyed reading your parries and hope that you can help me with a rather delicate problem. My Nikon Coolpix 5900 had to be sent back to the manufacturer for a warranty repair (the LCD image was crooked). Unfortunately, I forgot to remove my memory chip before they shipped it out. My problem is that the chip contains 1 gig of "artistic" photos of me taken by my husband. I am frantic that someone at Nikon will leak them to photography blogs all over the Internet. My husband, who is also a big fan of yours, was hoping that you might be able to intervene on my behalf. Do you have any prior experience in dealing with nude photos (see attached)?
Sincerely,
LJH
*** ANSWER 1 ***
LJ, thank you so much for the flowers (and for the photos). I can totally sympathize with your dilemma, and the possible embarrassment it could cause you. However, judging from the photos you sent (the first two of which I have posted here), you have nothing to be embarrassed about.
As such, I am making the remainder of the images available for review by our readers. Trust me on this LJ. I think it's for the best.
[Note: click here to download the full progression of images - Ed.]
*** QUESTION 2—- NO RED-EYE, I WANT MY MONEY BACK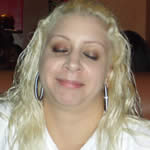 Gary, your nine steps to guaranteed red-eye, or your money back, did not work (see attached self-portrait). What went wrong?
Regards,
Lil LaRouge
[Note: in last week's Gary's Parries column, the following nine steps were offered in response to Ms. LaRouge's quest for guaranteed red-eye - Ed.]
1. Offer subject "drinks" to dilate their pupils and dull their pupillary response to light.
2. Reduce ambient lighting as much as possible to increase subject's pupil dilation.
3. Use camera's "internal" flash only.
4. Turn OFF camera's red-eye flash mode (obvious, but needed to be said).
5. Set camera's flash at maximum intensity to increase the amount of reflected light.
6. Set camera's lens at maximum zoom to increase the distance from the subject.
7. Position camera at subject's eye level to capture the most reflected light.
8. Have subject look directly at camera to direct reflected light into the lens.
9. Have subject close their eyes for 30 seconds just prior to flash to dilate their pupils.
*** ANSWER 2 ***
Lil, judging from your self-portrait, I think I see the problem. You may have gone a little overboard with step #1. To compensate for this, I have added one final step to the list, as follows.
10. Have subject reopen their eyes before taking picture.
Try it now, Lil. Cheers!
*** QUESTION 3—- GOOD CAMERA, CHEAP LENS
Hi Gary,
I work with a complete anorak who is an expert on Scientific Photography.
He has set up an optical bench using either a Fuji FinePix S3 Pro or Nikon D1, but unlike using a Nikon film SLR, he is experiencing noticeable colour fringing when photographing a Subject lit from behind (i.e., transilluminated). The fringing originates in the centre of the viewfinder and stretches radially out to the edge of the viewfinder. Pictures can follow, if required.
A challenge, can you answer? The combined brain power of all my colleagues has failed to come up with the answer
Stephen
[Note: The term "anorak" is a UK slang for "geek" or "nerd". If you would like additional information regarding the derivation of this term, Google it. I had to. - Ed.]
*** ANSWER 3 ***
Stephen, a few pictures would be appreciated. Also, it would be helpful to know what lenses your colleague is using unsuccessfully on the Fuji S3 and Nikon D1, as well as successfully on the Nikon film SLR.
From your description, it sounds like your colleague is experiencing "lateral" chromatic aberration, which manifests itself outward along radial lines, and is most prevalent at the edges of an image. This type of CA is caused by the fact that the focal length of a camera's lens varies slightly according to the color of light passing though it; hence, each color of an image is magnified by a slightly different amount. This causes the image's colors to separate and strike slightly different positions on the CCD, such that this alignment error becomes progressively larger as you move further out from the center of the image.
Fortunately, for your colleague, lateral CA can be corrected with programs, such as Photoshop, by applying a slightly different coefficient of magnification to each color individually to compensate for the magnification differences introduced by the lens. Unfortunately, for your colleague, this correction can add considerable processing time to each image.
There are also ways your colleague can minimize lateral CA at the source. Stay away from wide angle, telephoto, and high zoom lenses. These seem to be the worst offenders. Furthermore, avoid high contrast images. Although this is hardly possible with transillumination, it might alternatively be possible to avoid the use of chromatic light sources in favor of monochromatic. This would ensure that the focal length of the lens remains constant throughout the entire image.
However, the best way for your colleague to avoid lateral CA is to trash the kit lenses that came with the cameras, and then spend about $6000 on a good lens ... in the name of Science ... for the good of the entire civilized world.
*** QUESTION 4—- DVD-R FOR VIDEO VERSUS FOR DATA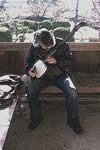 Dear Gary,
I transitioned to main, long-term storage using DVDs. I still use CDs for storage of e-mail sized images, due to their smaller size. The stores are being flooded by DVDs being made by hundreds of manufacturers. Must be a very lucrative business. Anyway, I have noticed some DVDs state "For Video" and others do not. I have not found a guide to the descriptions the companies are using. Isn't a DVD compatible for all kinds of data? I realize that some recorders may not record "+R" type of DVD.
Please tell us about some facts in this area, and, your opinions!
*** ANSWER 4 ***
The answer is quite simple. DVD-R "For Video" can be used on stand-alone, home DVD-R recorders, and DVD-R "For Data" can be used on computer DVD-R recorders. There is no difference in the media quality between the two, just a non-erasable flag that signifies how they can be used. If the media is marked "For Video/Data", it can be used with both systems.
*** TOPIC 5—- APRIL FOOLS
For anyone that was paying attention, in the March 19th Gary's Parries, there was a question submitted by AF regarding the rumor of a bridge camera that records digital images to film. That was an April Fool's joke.
For anyone that was NOT paying attention, in the March 26th Gary's Parries, there was another question submitted by AF regarding the rumor of a new CMOS image sensor that can achieve ISO 6.4 MILLION. That was NOT an April Fool's joke (unless you count the fact that it was designed to fool you into thinking that it WAS an April Fool's joke).
Here's the proof: http://tinyurl.com/eoya3
Happy April Fool's Day! Hopefully, you were fooled at least once, if not twice.
[Column photo "The Photographer" by Brenda LaFleur of Brenda LaFleur Photography.]
Share this article