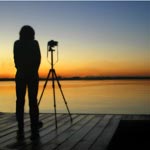 This week's Gary's Parries topics are:
1. WANTED: Splashproof 28mm 7x Zoom Ultra-Compact
2. Histogram 101
3. Waiting For Panasonic Lumix DMC-FZ50 Review
4. Telecaster Or Stratocaster
Introducing this week's Gary's Parries column. Everything you always wanted to know about digital cameras, but were afraid to ask. No question too difficult, or too easy. As a Senior Principal Software Engineer, and a former Assistant Professor of Computer Information Systems, as well as a recording studio owner/operator, inventor, and now, a digital camera enthusiast, GARY has more digital camera knowledge in his entire brain than most people have in their little finger. In the unlikely event that GARY would not know the answer to your question, he will answer it anyway, true to the spirit of the word "Parries", a fencing term which, in this context, implies "cleverly evasive answers". So let your imagination run wild. Email all your nagging digital camera questions to: garysparries@photographyblog.com , and then, En Garde!
You may also attach to your email an ORIGINAL PHOTO of your choosing. A preview of the photo will be displayed with your question, and a full-sized version will be just a click away. No personal information will be published with your question unless you specifically include it in the text or attached photo of your email, which may be further edited for grammar, content, or other reasons.
***
*** QUESTION 1—- WANTED: SPLASHPROOF 28MM 7X ZOOM ULTRA-COMPACT
***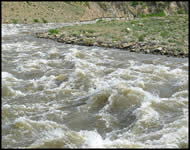 I have followed PhotographyBLOG editor Mark Goldstein's digital camera reviews for about 2 years now in hopes of finding a robust, splashproof, compact digital to replace my 11 year old Pentax WR90 roll-film camera, something in a similar price range (
<£250), but with a slimmer body and a far improved zoom lens. Currently, 95% of my photography is on yachts, usually racing, and often in bad weather with much spray/water. What I liked about the WR90 was its tough, splashproof, polycarbonate case – right out of the box, no need for fiddly and expensive 'over-cases'.
The WR90's main drawback was its limited 2.3x, 39–90mm zoom range. In small boats, you need a 28mm wide lens to get a full crew shot, and much of my land photos are of building interiors, also helped by a wide-angle lens. On a yacht, the only other shots are of other yachts, often a long way off, hence the need for a higher telephoto end, as well.
After following the succession of reviews for the Ricoh Caplio R1 thru R4, the R4's 28–200mm zoom, with its 1" thick body that I could quickly stuff inside my oilskins when other tasks demanded it, was exactly what I wanted; however, apart from the vital issue of splashproofing, the R4 appears to be of far less robust construction than my WR90. My main criticisms of the R4, in order of importance, are: poor image quality with purple fringing, noisy CCD, poor buttons, and noisy zoom (disturbing in a quiet environment). Not sure if any of these have been fixed with the R5.
I seek something like, and in the price range of, the Fujifilm FinePix F30, but with a 28–200mm zoom, and a WR90 style, robust, splashproof casing; however, it seems most makes of camera have a boring, 3x, 39–117mm zoom lens, and although often shown being used in 'sports' marketing shots, appear too delicate for that.
I have also considered the possibility of an underwater housing for the Panasonic Lumix DMC-TZ1, with its 35–350mm zoom (surely 28–280mm would have been more useful). Similarly, with an underwater housing for the Panasonic Lumix DMC-LX1, its 8 megapixel CCD would allow me to 'extend' its 4x, 28–112mm optical zoom range to around 180mm without going into software interpolation, but with reduced resolution.
What do you think of my going with an underwater housing option for the Ricoh R4/R5, the Pana TZ1, the Pana LX1 (which I now see is being replaced by the 10 megapixel LX2 with 'improvements'), or any other high-zoom cameras you might suggest? A problem with the TZ1, I am told, is that the Pana underwater housing costs a whopping £170 on top of the camera price. Although its 'underwater' spec is nice, all I really need is a tough body and the same 'splashproof' spec that Pentax stated for their WR90 – the whole camera costing me £230, 11 years ago when prices were higher.
I have wanted to move from roll-film to digital for many years, but have held back because I have seen nothing in the same price range that looks like a significant advance overall on my 11 year old WR90. However, I am hoping soon to go traveling around Brazil, and so must make a choice. I am doing a race to VAT free Guernsey this weekend, and I am tempted to do a mail-order purchase later today for collection on arrival. If you are able to respond shortly, I would be most grateful.
Kind regards,
Leon Gee
***
*** ANSWER 1
***
Leon, it's difficult enough to find a quality, wide-angle, compact digicam with high zoom, let alone one that is splashproof. As for underwater cases, they are a rather personal matter, but in general, not very suitable for any type of shooting other than underwater, so I would hesitate to recommend going that route. However, if you don't mind putting a bit of a round peg into a square hole, I've got the perfect camera for you, namely, the Ricoh Caplio 500G Wide.
The Ricoh 500G has a water, dust, AND shock resistant body that would be perfect for your yachting environment. It has a 28mm wide lens that will allow you to take those wide-angle shots you want, and it also has a 22mm conversion lens that will give you an awesome wide-angle perspective. It has an 8 megapixel, 1/1.8" CCD, a 2.5" high-resolution LCD in combination with an OPTICAL VIEWFINDER (something you don't see on digicams very much these days, and something which you will appreciate when trying to frame a shot in bright sunlight), a 400 shot (CIPA), high-capacity, lithium rechargeable battery (as well as the capability to use standard AA batteries in a pinch), and last but not least, a USB 2.0 'High Speed' transfer mode. This is one amazing camera.
Now, regarding the putting of a round peg into a square hole, the things you won't like about the camera are its £380 cost (but just think of all the money you'll save by not having to buy countless rolls of film), its 74mm thick size (so you'll stuff the camera into a belt pack rather than your oilskins), and its 3x zoom (although with an 8 megapixel CCD, you still have plenty of room to add to that by cropping the image). This is the camera that comes closest to the splashproofing and durability of your WR90.
If, however, you can get by with only a 36mm wide end (so you won't be able to fit the entire crew in one shot), then I've got another perfect camera for you, namely, the Olympus µ 750 (a.k.a. Olympus Stylus 750). It has an ultra-compact (24.3mm thin) body that is highly weatherproof (but not shockproof), a 5x, 36–180mm, zoom lens, a 7.1 megapixel, 1/2.3" IMAGE-STABILIZED CCD (great for those rough seas), and a 2.5" high-resolution LCD (but no optical viewfinder), all for under £300.
As always, I would suggest waiting for at least one review of these cameras, from a trusted site such as PhotographyBLOG (hint to Mark :)), before making any purchasing decisions.
***
*** QUESTION 2—- HISTOGRAM 101
***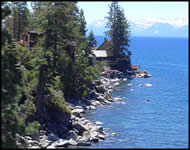 While shooting yesterday, it occurred to me that histograms, which are being applied to new cameras more and more, are a wonderful tool, not only for pre-picture taking, but also in post-processing. They allow me to ensure that I will have 'white' whites and 'black' blacks, just by making sure that the histogram extends to both sides. I'm certain that a lot of folks use this important tool.
Can you add some thoughts to BETTER utilize it, maybe?
Thanks,
Semper Fi
***
*** ANSWER 2
***
Excellent question, Mr. Fidelis; however, rather than reinvent the wheel, allow me to provide links to two excellent articles on histograms by Michael Reichmann at Luminous Landscape.
The first is a histogram refresher course:
http://tinyurl.com/8qpd
The second shows how histograms can be used to maximize an images S/N ratio (something that will be of particular interest to our friends on the LX2 thread):
http://tinyurl.com/2hebo
If anyone has any other articles or suggestions for using histograms, we would love to hear about them.
***
*** QUESTION 3—- WAITING FOR PANASONIC LUMIX DMC-FZ50 REVIEW
***
Hi,
I am trying to find the differences between the Panasonic Lumix DMC-FZ30 and the new FZ50, in order to determine if I should wait for the FZ50 and pay its higher price, or just go with the FZ30. Will the differences be vast, or not?
Thanks,
Leonard Posniak
***
*** ANSWER 3
***
Leonard, I would not call the improvements of the new Panasonic Lumix DMC-FZ50 over its FZ30 predecessor 'vast' (nothing like the improvements of the FZ30 over its FZ20 predecessor); nonetheless, they may prove to be 'significant'. Whether it will be worth paying a higher price for the FZ50, remains to be seen. That will depend largely on the price reductions of the FZ30, and even more importantly, on how well the FZ50 performs in its image noise tests when reviewed at PhotographyBLOG (Mark has just received an FZ50 review unit, and is currently performing those tests as we speak).
There are a couple of definite improvements of the FZ50 over the FZ30 that might make paying its higher price easier to digest: (1) its highly touted Venus Engine III image processor, and (2) its higher maximum ISO (at full resolution) of 1600 versus 400 for the FZ30. Even so, the price savings for the FZ30 would have to be less than $150 to make the FZ50 a clear choice.
However, if the FZ50's Venus Engine III can provide any significant reduction in image sensor noise, then it's a no-brainer. I would go with the FZ50 regardless of the FZ30's reduction in price.
But that's a big 'IF' Leonard. Based on Panasonic's previous track record, my guess is that any noise reduction advantage provided by the Venus Engine III will be offset by the smaller (and noisier) pixels of FZ50's 10 megapixel CCD (as compared to the FZ30's 8 megapixel CCD of the same size). So, if you should see an FZ30 deal, before our FZ50 review comes out, that seems too good to pass up, maybe you shouldn't. :)
***
*** QUESTION 4—- TELECASTER OR STRATOCASTER
***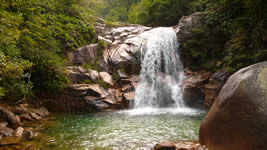 I'm sure you get quite a few questions that you would like to answer, but for one reason or another they don't qualify for a Question/Answer spot in "Parries". So, how about this one?
I have a collection of different types of guitars that I use for props, and of course a couple of them are Strats. I have been wondering for many years EXACTLY why a guitar player chooses a Telecaster versus a Stratocaster. I have never been able to get a believable answer, and I want to believe it is more than just random choice. Do you know the real reason? Is it something to do with tonal range, build quality, durability or what? It appears that the Telecaster is more popular.
Thanks for your consideration!
Semper Fi,
Nick
***
*** ANSWER 4
***
Nick, I'm answering this question because, BION, there are many similarities between choosing the right guitar and choosing the right camera.
For example, one reason you might buy a camera is because you like the way it looks. Same with a guitar. Some regard the sleeker bodied Telecaster as a better looking guitar than the very traditional looking Stratocaster, much like a comparison of the Canon PowerShot SD700 IS and the Panasonic Lumix DMC-LX2.
Another reason you might buy a camera is because you like the way it feels. Same with a guitar. Some regard the Telecaster's smoother, more rounded neck as a better feel than the boxy Strat, much like the smoother, more rounded Canon SD700 IS compared to the boxy Panasonic LX2.
Another reason you might buy a camera is because you like the way it responds. Same with a guitar. Some regard the Telecaster's thinner neck as more responsive and easier to handle than that of the chunkier Strat, much like the thinner SD700 IS compared to the chunkier LX2.
Yet another reason you might buy a camera is because you like the quality of its output. Same with a guitar. Some regard the characteristic 'clean' twang of the Tele as a more pleasant, bluesy sound than that of the Stratocaster, much like the cleaner images of an SD700 IS compared to those of the noisier LX2.
But to be fair, another reason you might buy a camera is because you like its features. Same with a guitar. Some regard the Stratocaster as a more full-featured guitar than the Telecaster, much like the full-featured LX2, with its manual controls, TIFF/RAW shooting modes, and 28mm wide lens, compared to the strictly point-n-shoot SD700 IS.
Similarly, yet another reason you might buy a camera is because you want to stand out from the crowd. Same with a guitar. Some regard the Stratocaster's diversity of tones as preferable to that of the one-trick-pony sound of the Telecaster, much like the diversity of compositions offered by the Panasonic LX2, with its wide angle lens and native 16:9 aspect ratio, compared to the standard lens and aspect ratio of the Canon SD700 IS.
There is, however, one reason you might prefer a Stratocaster to a Telecaster for which there is no analogy in the camera world, namely, the fact that superstar 'Eric Clapton' plays a Strat. The closest we can come to something like that at PhotographyBLOG is the fact that our good friend 'Nick in Japan' is currently out shooting with his new LX2 as we speak, and we will (hopefully) soon have a photo to fill the 16:9 spot that I have reserved just for him. :)
***
[Column photo "The Photographer" by Brenda LaFleur of Brenda LaFleur Photography.]
Share this article