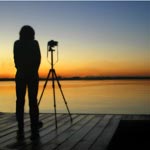 This week's Gary's Parries topics are:
1. High-Zoom Ultra-Compacts (The Noise On The Street)
2. Love That HP Photosmart 475 Printer
3. Panasonic Lumix DMC-L1 Structural Tests
Introducing this week's Gary's Parries column. Everything you always wanted to know about digital cameras, but were afraid to ask. No question too difficult, or too easy. As a Principal Software Engineer, and a former Assistant Professor of Computer Information Systems, as well as a recording studio owner/operator, and now, a digital camera enthusiast, GARY has more digital camera knowledge in his entire brain than most people have in their little finger. In the unlikely event that GARY would not know the answer to your question, he will answer it anyway, true to the spirit of the word "Parries", a fencing term which, in this context, implies "cleverly evasive answers". So let your imaginations run wild. Email all your nagging questions to: GARYsParries@PhotographyBLOG.com, and then, En Garde!
The best question of the week will receive a small PRIZE from the PhotographyBLOG goody bag, so send your questions now.
If you do not see your previously submitted question in this week's column, it may have been submitted too late for consideration, in which case it will be held over for next week. If your question is selected for publication, the complete text of your email will be included in the column, but may be edited for grammar, consistency, or other reasons. No personal information will be published with your question unless you specifically type it into the text of your email. All judging is done on an impartial basis without regard to race, creed, color, sex, national origin, professional status, physical disability, mental handicap, or model of camera owned (these latter two go hand-in-hand). The decision of the judges is final.
Here are this week's questions and answers.
QUESTION 1:
I was very interested in the Ricoh Caplio R3, but on your recommendation, decided to hold off buying until after CES and PMA. Now that these shows are over, I am not sure where things stand for a high-zoom, pocket camera. I really like the new 10x zoom Panasonic Lumix DMC-TZ1 that was announced, and I also like the new 7.1x zoom Ricoh Caplio R4. So, Gary, what now?
ANSWER 1:
The TZ1 and R4 were not the only high-zoom, pocket cameras announced for the CES and PMA shows. There were six in all. Here is the complete list.
Panasonic Lumix DMC-TZ1 (10x zoom)
Ricoh Caplio R4 (7x zoom)
Panasonic Lumix DMC-LZ5 (6x zoom)
Vivitar ViviCam X60 (6x zoom)
Fujifilm FinePix F650 (5x zoom)
Samsung Digimax L85 (5x zoom)
There were also a few pocket cameras introduced in the 3.4 to 4x zoom range; however, by today's standards, they hardly qualify as high-zoom cameras.
Let's not kid ourselves, if we demand high-zoom capabilities from a pocket camera, we must also be willing to accept a small 1/2.5" CCD. The Samsung L85 and Vivitar X60 were the only ones that managed to squeeze their high-zoom capabilities into ultra-compact bodies, while still using the larger 1/1.8" CCD.
Let's also not kid ourselves, the Panasonic TZ1 is not exactly a pocket camera. At a depth of 1.6", the TZ1 would not even be on the list if it were not for its 10x zoom. It is also the only one that requires an external lens cap.
The Panasonic LZ5 and Samsung L85 are not exactly pocket cameras either. The LZ5 is the largest on the list with its 1.8" depth. Samsung claims a 1.1" depth for their L85, but they are using the same false advertising as Panasonic did with the LX1 by not including the additional depth due to the extension of the lens beyond the camera body (when the camera is OFF), which adds another 0.5" to the L85's depth, bringing its total depth to 1.6". But don't forget, that's with a 1/1.8" CCD.
Most importantly, let's not kid ourselves that these cameras will be anything but noisy. The Panasonic LZ5's 6 megapixel, 1/2.5" CCD was shown to be noisy in a review here at PhotographyBLOG (click on the link below to view the LZ5 image noise tests).
http://www.photographyblog.com/reviews_panasonic_lumix_dmc_lz5_3.php
This same CCD is used in the Panasonic FZ7, which was also shown to be noisy in a review at DPReview (click on the link below to view the FZ7 image noise tests).
http://www.dpreview.com/reviews/PanasonicFZ7/page6.asp
The Panasonic TZ1 may also use the same CCD, or this might just be a typo in the specs from the Panasonic website, as it is more likely that it uses a 5 megapixel, 1/2.5" CCD since its highest resolution setting is 5.0 megapixels. In either case, based on Panasonic's track record, expect the TZ1 to be noisy.
The Ricoh R4 uses a 6 megapixel, 1/2.5" CCD, as well, but not the same one as used in the Panasonic LZ5; however, based on Ricoh's track record, it is likely to be just as noisy. The Fuji F650 also uses a 6 megapixel, 1/2.5" CCD; however, with Fuji's track record, I would expect the F650 to be less noisy than the Ricoh or Panasonic models.
The noise profiles of the Samsung L85 and Vivitar X60 are the biggest unknowns since their 1/1.8" CCDs of 8 and 10 megapixels, respectively, have not yet been reviewed. Personally, I would much rather have an 8 megapixel, 1/1.8" CCD than a 6 megapixel, 1/2.5" CCD, due to its somewhat larger pixel size and higher resolution. At 10 megapixels, you lose the pixel size advantage, but gain even higher resolution.
So the question remains, what now? Here's the thing. If you forget about the noise problem (more on that later), and ask yourself which camera has the best features, the choice is clear. The Panasonic TZ1 has the best features with its 10x zoom, 2.5" high-resolution LCD, OIS, and AF assist.
Unless, of course, you are looking for a wider angle lens. Then the Ricoh R4 has the best features with its 7.1x, 28 - 200 mm zoom, 2.5" LCD, CCD vibration correction, and AF assist.
Unless, of course, you are looking for more manual controls. Then the Samsung L85 has the best features with its Aperture Priority, Shutter Priority, and Manual exposure modes, 5x zoom, 2.5" high-resolution LCD, AF assist, and HDTV output.
Unless, of course, you are looking for a larger LCD. Then the Fuji F650 has the best features with its 3.0" LCD, 5x zoom, and Aperture/Shutter Priority modes.
Unless, of course, you are looking for more megapixels (and who isn't). Then the Vivitar X60 has the best features with its 10 megapixel CCD, 6x zoom, and 2.8" high-resolution LCD.
Unless, of course, you are looking for non-proprietary battery use. Then the Panasonic LZ5 has the best features with its AA batteries, 6x zoom, 2.5" LCD, OIS, and AF assist.
When you look at it that way, maybe the choice is not so clear. Let's look at it from a different perspective, namely, which camera NOT to buy because of one or more serious flaws, again, forgetting about the noise. In order to take full advantage of a high-zoom camera, you will probably want it to have image stabilization. If so, the choice is clear. Do not buy the Vivitar X60, Fuji F650, or Samsung L85, for lack thereof.
Unless, of course, you absolutely need the 10 megapixel resolution of the X60, the 3.0" LCD of the F650, or the manual exposure controls of the L85, to the point of being willing to overlook their lack of image stabilization. If not, that leaves the Panasonic TZ1 and LZ5, and the Ricoh R4. However, since pocketability was one of the key criterion for selection of these cameras, you will probably want a maximum camera body depth of around 1.5". If so, the choice is clear. Do not buy the LZ5 with its 1.8" deep camera body.
Unless of course, you absolutely need its AA battery compatibility, to the point of being willing to overlook its larger size. If not, that leaves the Panasonic TZ1 and Ricoh R4. However, for the ultimate in pocketability, you will probably want an ultra-compact camera. If so, you should not buy the Panasonic TZ1 with its 1.6" depth, which leaves only the Ricoh R4, and that is the camera you should buy !!!
Unless, of course, you will not be able to sleep at night knowing that you could have purchased a pocket camera with 10x zoom !!! If so, the Panasonic TZ1 is the camera you should buy !!!
Unless, of course, you are UNwilling to accept the initial premise of forgetting about the high-noise problem. That will have to be your own call. For some people, it is not a big deal to set the camera on low ISOs to avoid the noise. Personally, I think this is akin to buying a high-zoom camera with no image stabilization.
For some people, it is not a big deal to use a program like Noise Ninja to eliminate the noise in post-processing on the computer. This is not an option for my wife, who prefers to print directly from the camera, and wants nothing to do with computer post-processing for the majority of her photos (which seems to be a growing trend).
For some people, it is not a big deal to restrict their print size to 4" x 6" or 5" x 7" which does not show the noise. FINALLY, something with which my wife can live. The photo printer I bought her for her birthday prints ONLY 4" x 6", 5" x 7", and 4" x 12" panoramic, and she is perfectly happy with it. So, for me, buying a high-noise, pocket camera that otherwise has everything else I would want (for my wife), makes perfect sense.
Unless, of course, you consider that your purchase is your vote. By giving in to camera manufacturers in this way, they will have little economic incentive to develop low-noise CCDs for small cameras in the future. Again, this will have to be your own call.
QUESTION 2:
Gary, we all heard about your agonizing decision to buy your wife a photo printer for her birthday, and forgo any camera purchasing decisions until after PMA. My question is, how did your wife like the printer you picked out for her?
ANSWER 2:
Perfect timing for that question. The answer is, she loves it. She has a three-year backlog of photos that she is finally getting to print.
For those of you that were not following the story, I wanted to buy my wife a camera for her birthday in January, but could not find a high-zoom, ultra-compact that was suitable, so I decided instead to buy her a photo printer that she could use for printing without a computer.
The photo printer I chose was the HP Photosmart 475, mainly because it has built-in auto red-eye removal, adaptive lighting (which brings out the detail in dark areas of the photo), and color enhancement, as well as manual zooming and cropping using its built-in 2.5" LCD or an external TV for viewing.
It also has built-in CF, SD, XD and MS card slots, a USB 2.0 port for connecting to any PictBridge compatible camera or USB flash, HD, CD, or DVD drive, and a 1.5 GB internal HD, which allows me to download the tons of photos we have stored on our computer, CDs, and DVDs so my wife can edit and print them (I usually download about 500 at a time, which leaves plenty of room for subsequent editing and saving of the edited copies).
The other things I like about the HP 475 are that it offers both 4" x 6" and 5" x 7" print sizes, is Bluetooth compatible, can be powered by an optional rechargeable battery, and has excellent print quality.
Much of the above information was initially obtained from a review of the printer at Steve's Digicams (click on the link below to view the HP 475 printer review).
http://www.steves-digicams.com/2005_reviews/hp475.html
When we first started using the printer, I had some trouble transferring photos from our iMac to the printer's internal HD. They arrived just fine, but the printer did not recognize them as photos. If I loaded the photos one at a time into PhotoShop, and saved them one at a time as JPEGs, they could then be transferred to the printer and would be correctly recognized as photos; however, this method was far too slow for dealing with my wife's thousands of pictures.
A better solution was to use GraphicConverter, a wonderful shareware application ($30) by Thorsten Lemke, of Lemke Software GmbH, which allows you to, among many, many, many other photo processing features, browse a batch of images and, en masse, create their JPEG previews. Once I did this, all of the transferred photos were recognized by the printer. The only problem was that none of the original image dates were recognized, so they all appeared in a single folder on the printer.
GraphicConverter to the rescue again. En masse, I was able to recreate the photos' correct image file dates from their EXIF information. Once I did this, all of the photos appeared on the printer, in their proper folders, organized by month, day, and year.
My wife can now print all of her old photos. The printer's auto red-eye removal feature works great, its adaptive lighting feature works great, its cropping features work great, and best of all, its print quality is superb. She is extremely happy.
BTW, as an aside, the HP on-line support is the best I have ever seen. The first time I used the printer, I could not find its Adaptive Lighting feature anywhere in the printer's menus, even though it clearly showed that menu choice in the User Manual. I emailed HP regarding the problem, and within an hour, received a reply stating that the feature was originally called "Digital Flash", and that I needed a firmware upgrade. I was a little surprised, however, when they asked for my shipping address, but the very next morning, a 16 MB SD chip arrived at my door, no charge.
The fact that the fix did not work, is irrelevant, since I now know that the feature is there, just under a different name. I still have the option of pursuing the matter further, and maybe I will do that, when I have the time.
QUESTION 3:

I noticed that the pictures of the new Oleicapana L1 included a couple of the metal frame of the camera. Do you think that, especially in this case, a shell of metal is a structural advantage for the camera, or maybe, just sales hype?
If the metal was honeycombed, or a bracing of sorts, I could believe it was a strengthening device, but, being a shell, it appears to be the perfect transmitter of shock, designed to create havoc within!
When Bakelite evolved into the unbreakable telephone, I became a believer of its strengths. I'm of the thinking that we need the strongest stuff to keep critical units in alignment, and a shock absorbing, high density foam outer shell to absorb shocks.
To sum it up, I suspect that we have some hype here, i.e., "the more unobtainiumchromemoly we show the consumer, the more apt they will be to use that as a reason to buy!" Where am I wrong?
Very respectfully,
Nick in Japan
[Note: Oleicapana L1 is a reference to the new Panasonic Lumix DMC-L1, as shown in the PhotographyBLOG photos of the L1 taken at PMA - Ed.]
ANSWER 3:
Nick, your wit kills me, but you are absolutely correct. I just received an L1 review unit from Panasonic, and to prove your point, the first thing I did was drop it from my second story bedroom window onto the pavement below. Sure enough, the camera body received very little structural damage (though I probably should have thought to remove the Leica D14 50mm lens before performing the test); however, when I picked the camera up. brushed off the broken glass, and shook it, you could hear a bunch of parts rattling around inside. I have informed Panasonic of my findings. Needless to say, my L1 review will not be immediately forthcoming.
THIS WEEK'S CONTEST WINNER for BEST QUESTION:
It was an extremely tough judgment call, since all of the selected questions were excellent, and very relevant to PhotographyBLOG readers. However, the tie-breaker was the fact that one of the questions was far wittier than the others. So for that reason, I have awarded first place to Nick in Japan.
Congratulations, Nick in Japan! Please email your home address to the editor of PhotographyBLOG, Mark Goldstein (mark@photographyblog.com), along with your preferred choice of the new Sigma 4/3 lenses, and Mark will send you your prize.
[Column photo "The Photographer" by Brenda LaFleur of Brenda LaFleur Photography.]
Share this article