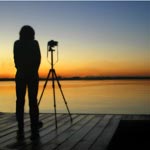 This week's Gary's Parries topics are:
1. What's A Wife To Do?
2. The Sony DSC-W100 (Will It Go 'Round In Circles)
3. Blue Ha-Wi-Fi
Introducing this week's Gary's Parries column. Everything you always wanted to know about digital cameras, but were afraid to ask. No question too difficult, or too easy. As a Senior Principal Software Engineer, and a former Assistant Professor of Computer Information Systems, as well as a recording studio owner/operator, and now, a digital camera enthusiast, GARY has more digital camera knowledge in his entire brain than most people have in their little finger. In the unlikely event that GARY would not know the answer to your question, he will answer it anyway, true to the spirit of the word "Parries", a fencing term which, in this context, implies "cleverly evasive answers". So let your imagination run wild. Email all your nagging digital camera questions to: garysparries@photographyblog.com, and then, En Garde!
You may also attach to your email an ORIGINAL PHOTO of your choosing. A preview of the photo will be displayed with your question, and a full-sized version will be just a click away. No personal information will be published with your question unless you specifically include it in the text or attached photo of your email, which may be further edited for grammar, content, or other reasons.
***
*** QUESTION 1—- WHAT'S A WIFE TO DO?
***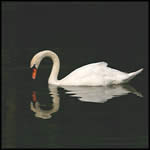 Okay Gary, I'll admit I've only discovered your site in my web-quest for the perfect point-and-shoot TODAY. And, after visiting dozens of sites, I found your single column to have all of the info it took me 2 days to discover on my own (alas, you were among my last stops).
I have a new Nikon D50 with some terrific lenses that I really love. For an upcoming photo safari to Botswana and South Africa though, I'd like to buy my husband an awesome point-and-shoot that gives him plenty of lens-reach as well as crisp, clear images. I've decided to focus on compact rather than SLR-like for portability. I like the Ricoh Caplio R4 but have read a lot about noise, which concerns me. I love the idea of the new Vivitar X60 but agree with you that image stabilization is a must at this level. SO, if anti-shake, lens reach + quality, and crispness of images are the key features (along with reasonable portability), WHAT'S A WIFE TO DO?
After all of my research, I seem to have arrived back where I started, with the Nikon Coolpix P4. No it doesn't have the reach with which the options in your 05/03/06 Gary's Parries column tempted me, but it seems to have everything else, including super-sharp images taken with a high-quality (albeit shorter-reach), image-stabilized lens. So perhaps shorter range but highly croppable shots are the answer. Any thoughts on this one before I take the plunge??
Thanks,
Your newest fan!
***
*** ANSWER 1
***
As Gary's Parries' newest fan, you were fortunate to have been spared the agonizingly painful ordeal I went through most of last year searching for a high-zoom, ultra-compact camera for my wife's birthday. It is now five months after her birthday, and I am still at a loss as to which camera to get her, so my investigation of the P4 is as much for my benefit as it is yours.
The Nikon Coolpix P4 is a very good camera, just not (as you pointed out) a high-zoom camera, and not quite an ultra-compact due to its 1.2" depth (though certainly close enough for government work). As your interest in the P4 shows, you have lowered your priority for high-zoom and placed a higher priority on image quality, which makes perfect sense considering the importance of image quality.
Yet, for some strange reason that I cannot explain, my leaning is still towards a high-zoom camera. My two top contenders are currently the Panasonic Lumix DMC-TZ1 and the Kodak EasyShare V610, both with 10x optical zoom. Let's briefly review these cameras before moving on to the P4.
Make no mistake about it, images from the TZ1 and V610 will be noisy compared to the P4 (though not so noisy compared to the Ricoh Caplio R4). However, noise really only becomes a problem in low-light situations, and it can be easily minimized in post-processing with noise reduction software (if this sounds a bit like I am rationalizing, it's only because … I am).
Aside from noise, the major drawback of the TZ1 is its size, much larger than the V610, and even larger than the P4 (however, I have consulted with a tailor, and it would be no problem at all to have my wife's pants and shirt pockets altered to accommodate the larger size, and if I do get her a TZ1, I'll be sure to include, as a second gift, a larger pocketbook as well). One minor drawback of the TZ1 is its non-retracting lens, which requires the use of an external lens cap, and is not very conducive to point-and-shoot operation (but at least it's a locking cap versus the push-on variety that can easily fall off during transport, leaving the lens exposed and susceptible to scratches).
The V610, on the other hand, has two totally non-extending lenses, and is about as compact of a camera as you would want. Its major drawback, again aside from noise, is its lack of optical image stabilization (but the more I think about it, my wife really does have very steady hands, and for those rare times where she is not so steady, there is always the camera's Blur Warning). One minor drawback of the V610 is the discontinuous implementation of its 10x zoom range (to which I am sure my wife would become accustomed in no time at all).
Getting back to the P4, if you absolutely cannot live with higher noise levels, then the P4 might be your best choice. It has a large, 1/1.8" CCD, which will definitely come in handy when you want the blurred background effect of narrow DOF. It has an effective vibration reduction mode, for both stills and video. It has a wealth of in-camera image processing, such as Red-Eye Fix and D-lighting, both of which will come in handy if you do direct printing. It has an 11-point auto-focusing system, with Face-Priority. It has an Aperture Priority mode, as well as plenty of scene modes. In short, the P4 has a lot going for it, including excellent image quality.
The P4, however, is not without its flaws (though what digicam is). Performance is its weakest point, with below average start-up and shot-to-shot times. But the one flaw that is a deal breaker for me is its shutter lag of nearly ONE SECOND. At least with the abovementioned high-zoom cameras, image quality is a problem only under certain shooting conditions. Shutter lag is a problem EACH AND EVERY TIME you press the shutter-release.
One final thought before you take the P4 plunge. For some reason, Nikon chose to use USB 1.1 on the P4, which is FORTY TIMES SLOWER than USB 2.0. An easy way to speed things up is to go with the Nikon Coolpix P3, which is identical to the P4 except for the addition of Wi-Fi, and costs only $50 more. Wi-Fi transfer speeds are four times faster than USB 1.1 (but still tens times slower than USB 2.0). If your computer does not have Wi-Fi capability, you may want to consider upgrading. For wireless printing, Nikon offers an optional Wi-Fi USB printer adapter.
So, what's a wife to do? Well, it appears to me that you've done it. You've done the research, you absorbed the facts, you made an informed decision, and you sought a second opinion before acting on it. Your husband is a very lucky man.
[Note: Thanks to Nick in Japan for submitting the accompanying photo, which he would have missed if not for his Sigma 'Bigma' 10X ZOOM LENS. :) - Ed.]
***
*** QUESTION 2—- THE SONY DSC-W100 (WILL IT GO 'ROUND IN CIRCLES)
***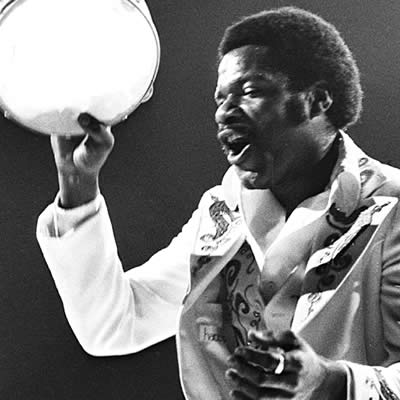 Hi Gary,
I'm trying to decide which of two Sony digicams to purchase, the DSC-W100 or the DSC-T30. I've read about their technical differences, and also their similitudes such as size.
Size, picture quality, ruggedness, and ease of operation are my big considerations. I want it as a carry-around camera. I would appreciate your comments on both cameras, or on any comparable cameras you think may better suit my needs.
Thank you for your attention to this matter, and for your balanced and informative comments.
Regards,
Francisco
***
*** ANSWER 2
***
Good question, Francisco. The Sony DSC-T30 has some very impressive features over the feature-starved Sony DSC-W100; however, the T30 lacks one very important feature, which easily makes the W100 my first choice. Allow me to explain.
One of the T30's standout features is its 3.0", 230K-pixel LCD, which leaves the 2.5", 115K-pixel LCD of the W100 in the dust (though, to be fair, the W100 does augment its LCD with an optical viewfinder). Another of the T30's standout features is its optical image stabilization (OIS). What a shame Sony neglected to equip the W100, its top-of-the-line W-series camera, with OIS.
However, one thing Sony did right with the W100 was its 1/1.8" CCD, unlike the T30, and unlike the rest of the W-series, which all have smaller, 1/2.5" CCDs. It is for this reason alone that I would recommend the W100 over the T30, which has been shown in reviews to be excessively noisy, unlike the W100.
I think the W100 would make an excellent carry-around camera, although I would not count on it being very rugged. So please be careful with it. :)
Another camera you might want to look into is the Fuji FinePix F30. It's about the same size as the W100, but has a higher resolution, 230K-pixel, 2.5" LCD (though no optical viewfinder), a larger, 1/1.7" CCD (with only 6 megapixels crammed into it vs. 8 megapixels for the W100), a slightly faster and wider lens, better implemented manual controls, as well as more of them, a much higher maximum ISO (3200 vs. 1250 for the W100), and even lower image noise than the W100.
***
*** TOPIC 3—- BLUE HA-WI-FI
***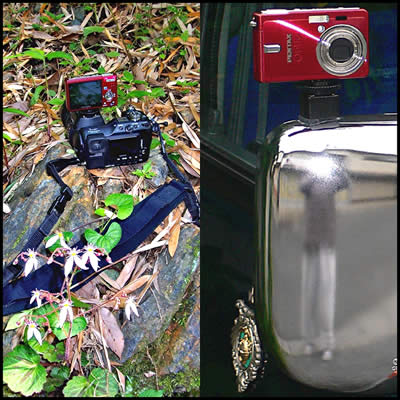 I recently purchased the wireless HP bt450 Bluetooth USB Printer Adapter for my wife's HP Photosmart 475 Printer. The adapter works great, except for one thing. It slows the printer down to a crawl, and I do mean a crawl.
So I decided to do a little investigation into the transfer speed of Bluetooth vs. USB 2.0, and I was shocked at what I found. Bluetooth maxes out at 3 Mbps, while USB 2.0 goes to 480 Mbps, well over 100 times faster. Even the old USB 1.1 had a transfer rate of 12 Mbps, and that was considered slow.
Why then are so many cell phones coming out with Bluetooth over Wi-Fi? And what about the Kodak EasyShare V610, which is the first Bluetooth digicam (and which I was about to choose over the Panasonic Lumix DMC-TZ1, specifically for that reason)?
To answer my own questions, Bluetooth cell phones actually do make sense over Wi-Fi, mainly because photos transferred from a cell phone are generally small compared to digicam photos, and you rarely need to transfer more than a few photos at one time. Bluetooth is also much easier on a cell phone's battery than Wi-Fi, and it costs a lot less to implement.
But the photos from a 6 megapixel V610 will be quite large, and you will more often than not be transferring them in bunches. In view of this, I don't see how Bluetooth can be of any value for digital cameras, not when you could easily hook up a USB cable and get over 100 TIMES the speed.
Wi-Fi digicams make a lot more sense than Bluetooth. I will therefore have to rethink my inclination to go with the V610 over the TZ1. I may still do so for its more compact size, but not for its Bluetooth capabilities.
[Note: Thanks to Nick in Japan for submitting the accompanying self-portrait photos. - Ed.]
***
[Column photo "The Photographer" by Brenda LaFleur of Brenda LaFleur Photography.]
Share this article