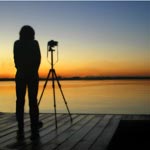 This week's Gary's Parries topics are:
1. 3D Digital Cameras
2. The Sharper Image
3. Goodbye, Mr. 2/3" CCD Chips
4. Sweet Dreams Are Made Of This
5. Bridge Cameras Over Troubled Waters
Introducing this week's Gary's Parries column. Everything you always wanted to know about digital cameras, but were afraid to ask. No question too difficult, or too easy. As a Principal Software Engineer, and a former Assistant Professor of Computer Information Systems, as well as a recording studio owner/operator, and now, a digital camera enthusiast, GARY has more digital camera knowledge in his entire brain than most people have in their little finger. In the unlikely event that GARY would not know the answer to your question, he will answer it anyway, true to the spirit of the word "Parries", a fencing term which, in this context, implies "cleverly evasive answers". So let your imaginations run wild. Email all your nagging questions to: garysparries@photographyblog.com, and then, En Garde!
The best question of the week will receive a small PRIZE from the PhotographyBLOG goody bag, so send your questions now.
Here are this week's questions and answers
If your question is selected for publication, the complete text of your email will be included in the column, but may be edited for grammar, consistency, or other reasons. No personal information will be published with your question unless you specifically type it into the text of your email. All judging is done on an impartial basis without regard to race, creed, color, sex, national origin, professional status, physical disability, mental handicap, or model of camera owned (these latter two go hand-in-hand). The decision of the judges is final.
QUESTION 1—- 3D DIGITAL CAMERAS
Is any company planning to develop a digital 3D (i.e., stereo) camera? Ideally it would have accompanying software to produce prints or slides and the camera itself would allow the interocular distance to be adjusted.
ANSWER 1
Yes, there are many companies planning to develop digital 3D cameras. Just check the dimensions of any of the latest digital cameras, they are all 3D. Granted, some of the ultra-slim models "appear" to be two-dimensional, but they are not.
Stereo cameras are another story. There are only a few, including Sony's Cyber-Shot DSC-M1, and Sanyo's Xacti VPC-C6. Both offer VGA motion video with stereo audio.
BTW, speaking of stereo, that brings to mind a camera topic completely unrelated to your question, namely, stereoscopy. I do not anticipate digital camera manufacturers warming up to this trend, at least not globally; however, I think it more likely that companies will develop brackets for coupling two normal production cameras to synchronize their shutter release and zoom mechanisms, as was done not too long ago with the Sony DSC-P41, P43, P100, P150, and F717 cameras.
http://www.stereoscopy.com/3d-concepts/camera.html
From the descriptions of these brackets, it does appear that the interocular distance is adjustable. Hope that helps.
QUESTION 2—- THE SHARPER IMAGE
Gary, why is it that some DC's are soft at their default settings? For example the Canon PowerShot A620 is soft, while the PowerShot A95 gives sharp images.
Also, has a 7MP camera better sharpness when set to 5MP, than a 5MP camera at its best resolution?
Regards,
Anders Tiberg
ANSWER 2
Both excellent questions, Anders, especially the second, which would normally require solving a set of simultaneous quadratic equations to find the eigenvalues of the associated sharpness matrix for the given resolutions. So as not to put anyone off, I will instead answer that question with some simple propositional logic using the modus ponens inference rule. However, first a bit of background info so that we are all on the same page.
The apparent sharpness of an image is determined by the abruptness of the changes in pixel brightness across the edges of detail in an image. Sharpening artificially makes those transitions more abrupt by further lightening pixels on the lighter side of the detail edge, and further darkening pixels on the darker side of the detail edge.
Image noise can have a negative impact on sharpening, and vice versa, since the false edges of the noise detail will be further enhanced by sharpening. Sharpening can also add artifacts of its own to an image, artifacts which cannot be reversed, so it is a process that is best performed last in the processing chain, particularly if you intend to resample the image for resizing.
Contrary to intuition, an unsharpened higher resolution image will NOT appear any sharper than an unsharpened lower resolution image (all other things being equal), since sharpness is independent of resolution. Thus, it becomes a matter of which will sharpen up better. Since a higher resolution image is noisier than a lower resolution image (again, all other things being equal), and since image noise is generally counterproductive to and further exaggerated by sharpening, the higher resolution image will be less conducive to sharpening.
Camera manufacturers have great latitude in preselecting their default, in-camera sharpness settings, which can range from little or no sharpening, to over-sharpening where artifacts become noticeably visible. Generally, manufacturers will choose their default sharpness settings either for softer images, to provide the most flexibility to the user in terms of post-processing options, or sharpened images, to provide the best out-of-camera results.
On to your question about the default sharpness settings for the Canon PowerShot A95 and A620. Your observation regarding the differences between their settings is a perfect example of Canon having made one choice of defaults with their earlier model A95 to provide for impressive out-of-camera results, and another, presumably more informed choice with their later model A620 to provide for better flexibility.
Now to your question regarding the sharpness of a reduced-resolution 5 megapixel image obtained from a 7 megapixel CCD compared with that of a native-resolution 5 megapixel image obtained from a 5 megapixel CCD.
With all other things being equal, given the fact that an image with more noise is less conducive to sharpening than an image with less noise, and if, in view of the fact that a higher resolution image is more noisy than a lower resolution image, you accept the fact that a reduced 5 megapixel image will be, in practice, noisier (depending on the quality of the in-camera image reduction) than an equivalent native 5 megapixel image, it follows that a reduced 5 megapixel image will also be less conducive to sharpening than a native 5 megapixel image. QED
QUESTION 3—- GOODBYE, MR. 2/3" CCD CHIPS
Gary, I read most of the comments and reviews of the PMA 2006 camera releases during the four day coverage by PhotographyBLOG and other camera web sites, but I did not see any mention of a 2/3" CCD being used in any of those cameras. The 2/3" seems to have faded.
I believe that the 2/3" CCD had great potential, being the better size over the 1/2.5" and 1/1.8". There have been some advanced cameras that were produced using the 2/3" chip in, what I considered, very favorable combination with lenses in the 28 - 200mm range. Can you shed some light on this?
Thank you for your attention.
Cordially,
Francisco
ANSWER 3
Excellent observation, Franciso. I think the last 2/3" CCDs were used in the Canon PowerShot Pro1 and the Nikon Coolpix 8800, back in 2004. This year, however, you were lucky to find even a 1/1.8" CCD. The large majority of digicams are now using 1/2.5" CCDs.
To be fair, with recent advances in CCD technology, today's 1/1.8" CCDs can achieve nearly the same performance as the older 2/3" CCDs. I say "nearly" because larger CCDs will always have a narrower DOF, which is considered to be an advantage in many situations. I suspect even the 1/2.5" CCDs will soon reach similar performance levels (again, except for the narrow DOF).
It is certainly understandable why camera manufacturers have opted for using smaller CCDs. This allows them to produce smaller, lighter, less expensive cameras, with little, if any, loss of image quality. Even the high-end DSLRs are now downsizing to the smaller 4/3" CCDs. It all makes sense, as long as image quality can be maintained.
QUESTION 4—- SWEET DREAMS ARE MADE OF THIS
Gary, I've been curious as to your opinion on these really small digital cameras. Which seems to be the "better" type overall, the super-slim type that uses a folded-optics lens (a la the Nikon Coolpix S6), or the "other" type where the lens zooms OUT from the camera body (as in the Panasonic Lumix DMC-FX01)? I suspect that the latter type might be the better of the two.
Here's what I'm looking for: top quality, 28mm to around 110mm zoom WITH a 2.7 and preferably a 3 inch LCD screen using (if possible) the SD memory cards. Any suggestions as to specific cameras and or directions I should be looking in?
BTW, TOO bad the new Lumix DMC-TZ1 is not a 28 mm lens WITH a 3 inch screen! I can't believe a lot of cameras are still using 2.5 inch screens!! "Maybe" Panny will come out with an upgrade to the LX1 having a larger screen AND cleaning up the proverbial noise (any thoughts on that?).
Thanks for your time and attention!
Have a nice weekend,
George Miller
P. S. I forgot to mention that my "dream" camera should also have some form of "Image Stabilization".
ANSWER 4
Wow, George, that is definitely a tough order to fill, To get even close, you will need to relax at least one of your preferences.
Since your choices are already so limited, I would not worry at all about the type of memory card the camera uses. Also, relaxing your LCD preference from 3.0" to 2.5" makes sense, since that will not impact image quality. With a 2.5" LCD, the cameras fitting the bill are the Panasonic Lumix DMC-LX1, and the Ricoh Caplio R3 and R4. However, buyer beware! The LX1's 4x zoom range, which is specified as 28 - 112mm in 16:9 mode, is actually 34 - 136mm in 4:3 mode.
If you are also willing to relax the high end of your zoom range just a bit, then the Panasonic Lumix DMC-FX01, with its 28 - 102mm (3.6x) zoom, fits the bill. If you would prefer to relax the low end of your zoom range, then the Panasonic Lumix DMC-TZ1, with its 35 - 350mm (10x) zoom, the Panasonic Lumix DMC-LZ5, with its 37 - 222mm (6x) zoom, the Canon PowerShot SD700 IS, with its 35 - 140mm (4x) zoom, and the Nikon Coolpix P3 and P4, with their 36 - 126mm (3.5x) zoom, all fit the bill.
Of the above mentioned cameras, the only one that uses folded-optics (a la the Nikon S6) is the Panasonic TZ1, which actually uses it in combination with a retractable lens system. Given the choice of a folded-optics or retractable lens system (all other things being equal), I would choose the retractable lens due to the fact that the prism used in a folded-optics system adds distortion to the image. Having said that, today's prisms are good enough so as not to let that factor be a deal breaker, particularly since all other things are NOT equal. The TZ1's powerful 10x zoom far outweighs any slight prism distortion.
Continuing with the above mentioned cameras, only the Panasonic LX1 and LZ5, and the Ricoh R3 have been reviewed, and all proved to be noisy. The Panasonic TZ1 and FX01, and the Ricoh R4, are also expected to be noisy by association. Similarly expect the Canon SD700 to be noisy, since it uses the same (?) CCD as the Panasonic LZ5 and FX01. The only cameras with a good chance of not being noisy are the Nikon P3 and P4, since they use a larger 1/1.8" CCD, compared to the smaller 1/2.5" CCD used by all the others.
As for Panasonic coming out with a low noise LX1 successor, don't count on it. More likely is the introduction of an even smaller (and possibly noisier) 16:9 CCD which can then be used in a true 1" thick ultra-compact (unlike the 2" thick LX1). A wide-format LCD is also a possibility.
QUESTION 5—- BRIDGE CAMERAS OVER TROUBLED WATERS
What did you make of all the recent PhotographyBLOG discussion regarding bridge cameras being replaced by DSLRs?
[Note: see the PhotographyBLOG article "The Death of the Bridge Camera" - Ed.]
ANSWER 5
With just two very minor improvements, DSLRs could easily replace bridge cameras, as follows: (1) eliminate those hokey mirrors used for TTL viewing in favor of live view EVFs and LCDs; and (2) eliminate those dust-prone lens mount openings in favor of all-in-one fixed lenses.
THIS WEEK'S CONTEST WINNER for BEST QUESTION
It was an extremely tough judgment call, since all of the selected questions were excellent, and very relevant to PhotographyBLOG readers. However, the tie-breaker was the fact that one of the questions was far more mathematically inclined than the others. So for that reason, I have awarded first place to Anders Tiberg.
Congratulations, Anders Tiberg! Please email your home address to the editor of PhotographyBLOG, Mark Goldstein (mark@photographyblog.com), along with your preferred choice of Rolling Stones or U2 concert tickets and backstage passes, and Mark will send you your prize.
[Column photo "The Photographer" by Brenda LaFleur of Brenda LaFleur Photography.]
Share this article