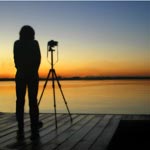 This week's Gary's Parries topics are:
1. Large Sensors Just As Noisy As Small Sensors?
2. I Dream Of (A Digital Camera) Jeannie
3. It's A Mac/Win-Win Situation
Introducing this week's Gary's Parries column. Everything you always wanted to know about digital cameras, but were afraid to ask. No question too difficult, or too easy. As a Senior Principal Software Engineer, and a former Assistant Professor of Computer Information Systems, as well as a recording studio owner/operator, and now, a digital camera enthusiast, GARY has more digital camera knowledge in his entire brain than most people have in their little finger. In the unlikely event that GARY would not know the answer to your question, he will answer it anyway, true to the spirit of the word "Parries", a fencing term which, in this context, implies "cleverly evasive answers". So let your imagination run wild. Email all your nagging digital camera questions to: garysparries@photographyblog.com, and then, En Garde!
You may also attach to your email an ORIGINAL PHOTO of your choosing. A preview of the photo will be displayed with your question, and a full-sized version will be just a click away (unless you request otherwise). No personal information will be published with your question unless you specifically include it in the text or attached photo of your email, which may be further edited for grammar, content, or other reasons.
Here are this week's questions and answers
***
*** QUESTION 1—- LARGE SENSORS JUST AS NOISY AS SMALL SENSORS?
***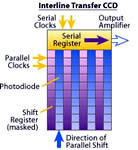 Hi Gary,
I keep reading in forums, reviews and even magazines that larger sensors are better regarding noise in low light situations ... and I believe it's an incorrect statement.
Although (larger sensors with) larger photosites will have better Signal/Noise Ratio at higher ISOs, they require larger lenses as well (or slower lenses at the same size). In the end, for a given diameter lens (and same equivalent focal range), a camera with a small sensor will have the same low light performance as a camera with a large sensor*.
What's your opinion on all this? Am I a fool because 99% of the people think I'm wrong? Errr ... am I wrong?
Best regards,
Olivier_G
* lenses with f-number lower than 2.0 are harder to design and a larger sensor will prove helpful in those situations (read: "Sony R1")
***
*** ANSWER 1
***
O_G, I would agree that (all other things being equal) larger sensors require larger lenses to achieve the same f-stop, so we are really comparing apples and windows when we say that larger pixels provide a higher S/N ratio. However, there is one thing that your argument does not take into account. Larger sensors also produce higher fill factors (i.e., the percentage of photosensitive area per photosite, namely, the area occupied by a photodiode as opposed to its auxiliary circuitry), which also enhances S/N ratio.
For example, a 1/2.5", 6 megapixel, interline transfer CCD (typical of digicams) might have only a 20% fill factor due to the masked (i.e., light-obscuring) auxiliary circuitry at each photosite which forms the shift register used to transfer the photosite's charge to storage. However, if that 6 megapixel sensor were enlarged to say APS-C size, with the size of the auxiliary circuitry remaining constant, that would leave far more room to expand the light-sensing photodiode, resulting in possibly an 80% fill factor.
So, even if the increased photosite size of an APS-C vs. 1/2.5" CCD is completely offset by the increased lens size, the larger fill factor yields an additional 4:1 increase in the photosensitive area of the sensor, and thus, a "real" improvement in S/N ratio. Actually, the improvement would be less than what was calculated, since higher quality interline transfer CCDs place microlenses atop each photosite to direct the light from the entire photosite area onto the small photodiode area, which significantly improves the fill factor for smaller CCDs.
Regardless of the technical details, all one has to do is examine the noise test results found in the multitude of digital camera reviews to see that larger sensors have better noise specs than smaller sensors (all other things being equal).
[Note: Interline Transfer CCD photo provided courtesy of Eastman Kodak - Ed.]
***
*** QUESTION 2—- I DREAM OF (A DIGITAL CAMERA) JEANNIE
***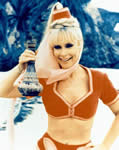 Hello,
I wish I knew some wonderful fencing term that would catch your attention immediately, but I don't. I do know that an epee is a small fencing sword. At least that's what the crossword puzzles say. Is that good enough? Did I get your attention?
Okay, so here's the deal. I know nothing about digital cameras except that when I have fooled around with a friend's or relative's, I like them. Also, I don't have a gillion dollars to spend, so maybe a $250 maximum range? Finally, I'm a bird watcher/nature lover and would like to be able to quickly zoom in on a subject and get a clear picture. I know that 'megapixels' are important, but that's about it.
Oh wonderful, all-knowing, digital camera genie, can you tell me the best camera to buy for my money and interests?
Thanks,
Julie F.
Green Bay, Wisconsin
*** ANSWER 2 ***
Julie, if only I could just blink my eyes and your perfect digital camera would magically appear. But I can't, so we'll have to try it another way.
Your intended use of the camera for bird watching dictates the need for a high-zoom lens; however, these generally do not come cheap. Your best bet would be to go with either a point-n-shoot digital camera, similar to your friend's, but offering 6 to 10 times zoom (theirs was probably only 3x zoom) in a convenient compact or ultra-compact body. Or, if you can tolerate a somewhat larger camera body, then go with an SLR-like digital camera, having 12x zoom, and looking much like what the pros use. Let's start with the point-n-shoot models.
The Ricoh Caplio R3 is an excellent ultra-compact point-n-shoot with a 7.1x (28mm - 200mm) zoom. Its only major drawback is that it produces noisy images in low-light situations; however, for your intended use in the bright outdoors, that should not be a problem. The R3 costs around $350. Check out the PhotographyBLOG review of the R3 at the following:
http://www.photographyblog.com/reviews_ricoh_caplio_r3.php
There are two compact Panasonic point-n-shoot models, the Lumix DMC-LZ3 (w/ 2.0" LCD) and DMC-LZ5 (w/ 2.5" LCD), both of which offer a 6x (37mm - 222mm) zoom. While these have a slightly lower zoom range than the Ricoh R3 (6x vs. 7.1x) , the telephoto end of their zoom is actually a bit higher than the R3 (222mm vs. 200mm), which means you will be able to zoom in even closer than with the R3.
Like the R3, the Panasonic LZ3 and LZ5 produce noisy images in low-light situations, but again, this should not be a problem for you. Best of all, both cost under $250. Check out the PhotographyBLOG review of the LZ5 at the following:
http://www.photographyblog.com/reviews_panasonic_lumix_dmc_lz5.php
There is another compact Panasonic point-n-shoot, the Lumix DMC-TZ1, which offers a 10x (35mm - 350mm) zoom, the highest of any camera in its class. It can be purchased for under $325. I have not yet seen any reviews of the TZ1, which makes it difficult to recommend; however, do not despair. The PhotographyBLOG review of the TZ1 will be on-line shortly. In the meantime, check out the PhotographyBLOG sample photos of the TZ1 at the following:
http://www.photographyblog.com/index.php/weblog/comments/panasonic_tz1_photos
There are several larger, SLR-like cameras which are priced around $250. One is the highly-rated Sony DMC-H1 with its 12x (36mm - 432mm) zoom. This camera originally sold for $500, and now sells for around $350. But with Sony's recent release of their H2 and H5 models, you should be able to get a great deal on the H1 very soon. Check out the PhotographyBLOG review of the H1 at the following:
http://www.photographyblog.com/reviews_sony_cybershot_dsc_h1.php
Another highly-rated SLR-like camera is the Konica Minolta DiMAGE Z5 with its 12x (35mm - 420mm) zoom. This too was originally a $500 camera, but can now be purchased for under $300. Check out the PhotographyBLOG review of the Z5 here:
http://www.photographyblog.com/reviews_konica_minolta_dimage_z5.php
Yet another highly-rated SLR-like camera is the Canon PowerShot S2 IS with its 12x (36mm - 432mm) zoom. This too was originally a $500 camera, but can now be purchased for under $350, and with Canon's recent release of its S3 IS model, the price of the S2 IS is bound to go even lower.
Last but not least, another highly-rated SLR-like camera is the Panasonic Lumix DMC-FZ5 with its 12x (36mm - 432mm) zoom. This too was originally a $500 camera, but can now be purchased for under $350, and with Panasonic's recent release of its closely priced FZ7 model, the price of the FZ5 is bound to go even lower.
There are many less highly-rated, high-zoom, SLR-like cameras. If you should look at others (or any high-zoom camera) make sure it has an image stabilization feature (a.k.a., IS, OIS, Mega OIS, Anti-Shake, and Anti-Blur). All of the above recommended cameras have this feature. Without it, you would not be able to take high zoom shots unless you used a tripod to steady the camera.
In going through these camera recommendations, the first thing you should decide is whether you want a smaller, point-n-shoot type camera, or a larger, SLR-like camera. That will narrow the field down quite a bit. Then it's simply a matter of looking for the best camera deal.
If you do not have the time, or inclination, to read the above mentioned reviews, you should at least read their Introduction and Conclusion pages. The Introduction page also lists applicable pricing from several PhotographyBLOG affiliates.
Good luck, Julie, with whatever camera you choose.
[Note: Jeannie photo provided courtesy of I Dream of Jeannie Mike's Website - Ed.]
***
*** TOPIC 3—- IT'S A MAC/WIN-WIN SITUATION
***
Last week's announcement of the new Intel Mac's capability to run Windows in native mode was definitely seen as a win situation for Apple. Not that any Apple diehards would really want to run Windows applications on their Mac, but it's nice to know that the option is there, should one "need" to use it. And not that any Windows diehards would be tempted to abandon Windows for Mac; however, there are Windows users who would have actually preferred to purchase a Mac, but could not due to its lack of compatibility with their machines at work, or their children's machines at school.
So kudos to Steve Jobs for masterminding the Mac switch from Motorola to Intel chips, and for having the foresight to embrace the notion of Windows compatibility. But if Steve Jobs and Apple are the winners, where does that leave Bill Gates and Microsoft? If you think they are the losers, think again.
What does the Mac's Windows compatibility do for Bill Gates? It sells more Windows operating systems. It even sells more Windows applications. That shouldn't be too hard for Bill to take. And don't think that he doesn't have the upper hand here. How difficult could it be for him to disable future versions of Windows from running on Mac platforms? Not that he would do something like that. Mac compatibility is making him money.
Now for the real twist of fate. If Apple had little or no difficulty enabling Mac OS X to boot Windows, how difficult could it be for Microsoft to enable Windows to boot Mac OS X? That would certainly take the wind out of Apple's sales (pun intended). Windows users would be able to continue buying their less expensive PCs, and still be able to run Macintosh applications (should the need arise). Of course, that would sell way more Mac operating systems for Apple, just not more Mac machines as they had hoped.
[Note: Steve Jobs photo provided courtesy of Apple Computers, Bill Gates photo provided courtesy of Microsoft - Ed.]
***
[Column photo "The Photographer" by Brenda LaFleur of Brenda LaFleur Photography.]
Share this article