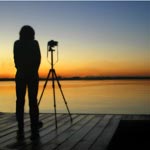 This week's Gary's Parries topics are:
1. Noise Reduction 101
2. New Fuji And Panasonic Digicams (The Good, The Bad, And The Ugly)
3. Kind Words From A Gary's Parries Fan
Introducing this week's Gary's Parries column. Everything you always wanted to know about digital cameras, but were afraid to ask. No question too difficult, or too easy. As a Principal Software Engineer, and a former Assistant Professor of Computer Information Systems, as well as a recording studio owner/operator, and now, a digital camera enthusiast, GARY has more digital camera knowledge in his entire brain than most people have in their little finger. And, in the unlikely event that GARY would not know the answer to your question, he will answer it anyway, true to the spirit of the word "Parries", a fencing term which, in this context, implies "cleverly evasive answers". So let your imaginations run wild. Email all of your nagging questions to: garysparries@photographyblog.com, and then, En Garde!
The best question of the week will receive a small prize from the PhotographyBLOG goody bag, so send your questions now. If you would like your name, location, email address, and/or website included in the column with your question, please expressly give your permission in the email, along with the information you would like included. No private information will be included without your consent.
Here are this week's questions and answers.
QUESTION 1:
How is image noise reduction accomplished in digital cameras?
[Warning: the following is a highly technical discussion. If you are uninterested in such discussions, please skip to Question 2 - Ed.]
ANSWER 1:
The short answer is, not very well.
Digital camera manufacturers are tightlipped about their proprietary methods of image noise reduction, so it is impossible to know what techniques are performed for any specific camera; however, the effects of such noise reduction can be easily compared from camera to camera, as is typically done in camera reviews. If you are unfamiliar with the concept of digital camera image noise, some "excellent" examples can be found in the Image Quality sections of the PhotographyBLOG reviews of the Panasonic Lumix DMC-LX1, Ricoh Caplio GX8, HP Photosmart R817, and Ricoh Caplio R3. For comparison, the reviews of the Fujifilm FinePix F11, Canon PowerShot A620, and Fujifilm FinePix S9500 Zoom demonstrate relatively low noise.
There are a number of different causes of image noise in digital cameras, but they can all be categorized as errors in the voltage representations of an image's light intensity being measured at each individual photosite. One source of such error is the random fluctuations in the number of photons striking a photosite for a fixed image. Another is the non-uniform capability of each photosite to convert the intensity of light striking it into a proportional electrical charge. Another is the voltage irregularities introduced in the amplification of the electrical charges at the individual photosites. There are other causes of image noise; however, this discussion will be confined to the three sources of error just mentioned.
The easiest of the three sources of error to correct (at least for CCDs, not so much for CMOS Image Sensors) is the effect of voltage irregularities introduced by amplification of the electrical charge measured at each photosite. The reason why correction is easier for CCDs than for CMOS is because there is usually only one such amplifier (or maybe a small number of such amplifiers) used in a CCD system, whereas for CMOS Image Sensors, there are literally millions (one per photosite).
The corresponding correction technique for this source of error is based on obtaining a knowledge of the characteristics of an amplifier's voltage irregularities, and then applying an appropriate compensation factor to the amplifier's output voltages. This compensation factor could be determined either at the factory, by obtaining an average value for all cameras of a specific model, or in the field, by using the camera's firmware to obtain a value specific to that camera. The first method has the advantage of simplicity, while the second method has the advantage of accuracy by compensating for the actual circuitry of the camera, and if performed at the time of each image capture, would even compensate for the prevailing operating conditions. Other schemes offering a blend of simplicity and accuracy are also possible.
The second easiest source of error to correct is the non-uniform capability of each photosite to convert the light striking it into a proportional electrical charge. This too can be determined at the factory so that a compensation factor can be applied; however, in this case, an average value would be useless, since no two CCDs will have the same pattern of photosite non-uniformity. Rather, the factory would need to individually determine a specific non-uniformity pattern for each CCD, and then store those CCD-specific patterns in each corresponding camera.
An easier way to accomplish this would be to have the camera's firmware determine its own CCD's non-uniformity pattern. This determination could be made once, and only once, when the camera is first initialized, or better yet, upon each power-up of the camera, or better still, upon each image capture, which would then compensate for any effects on the pattern caused by the operating conditions.
The most difficult source of error to correct is the random fluctuations in the number of photons striking a photosite for a fixed image. Actually, the technique to compensate for this is rather simple, but the effectiveness of the technique can vary depending on the quality of the algorithms used. The first step is to look at the output value of each photosite to determine whether it is in perspective relative to the surrounding photosites for a given image. Then, for each photosite that is not in perspective, an interpolation is performed with the surrounding photosites to adjust the errant photosite's output value to be more in sync with the surrounding ones.
This technique has the beneficial effect of making an errant photosite less noticeable in the final image by spreading its error over multiple pixels. It could, however, also have a deleterious effect, depending on the level of selectivity used in determining what constitutes an errant photosite. If this determination is made too aggressively, normal photosites which are not quite in perspective with the surrounding photosites, as may occur when there are fine details in an image, could be mistakenly adjusted, thereby eliminating or blurring those fine details. It is the quality of the algorithms used in this determination process, as developed by each camera manufacturer, that is the single most decisive factor for ascertaining whether one camera is noisier than another (all other factors being equal).
With pixel counts skyrocketing and sensor sizes shrinking, increased image noise has become a major problem within the digital camera industry. However, thanks to the many excellent camera reviews and photography blogs available, consumers are now far more educated and in a much better position to demand better from camera manufacturers. In the near future, as CMOS and other technologies evolve, we should expect to see far less noisy image sensors, even with higher pixel counts and smaller sensor sizes. This will be due, in part, to improvements in circuit quality, but more importantly, it will be as a result of improved firmware in combination with additional on-chip circuitry to detect and compensate for the multitude of errors that can occur.
QUESTION 2:
What do you think of the new batch of Panasonic and Fuji cameras introduced this past week? I'm looking for an advanced ultra-compact, preferably with a high zoom, but I'm not sure if they would be any good.
ANSWER 2:
Except for possibly the Fujifilm FinePix F30, I would not buy any of them just yet. Here is why.
The F30 has some great features, the main one being ISOs to 3200. Whether those high ISOs will be usable remains to be seen; however, for now, I am willing to give Fuji the benefit of the doubt based on their solid reputation for low noise. The F30 also has a 2.5" high-resolution LCD, an assortment of manual controls (but no manual focus), some nice scene modes (including an Underwater scene mode with the optional underwater housing), as well as good operational performance and battery capacity. One negative is its lack of OIS, which is not such a big deal for a 3x zoom. However, a much bigger negative (if it is true) is the omission of an AF assist lamp, which would be unforgivable on a camera designed with such otherwise excellent, low-light capabilities.
The other applicable new Fuji is the FinePix F650. This camera sounded almost too good to be true with its 5x zoom and 3.0" LCD in an ultra-compact size. The thing that worries me about the F650 is its 1/2.5" CCD. Every CCD I have seen of that size seems to be plagued by excessive image noise. However, if anyone can avoid the image noise problem, it would be Fuji. Even so, the F650 does not have any OIS, which is not so good for a 5x zoom. It also has no AF assist, which is not good for any camera.
Panasonic did more than a few things right with their new Lumix DMC-FX01. They packed it with 3.6x zoom, 28 mm at the wide end, OIS, 4:3, 3:2, and 16:9 aspect ratios, AF assist, maximum ISO 1600 (in mixed-pixel mode, otherwise maximum ISO 400), 2.5" high-resolution LCD, VGA and wide-aspect VGA video at 30 fps, an abundance of scene modes (including Underwater), and good operational performance and battery life, all in an ultra-compact size. The only thing that bothers me about this camera is, again, its 1/2.5" CCD. If I do not trust Fuji with such a small CCD, I would certainly not trust Panasonic (known for noisy sensors).
The other applicable new Panasonic is the Lumix DMC-TZ1. Its 10x zoom is enough to make one forget that it is not quite an ultra-compact. Add to that its OIS, 4:3, 3:2. and 16:9 aspect ratios, AF assist, maximum ISO 800 (1600 in mixed-pixel mode), 2.5" high-resolution LCD, VGA video at 30 fps, an abundance of scene modes (including Underwater), and good operational performance and battery life, and you have a pretty impressive package. Once again, the only thing that bothers me about this camera is its 1/2.5" CCD. However, one thing puzzles me. This is a 6.37 megapixel CCD, but only 5 megapixels effective. Something is going on here ???
Before making any purchasing decisions on these cameras, I would wait until after PhotographyBLOG and others have reviewed them thoroughly. If it turns out that the new 1/2.5" CCDs have licked the noise problem that plagued last years models, these cameras will be awesome.
Considering Panasonic's expertise in building cameras with excellent feature sets, but falling short in the noise performance of their image sensors, and considering Fuji's expertise in building cameras with excellent noise performance by using its proprietary CCD technology, but neglecting to include important features such as OIS and AF assist, wouldn't it be nice if the two companies got together to collaborate on producing a camera with the best of both worlds?
QUESTION 3:
Gary, you're an idiot !!! You spend all this time searching for a camera for your wife (if she even exists), and then you end up buying her a printer. Now you claim to still be looking for a camera, hoping something better will be announced at PMA. If there is, you'll still find something wrong with it. Meanwhile, you make your wife use an antiquated Canon G3. If you had any brains, you would have bought her a Ricoh R3 or a Samsung L55W, or even a Panasonic LX1. You say it was because you already had two strikes against you and did not want to strike out, but IMHO, your decision was strike three, so you are out. I'm surprised your wife did not leave you. Not because you got three strikes, but because you got no balls.
ANSWER 3:
Thank you for those kind words. BTW, do you like to hunt?

Column photo "The Photographer" by Brenda LaFleur of Brenda LaFleur Photography.