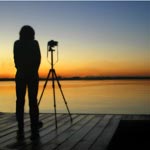 This week's Gary's Parries topics are:
1. Photo Opportunity
2. Extra Megapixel
3. High ISO Anxiety
4. Bridge Camera Records Digital Images To Film
Introducing this week's Gary's Parries column. Everything you always wanted to know about digital cameras, but were afraid to ask. No question too difficult, or too easy. As a Senior Principal Software Engineer, and a former Assistant Professor of Computer Information Systems, as well as a recording studio owner/operator, and now, a digital camera enthusiast, GARY has more digital camera knowledge in his entire brain than most people have in their little finger. In the unlikely event that GARY would not know the answer to your question, he will answer it anyway, true to the spirit of the word "Parries", a fencing term which, in this context, implies "cleverly evasive answers". So let your imagination run wild. Email all your nagging digital camera questions to: garysparries@photographyblog.com, and then, En Garde!
You may also attach an ORIGINAL PHOTO (150 x 150 pixels) to your email for display with your question. No personal information will be published with your question unless you specifically include it in the text or attached photo of your email. Emails selected for publication may also be edited for grammar, content, or other reasons.
Here are this week's questions and answers
*** QUESTION 1—- PHOTO OPPORTUNITY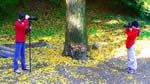 Gary, you gotta switch pictures for this column every now and then!
Semper Fi,
Nick
*** ANSWER 1 ***
Nick, I am deeply hurt by your suggestion that anyone would tire of looking at the same column photo of me week after week.
However, to address your concern, I will offer each reader the opportunity to attach an original photo (150 x 150 pixels) to their Gary's Parries email for display with their submitted question. This offer replaces the previously offered prize for best question of the week. That way, everyone is a winner!
*** QUESTION 2—- EXTRA MEGAPIXEL
Why is the Panasonic Lumix DMC-TZ1 CCD spec'd at 6.37 "total" megapixels, but only 5.0 "effective" megapixels? Where did the extra megapixel go?
*** ANSWER 2 ***
The simple answer is, the 6.37 megapixels may be just a typo. However, I have seen the 6.37 megapixel figure specified on numerous Panasonic and third party websites. Not to mention the fact that the 6.37 megapixel CCD is what is now being used in all the new Panasonic digicams. So maybe the answer is not so simple. There are three other possibilities, but first some background.
Large lenses have proportionally large image circles. In order to ensure that a CCDs pixels are used effectively, the size of the CCD must fit entirely within the image circle of the lens. If not, then only the center portion of the CCD would be used at the wide end of the lens' zoom range. The result would be a small circular image surrounded by black to fill the remainder of the CCD's rectangular proportions. This would be the case, for example, if a lens designed for an APS-C sensor were mounted to a camera with a full-frame sensor.
Conversely, if a lens designed for a full-frame sensor were mounted to a camera with an APS-C sensor, the image circle would be significantly larger than the CCD, so only the inner portion of the image circle would ever be utilized. In many respects, this is an advantage, since it adds an extra magnification factor to the lens' zoom range, and more importantly, it avoids the image softness which normally occurs near the outer edge of a lens' image circle.
With the Panasonic TZ1, we have the case where a 10x zoom lens is being contained in a camera body smaller than was ever before possible. In order to accomplish this feat, the lens had to be made very small, so small, in fact, that Panasonic needed to utilize an additional innovation, namely, the integration of folded optics with standard lens technology.
So, here are my three theories: (1) in order to stuff a 10x zoom lens into a compact camera body, Panasonic needed to make its lens elements so small that the resulting image circle of the lens was not large enough to cover even the small, 1/2.5" CCD used in the TZ1; (2) the resulting 10x zoom lens was very soft at the outer edge of its image circle, so Panasonic decided to mask it out with a built-in crop factor; and (3) the TZ1's CCD was overly noisy, so Panasonic decided to incorporate built-in pixel mixing to reduce the noise at the expense of image resolution.
In any case, the 6.37 megapixel spec is NOT a typo. That's my story, and (until I hear otherwise) I'm sticking to it.
*** QUESTION 3—- HIGH ISO ANXIETY
I am looking for a quality ultra-compact that would be good for taking pictures indoors without a flash. I have seen where Panasonic is advertising high ISOs of 800 to 1600 for their Lumix DMC-FX01 model, but that is only in its High Sensitivity mode, which I understand also means at reduced resolution. How does that work? If they can do it at reduced resolution, why can't they do it at full resolution?
*** ANSWER 3 ***
There are several ways to achieve flashless indoor photography. One effective way is to supplement your available light with constant-source lighting; however, this would be impractical unless you are in a studio environment (which I assume you are not).
Another way is to reduce your shutter speed and use a tripod; however; this would be impractical unless you are in a stationary environment (which again, I assume you are not). More practical would be to reduce your shutter speed by using a camera's image stabilization feature (if available). Even so, shutter speed reduction is effective only for slow-moving or still subjects, depending on the amount of reduction needed.
The only really practical AND effective way to achieve flashless indoor photography is (as you suggested in your question) by cranking up the ISOs to 800, 1600, and higher. Unfortunately, most digicams max out at ISO 400, and rarely is that ever usable due to its high noise. There are several cameras which have a reduced-resolution, high ISO mode (like the Panasonic FX01); however, there is only one digicam manufacturer that has managed to achieve usable ISOs above 400 at full resolution, and that is Fuji, with their FinePix V10, Z2, F10, F11, and F30 models, among others.
So how is it that Panasonic was able to provide the high ISOs required for flashless, low-light shooting, but only at reduced resolution? I can answer that question with just one word, image noise.
In order to achieve sufficient signal strength for subsequent handling, a pixel's output must first be amplified. Cranking up a camera's ISOs amplifies each pixel's output by a preset factor, whereby the higher the ISO setting, the higher the factor; however, this amplification also increases image noise by an equivalent factor, to the point where the noise can become so objectionable that the image is unusable.
If each pixel's output signal were stronger from the start, less amplification would be required, which would result in lower image noise (i.e., a higher signal-to-noise ratio) at high ISOs. One way to achieve a stronger output signal is with larger pixels. Had the Panasonic FX01's 1/2.5" CCD been designed for 3 megapixels, rather than 6, it would have had a significantly higher signal-to-noise ratio due to its larger pixels.
But a 3 megapixel camera would not do well in today's market. So instead, Panasonic provided an option for their 6 megapixel CCD to merge the output signal from multiple pixels into one pixel, which effectively multiplies that pixel's signal strength without amplification, and thus, without the associated noise. Unfortunately, this merging also divides the image resolution by an equivalent amount, hence, the "reduced resolution" High Sensitivity mode.
If you want an ultra-compact for flashless, low-light photography at full resolution, get a Fuji FinePix F30. It promises usable ISOs up to 3200. Of course, as I always say, I'll see it when I believe it (i.e., wait for the reviews).
*** QUESTION 4—- BRIDGE CAMERA RECORDS DIGITAL IMAGES TO FILM
Any truth to the rumor of a soon-to-be-announced Sony bridge camera that records digital images to film? It all sounds a bit too good to be true.
Regards,
AF
*** ANSWER 4 ***
AF, it does sound a bit too good to be true. Nonetheless, it definitely is true, except that it is not exactly a bridge camera, and it does not exactly record digital images to film.
To be more accurate, the camera is actually a Bridge/SLR (B/SLR) hybrid, with a fixed lens like a traditional bridge camera, and a reflex mirror for TTL viewing which flips up from between the lens and film during image capture like a traditional SLR. However, unlike any other camera before it, this one immediately scans the unprocessed film to detect and store the captured image digitally.
The B/SLR utilizes a specially developed, "disposable" cartridge film, having all the resolution and dynamic range of traditional film, to capture a 1" x 1" square image, which is then immediately scanned into digital flash memory using a laser to detect the exposure-induced chemical changes in the unprocessed film.
The camera also has some fantastic specs. Its scanner resolution is 4800 x 4800 dpi, with a color depth of 48 bits, yielding 23 megapixel images with a 48-bit dynamic range. Its continuous shooting rate is a sustained 5 fps, limited only by the available CF and/or SD memory, and the number of exposures remaining. Disposable film cartridges of 100 and 200 exposures will be initially available.
The B/SLR will be available in a choice of factory installed lenses with a variety of focal lengths and zoom ranges. Field installation of lenses is not possible due to the highly adverse effect of dust particles on the laser scanning system.
The camera is scheduled for release in June; however, due to the historical significance of this camera, PhotographyBLOG will dedicate the first Saturday of each month to a First-Look Hands-On Pre-Review of the camera, beginning in April.
[Column photo "The Photographer" by Brenda LaFleur of Brenda LaFleur Photography.]
Share this article