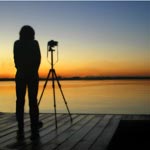 This week's Gary's Parries topics are:
1. Nikon D80 Got The Shakes
2. Digital Versus Film Cameras In Baghdad
3. Once A Photographer, Always A Photographer
4. Five Megapixel Images Look The Best
Introducing this week's Gary's Parries column. Everything you always wanted to know about digital cameras, but were afraid to ask. No question too difficult, or too easy. As a Senior Principal Software Engineer, and a former Assistant Professor of Computer Information Systems, as well as a recording studio owner/operator, inventor, and now, a digital camera enthusiast, GARY has more digital camera knowledge in his entire brain than most people have in their little finger. In the unlikely event that GARY would not know the answer to your question, he will answer it anyway, true to the spirit of the word "Parries", a fencing term which, in this context, implies "cleverly evasive answers". So let your imagination run wild. Email all your nagging digital camera questions to: garysparries@photographyblog.com , and then, En Garde!
You may also attach to your email an ORIGINAL PHOTO of your choosing. A preview of the photo will be displayed with your question, and a full-sized version will be just a click away. No personal information will be published with your question unless you specifically include it in the text or attached photo of your email, which may be further edited for grammar, content, or other reasons.
***
*** QUESTION 1—- NIKON D80 GOT THE SHAKES
***
Gary-
The new Nikon D80 digital SLR doesn't have anti-shake. Neither, for that matter, does Panasonic's first digital SLR, the Lumix DMC-L1. Why do you think these manufacturers have chosen to ignore such a great technology?
Regards (en gardes?),
Ben Rothfeld
***
*** ANSWER 1
***
Good question, Ben. I have no idea of the answer, but that has never stopped me before, so ...
First, however, we need to establish some terminology. When you say 'anti-shake', I assume you are talking about the Konica Minolta type, which uses a built-in gyroscope to detect the presence of camera movement during a shot and then compensates for it by applying tiny adjustments to the position of the camera's CCD, as opposed to the Casio type, which uses digital signal processing (DSP) to compensate for the camera movement. The Konica Minolta Anti-Shake is a form of image stabilization, whereas the Casio Anti-Shake DSP is not.
Getting back to your question, the ONLY form of image stabilization that Nikon has ever used is their Vibration Reduction, which is similar to the Konica Minolta Anti-Shake in that it utilizes gyroscopic control, but instead of applying the tiny adjustments to the position of the camera's CCD, it applies them to one of the camera's lens elements. Given this history for Nikon, it is certainly no surprise that their new D80 does not include image stabilization as part of the camera body, but rather, requires the addition of a Vibration Reduction lens to implement that feature.
Panasonic's image stabilization, Mega OIS,  has also always been ONLY in the form of gyroscopic control of a lens element, and their first DSLR, the Lumix DMC-L1, is no exception. However, unlike Nikon, Panasonic has chosen to provide their image stabilization feature with the L1's kit lens, which I'm sure has nothing to do with anything other than marketing considerations.
But if I understand your question correctly, Ben, your point is why not use the gyroscope to control the camera's CCD rather than a lens element, which would avoid the expense of building image stabilization into a multitude of lenses? The only companies I know, besides Konica Minolta, that have done this are Ricoh, with their R3 and R4 point-and-shoot models, and Sony, with their new DSLR-A100 model. My guess is that, for Nikon and Panasonic among others, incorporating image stabilization into a lens is a much more tried-and-true technology than incorporating it into a CCD.
***
*** QUESTION 2—- DIGITAL VERSUS FILM CAMERAS IN BAGHDAD
***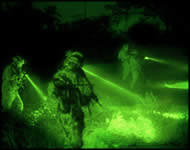 I'm sure this is a stupid question for you, but here goes:
Do American journalists covering events in Baghdad use digital or film cameras?
Thanks!
Marie Fowler
[Note: U.S. Army photo by Specialist Teddy Wade, January 10, 2006. Engineers from Troops Battalion, 4th Brigade Combat Team, 101st Airborne Division, search for improvised explosive devices that may be hidden on the side of a main road in east Baghdad.]
***
*** ANSWER 2
***
Marie, for this column, there is no such thing as a stupid question, only stupid answers, especially when I have no idea what the answer is, but that has never stopped me before :), so ...
The truth is, Marie, the American journalists in Baghdad use every kind of camera imaginable, including plastic throwaway film cameras and mini-DV digital camcorders. Due to the severe dust conditions in Baghdad, I would think that: (1) a point-and-shoot would have a better survival rate than an SLR due to the lens changes that could expose the SLR to the dust, (2) a digital camera would have a better survival rate than a film camera due to the film changes that could expose the camera to the dust, and (3) unless money is no object, an inexpensive and easily replaced camera would be preferred over an expensive one.
***
*** QUESTION 3—- ONCE A PHOTOGRAPHER, ALWAYS A PHOTOGRAPHER
***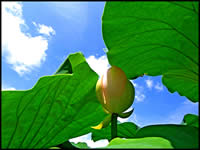 Gary,
Many years ago I used to have time to take nice pictures with an SLR camera and a couple of lenses.  After many years of photographic inactivity (children, life, ...) I have decided to try and take some more, but this time with a digital outfit.  Do you have suggestions of what I should look for? - I would like a camera body with a couple of lenses.
Thanks,
Alison Copeland
***
*** ANSWER 3
***
Alison, I'm sure it wasn't 'that' many years ago; however, until just recently, my recommendation would have been quite different from what I am about to recommend, namely, do NOT go with a digital SLR (DSLR) unless you absolutely intend to do much more than just casual shooting. The quality of today's digicams (i.e., a digital camera that is not a DSLR) is good enough to take pictures just as nice as those from a DSLR. If, however, you would still prefer to go with a DSLR, let me know your price range for the total package, and I will be more than happy to provide DSLR outfit suggestions for you in next week's column.
If you are looking for a camera with both wide angle and telephoto capabilities, then I would definitely recommend a digital 'bridge' camera, which is an 'SLR-like' digital camera, but with a single, multi-purpose, non-removable zoom lens that covers the entire range from wide to telephoto. One that looks real nice is the Panasonic Lumix DMC-FZ50, but it has not yet been reviewed, and I would not buy it until it is. The FZ50 has 10 megapixels, a 12x (35 - 420mm) image-stabilized optical zoom lens, a 55mm lens thread (for an optional filter, wide angle or telephoto converter, or close-up lens), a 2.0" flip-out and twist LCD, a TTL flash hot-shoe, 4:3, 3:2, and 16:9 aspect ratios, and if it's anything like its FZ30 predecessor, excellent handling capabilities and fast response times, all for the price of a comparable quality DSLR kit ($650 US).
In case the FZ50 does not get such good reviews, there are similar digital bridge cameras, such as the Canon PowerShot S3 IS (12x optical zoom lens, $450 US), the Fujifilm FinePix S6000fd/S6500fd (28mm wide 10.7x optical zoom lens, but no image stabilization and also not yet reviewed, available 10/2006, $600 US), and the Sony DSC-H5 (12x optical zoom lens, $450 US).
If you can get by without such a wide-range zoom, and would prefer something smaller than a bridge camera that could be easily slipped into a pocket, purse, or handbag, then I would recommend a compact or ultra-compact point-and-shoot style digicam, but one with the addition of manual controls. Some good ones are the Fujifilm FinePix F30 (3x optical zoom lens, ISOs up to 3200, but no image stabilization or manual focus), the Canon PowerShot A700 (6x optical zoom lens, but no image stabilization), the Canon PowerShot S80 (28mm wide 3.5x optical zoom lens, but no image stabilization, also very difficult to find), and the Panasonic Lumix DMC-LX2 (28mm wide 4x optical zoom, 16:9 native aspect ratio, but not yet reviewed).
And, if you are willing to forego the manual controls, then I would 'highly' recommend the Canon PowerShot SD700 IS, a.k.a. Canon Digital IXUS 800 IS (see our Canon Digital IXUS 800 IS Review).
[Note: Much thanks to Nick in Japan for submitting the accompanying photo, which he shot with an ultra-compact point-and-shoot style digicam, the Kodak V570.]
***
*** QUESTION 4—- FIVE MEGAPIXEL IMAGES LOOK THE BEST
***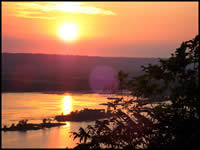 Gary,
I have several digital cameras with various numbers of megapixels, and I have noticed that, when viewing a picture at its real size, the five megapixel camera's images look the sharpest. Sure, the more megapixels, the better the resolution, but at the same time the image becomes larger (in real size), and everything gets bigger, so the demands for what is looking sharp rises.
Could my observations have been faulted by other factors like sharpening, etc., or is there in fact an ideal size in this respect?
Regards,
Anders Tiberg
***
*** ANSWER 4
***
Thank you, Anders. Finally, a question to which I actually know the answer. :)
It all comes down to comparing apples with apples. In order to judge the effect of a camera's increased image resolution, it goes without saying that you need to keep all image conditions the same, as well as all camera settings (except image resolution) the same, but you also need to print and/or display the images AT THE SAME SIZE.
So, Anders, your observations were correct, but the experiment was at fault for allowing the higher resolution images to be printed/displayed at larger sizes. Like I always say, you don't want to be comparing Apples with Windows. :)
***
[Column photo "The Photographer" by Brenda LaFleur of Brenda LaFleur Photography.]