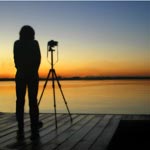 This week's Gary's Parries topics are:
1. In-Camera Noise Ninja?
2. Adjusting Your Digicam To Be As Sharp And Clear As Film
3. Time-Lapse Photography With Panasonic Lumix DMC-TZ1
4. Image Sensor Sizes Explained
Introducing this week's Gary's Parries column. Everything you always wanted to know about digital cameras, but were afraid to ask. No question too difficult, or too easy. As a Principal Software Engineer, and a former Assistant Professor of Computer Information Systems, as well as a recording studio owner/operator, and now, a digital camera enthusiast, GARY has more digital camera knowledge in his entire brain than most people have in their little finger. And, in the unlikely event that GARY would not know the answer to your question, he will answer it anyway, true to the spirit of the word "Parries", a fencing term which, in this context, implies "cleverly evasive answers". So let your imaginations run wild. Email all of your nagging questions to: GARYsParries@PhotographyBLOG.com, and then, En Garde!
The best question of the week will receive a small prize from the PhotographyBLOG goody bag, so send your questions now. If you do not see your previously submitted question in this week's column, it may have been submitted too late for consideration, in which case it will be held over for next week. If your question is selected for publication, the complete text of your email will be included in the column, but may be edited for grammar, consistency, or other reasons. No personal information will be published with your question unless you specifically type it into the text of your email. All judging is done on an impartial basis without regard to race, creed, color, sex, national origin, professional status, physical disability, mental handicap, or model of camera owned (these latter two go hand-in-hand). The decision of the judges is final.
Here are this week's questions and answers.
QUESTION 1:
Why can't camera manufacturers put Noise Ninja, or something like it, on an in-camera chip? Noise Ninja eliminates artifacts without degrading resolution, and I don't understand why this type of algorithm is not licensed by manufacturers.
Michael Gottlieb
Philadelphia, Pennsylvania, USA
ANSWER 1:
Excellent question, Michael, especially since there are already examples of red-eye removal software being licensed to camera manufacturers for embedded use. One such example is the award-winning FotoNation Red-Eye Technology, which has been licensed for use in cameras, as well as in printers and Kiosks. Another such example is ArcSoft Red-Eye Removal. So why not do the same for noise reduction software such as the highly popular and effective Noise Ninja?
There is one reason, and only one reason, for the lack of embedded noise reduction algorithms in cameras, namely, it is not practical. To the contrary, red-eye removal is extremely practical since it can be performed automatically and effectively by the same algorithm on any image without any consideration for the camera that created the image or the conditions under which the image was taken. Noise reduction, on the other hand, requires considerable tweaking to achieve optimal results, as would be expected considering the many different noise types and noise levels that can be encountered from the wide variety of cameras and image conditions for which noise reduction algorithms must be effective. The fact of the matter is, such tweaking is far easier to perform in post-processing on a computer than in-camera.
An "automatic" algorithm could potentially be customized to handle the noise profile of a particular camera for a variety of image conditions, but that would require a great deal of camera-specific and costly development on the part of the noise reduction software manufacturer, a cost which would be difficult to recoup considering the many different camera models introduced to the market each year, and the relatively short life span of each.
QUESTION 2:
Almost every digital camera I've used, from medium-level pocket versions to high-end DSLRs, generates photos that are not as sharp and clear as film. While I can sharpen them up a bit using post-processing software, this is proving to be an arduous task that reduces my enjoyment of photography. (I understand and accept the need to work on "keepers" but am distressed about the lower level of quality of travel and people snapshots.) Are there any adjustments that I should (or can) consider making in-camera to reduce this problem?
Thanks in advance for your all-knowing answer.
Be of good cheer! - Mike Gelhausen
ANSWER 2:
Absolutely, Mike. There is one simple adjustment you can make in the form of an attachment to your camera, namely, a Phase One P45 (or similar) digital back.
Seriously though, there is no consumer or semi-professional camera that can match the sharpness and clarity of film. You can play with the image settings all you want, but you still will not get there. In fact, the rule of thumb is, leave the images a little soft out of the camera, and then sharpen in post-processing on the computer. That's about the best you can do, but I'm sure you already knew that.
Thanks, Mike, for your excellent question. I sincerely sympathize with you.
QUESTION 3:
Can you please find out for me if the Panasonic Lumix DMC-TZ1 will do time-lapse photography? I would like intervals of 5 seconds, 30 seconds, 1 minute, 5 minutes, 30 minutes, etc.
thx DAVE..
P. S. This may be one of the few benefits of the Nikon Coolpix S4 over the TZ1.
[Note: the S4 and TZ1 both have 6 megapixel, 1/2.5" CCDs, 2.5" LCDs, and 10x zoom lenses, with one advantage of the S4 being its swivel lens design, and one advantage of the TZ1 being its optical image stabilization - Ed.]
ANSWER 3:
DAVE, excellent question, and not an easy one to answer as there is still not that much information available on the TZ1. However, after a thorough investigation, I discovered that the TZ1 does offer the capability of time-lapse photography, but unfortunately, it is of the manual variety, not automatic like the S4.
QUESTION 4:
Your non slurred methods of explaining things are appreciated by many of us, and those of us that have been following your ramblings, and serious stuff, really need to have a comparison chart showing exactly what this old video tube sizing mystery is all about!
Please take us from the 1/2.7" camcorder, and maybe smaller, thru the common (ugh) 1/2.5", the (16:9) 1/1.65", 2/3", Olympus 4/3rds, APS and up to the full frame 35mm, and bigger. A size chart will enable the real size relationships to take on a new meaning to a lot of folks, and maybe answer a lot of questions that may have developed.
Expanding on this may be a great article in regards to lens restrictions in relationship to image circles, and how your theory of the "impossible" use of APS sensors in pocket cameras has credibility. The last time I heard that word used was when my mother asked the waiter in the hotel in Tokyo, in 1986, if she could have her toast, toasted a bit more!
AA "Mensa Advanced Edition Dictionary" is not required for your response to this question. Thirty letter words may impress a lot of folks, but not me!
Respectfully submitted,
Nick in Japan
ANSWER 4:
Nick, this as a very interesting question, one that obviously required a great deal of intelligent forethought on your part. I only wish that I could do it justice with an equally intelligent answer.
However, with all due respect to your mother, it would be "impossible" to engage in any type of meaningful discussion of these size designations without first engaging in at least a very basic discussion of the principles of Fourier Analysis, Solid State Physics, and Quantum Mechanics, while factoring in the effects of Black Holes, Global Warming, Darwin's Theory of Evolution, and of course, The Big Bang Theory.
So, in order to avoid an exercise in futility, I will conclude by citing the Heisenberg Uncertainty Principle, which states that there is no absolute measurable "certainty" to these size designations other than as a short-hand notation to indicate, in complete accordance with Einstein's Theory of Relativity, the proportions of one image sensor "relative" to another, thus avoiding the use of tedious nomenclature, such as "7.176 mm (width) x 5.319 mm (height)" for indicating the same.
BTW, although not nearly as informative (or impressive) as mine, there is an excellent discussion of image sensor sizes at DPReview.
http://tinyurl.com/jlzy5
THIS WEEKS CONTEST WINNER for BEST QUESTION
It was an extremely tough judgment call since all of the selected questions were excellent, and very relevant to PhotographyBLOG readers. However, the tie-breaker was the fact that one of the questions was submitted by a person I know very well through this blog, someone with whom I have had many meaningful discussions in comments too numerous to count, someone who has unselfishly defended my point of view on many occasions when it was under attack, someone I would not hesitate to call my friend. So for that reason, Nick in Japan must be disqualified from the running, and I award first place to Michael Gottlieb (with Mike Gelhausen and DAVE in a dead heat for runner-up).
Congratulations, Michael Gottlieb! Please email your home address to the editor of PhotographyBLOG, Mark Goldstein (mark@photographyblog.com), along with your preferred choice of automobile body colors, and he will send you your prize.
[Column photo "The Photographer" by Brenda LaFleur of Brenda LaFleur Photography.]
Share this article