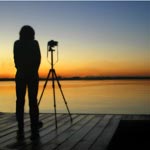 This week's Gary's Parries topics are:
1. Wanted: Bridge Camera With SLR Viewfinder
2. How To Avoid DSLR Dust In 3 Easy Steps
3. How To Turn Off Your Camera's Flash – Volume 1
Introducing this week's Gary's Parries column. Everything you always wanted to know about digital cameras, but were afraid to ask. No question too difficult, or too easy. As a Senior Principal Software Engineer, and a former Assistant Professor of Computer Information Systems, as well as a recording studio owner/operator, inventor, and now, a digital camera enthusiast, GARY has more digital camera knowledge in his entire brain than most people have in their little finger. In the unlikely event that GARY would not know the answer to your question, he will answer it anyway, true to the spirit of the word "Parries", a fencing term which, in this context, implies "cleverly evasive answers". So let your imagination run wild. Email all your nagging digital camera questions to: garysparries@photographyblog.com , and then, En Garde!
You may also attach to your email an ORIGINAL PHOTO of your choosing. A preview of the photo will be displayed with your question, and a full-sized version will be just a click away. No personal information will be published with your question unless you specifically include it in the text or attached photo of your email, which may be further edited for grammar, content, or other reasons.
***
*** QUESTION 1—- WANTED: BRIDGE CAMERA WITH SLR VIEWFINDER
***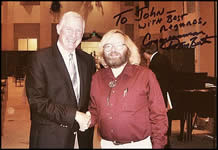 Gary,
Why don't they design the viewfinders in cameras like the Panasonic Lumix DMC-FZ10, FZ20, FZ30, and FZ50 to be more useful in manual mode? These viewfinders are way too dark to be useful for manual focus. If they were brighter, I could use the cameras with studio flashes and flash meters. But as it stands now, if F11 is called for, and I set the camera to that, I can't see anything and the camera then has trouble auto-focusing.
Thank you for your response.
John R. Spurr - EPID
http://evergreenphoto-epid.com
***
*** ANSWER 1
***
John, essentially what you want is a Nikon D80 SLR viewfinder on a Panasonic Lumix DMC-FZ50 bridge camera. Even though the FZ50 is already one of the most SLR-like bridge cameras, including such a viewfinder would require a significant redesign with a substantial cost increase and/or the sacrifice of existing high-end features, which would result in a less marketable FZ50. Case in point, would you be interested in an FZ50 with an SLR viewfinder, but with a typical SLR kit lens in place of its existing 12x Leica zoom lens? I think not.
To make matters even worse, the FZ50 already has one of the best EVFs of any bridge camera available, so there probably is not much room for improvement in that regard. The proof of this is in the fact that the FZ20's viewfinder was a significant improvement over the FZ10, as was the FZ30's viewfinder over the FZ20; however, there was no such improvement with the FZ50.
John, did I mention that the Nikon D80 viewfinder has a .94x magnification factor with 95% frame coverage? :)
P.S. Good luck with your website. That's an impressive list of photographic services you provide. Hope you don't mind my borrowing the accompanying photo :).
***
*** QUESTION 2—- HOW TO AVOID DSLR DUST IN 3 EASY STEPS
***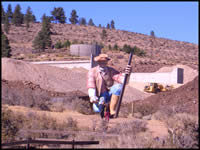 Dear Sir,
I need some help from you in understanding the problem of DUST IN DSLR CAMERAS. I wanted to buy a Nikon D80, but after reading reviews on the net, I am now confused and unable to decide which DSLR CAMERA TO BUY.
Is dust a real problem even if you don't change the kit lens at all? Your answer will help me a lot in deciding which camera to buy.
Waiting for your reply.
Thanks and regards,
Ramesh
***
*** ANSWER 2
***
Ramesh, if you never change a DSLR's kit lens (Step 1), then the chance of dust ever becoming a problem is significantly reduced. You will still have to contend with the very realistic possibility of dust entering the camera through the lens housing while zooming; however, that possibility can be easily eliminated just by keeping your DSLR enclosed in a Ziploc plastic bag at all times during shooting (Step 2). Even so, you will still have to contend with the very realistic possibility of dust having entered the camera at the factory. Such dust will likely attach itself to the CCD once you have generated sufficient static electricity from flipping the mirror up and down during shooting, so I would heartily recommend that you have the camera cleaned at an authorized service center before you take your first shot (Step 3).
By now, I'm sure you realize my exaggerated point. If you NEVER intend to change a DSLR's kit lens, you are eliminating one of the major advantages of DSLRs over bridge cameras, namely, the flexibility of switching lenses to accommodate different shooting situations. What it comes down to is this. If you really need the quality and performance of a DSLR, then the Nikon D80 is an excellent choice. If not, then a bridge camera such as the Panasonic Lumix DMC-FZ50 might be a better choice.
Another bridge camera that looks promising is the soon-to-be-released Olympus SP-550 UZ, with its 28-504mm (18x !!!) zoom lens; however, I would not recommend the purchase of that camera until you have read our PhotographyBLOG review, which I assume Mark is working on as we speak :).
***
*** QUESTION 3—- HOW TO TURN OFF YOUR CAMERA'S FLASH – VOLUME 1
***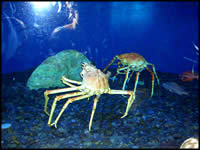 Hello Mark,
Here's something for Gary to parry.
The Canon Digital IXUS 800 IS (a.c.k.a. Canon PowerShot SD700 IS, where the 'c' stands for 'confusingly' - GP) is a delightful little camera that I take with me wherever I go. The bad news is the inadequacy of its user manual, specifically the virtually non-existent instructions explaining how to force the flash to fire when you want it to, and how to prevent the flash from firing when you don't.
The index of the 'Advanced' Camera User Guide refers the reader to page 14, where it shows that the button marked with a 'lightning' symbol controls the flash (which comes as no great surprise). It then refers the reader to page 9 of the 'Basic' Camera User Guide. No other instructions for the flash in this entire manual, apart from a piece on the Flash Exposure Lock. Okay, that will come in handy later on, but first it would be nice to know how to control with certainty whether or not the flash is going to fire.
So you go to page 9 of the Basic Camera User Guide where it says to "Press the flash button to cycle through the flash settings," and it then illustrates the resulting sequence of flash modes as follows: Auto -> Auto Red-eye Reduction -> Red-eye Reduction On -> On -> Off -> Slow Synchro -> (back to Auto). There is also the handy sentence, "Flash settings cannot be used in some shooting modes," which implies that some flash modes may not work at all times, but it does not elaborate further on this.
I spent several frustrating minutes this afternoon trying to capture some interesting silhouettes of people on a white wall in a dining room; the sunlight that was causing these silhouettes was fading all the time. Every shot I took - even with the flash turned off - was ruined by a burst of flash wiping out the shadows.
How do I tell the camera that when I set the flash to 'Off' I really do mean 'Off', and not 'oh, alright then, flash sometimes if you really want to'? Or am I giving the camera carte blanche by using the Auto shooting mode, so that setting the flash to 'Off' in this mode has no effect whatsoever. If so, why do they even present the flash 'Off' setting in Auto shooting mode?
It would be a shame to have to use the camera's Manual shooting mode just to turn the flash off, because it isn't really a 'manual' shooting mode as we know it, Jim.
All good wishes,
Geoff
***
*** ANSWER 3
***
Geoff, who's Jim? – Gary
It is amazing how much more useful user manuals can be in electronic format compared to printed. The good news is that both the Basic and Advanced Camera User Guides are available online for the SD700 IS, and after a few electronic searches of the same, I am now ready to answer all your SD700 IS flash questions.
To answer your secondary question first, namely, which flash settings can NOT be used in the Auto shooting mode, the chart on page 138 of the Advanced Camera User Guide conveniently illustrates that the 'On', 'Red-eye Reduction On', and 'Slow Synchro' flash settings are not available in Auto shooting mode, which makes perfect sense.
To answer your primary question second, namely, how do you prevent the flash from firing, the procedure is as simple as you have already described. Merely press the flash button to cycle through the flash settings until you encounter the 'No Lightning' symbol corresponding to the flash 'Off' setting (which is also conveniently illustrated in the previously mentioned chart on page 138 of the Advanced Camera User Guide).
Now Geoff, I know from previous contacts with you that you are an intelligent guy, so how is it that you could not follow this very, very, very simple instruction? Fortunately, you have raised your question in the right place, as I too have trouble following even the simplest of instructions. So I tried turning the SD700's flash off as described above, and it worked, but then at some later point it stopped working?
It seems that the Auto shooting mode also has a 'default' flash setting, so if you set the flash to "Off' and then turn the camera 'Off' and 'On' again, or if you set the flash to "Off' and then go to another shooting mode and back again, the camera returns to its default flash setting, which for the Auto shooting mode is 'Auto Red-eye Reduction On' (once again conveniently illustrated in the very same previously mentioned chart on page 138 of the Advanced Camera User Guide :)).
***
[Column photo "The Photographer" by Brenda LaFleur of Brenda LaFleur Photography.]
Your Comments