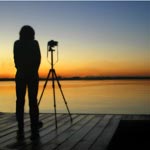 This week's Gary's Parries topics are:
1. It Was So Cold, Even My LX1 Had No Noise
2. Canon PowerShot S90 Rumors
Introducing this week's Gary's Parries column. Everything you always wanted to know about digital cameras, but were afraid to ask. No question too difficult, or too easy. As a Senior Principal Software Engineer, and a former Assistant Professor of Computer Information Systems, as well as a recording studio owner/operator, inventor, and now, a digital camera enthusiast, GARY has more digital camera knowledge in his entire brain than most people have in their little finger. In the unlikely event that GARY would not know the answer to your question, he will answer it anyway, true to the spirit of the word "Parries", a fencing term which, in this context, implies "cleverly evasive answers". So let your imagination run wild. Email all your nagging digital camera questions to: garysparries@photographyblog.com , and then, En Garde!
You may also attach to your email an ORIGINAL PHOTO of your choosing. A preview of the photo will be displayed with your question, and a full-sized version will be just a click away. No personal information will be published with your question unless you specifically include it in the text or attached photo of your email, which may be further edited for grammar, content, or other reasons.
***
*** QUESTION 1—- IT WAS SO COLD, EVEN MY LX1 HAD NO NOISE
***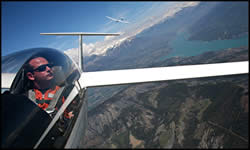 Dear Gary,
I've been taking a few interesting photos while gliding in the French Alps, but have been worried about the effects on my precious Canon EOS 20D. Cruising around at 10,000 feet, the temperature is about zero degrees (C), and the wind speed is about 70 mph. I didn't take the camera any higher for fear of damaging it due to the cold. What are the extremes of temperature with which my camera can cope, and what is the most likely damage?
Example image attached.
Regards,
Nick Smith
RAF Gliding Association
***
*** ANSWER 1
***
Great shot, Nick. Is this a self-portrait, or are you taking someone else's picture with your 20D from another glider? If it's a self-portrait, where is the camera mounted? It is obviously outside the glider (which is probably why you mentioned the wind speed), but it is also obviously not mounted on the wing, which can be seen behind you.
Getting back to your question, there is no 'absolute' temperature range specified for the Canon EOS 20D, only an 'operating' temperature range (0°C - 40°C), which is the range for which the manufacturer guarantees the camera's operation. Should you go below 0°C, you will definitely experience significantly reduced battery life; however, this can be easily remedied by taking along a spare battery or two. Store these spares in a pocket close to your body to keep them warm, and try to switch in a new battery before the old one gets too cold. If you'll be shooting for several hours, you can switch the old batteries back in once they've warmed up. But I cannot imagine you staying up in a glider for several hours at a time. How many hours do you actually log on a single flight? Do you take multiple consecutive flights, or is it just one flight per outing?
Getting back to your question, the only thing that would actually damage your camera is ice forming on the lens or internally to the camera body/lens. The key to avoiding this is to ensure your camera is completely air-dried (not towel-dried) before taking it into the cold weather. Also, try not to breath on your camera, particularly when changing lenses. But I cannot picture you changing lenses in a glider, especially if the camera were mounted externally. If externally mounted, is there any way to then retrieve the camera for a lens change while you are in flight? Also, wouldn't an externally mounted camera adversely affect the glider's aerodynamics? If my life were dependent on a glider, I certainly would NOT want to adversely affect its aerodynamics.
Getting back to your question, if you make multiple flights, the one thing you absolutely want to avoid is bringing a cold camera into a warm climate for a short period of time, and then taking it back into the cold. The warm climate will cause moisture to form on and/or in the camera, which will then freeze when you take the camera back into the cold climate. If you absolutely must take a cold camera into a warm climate for a short period of time, be sure to encase the camera in a sealed plastic bag BEFORE you enter the warm climate. That way, any moisture will form on the plastic bag, and not on/in the camera.
To summarize, battery life and moisture are the major concerns when taking your Canon EOS 20D on a cold-weather glide. Actually, make that battery life, moisture, and AERODYNAMICS. :)
Stay warm, Nick, and I hope you will favor us with more of your spectacular gliding shots in the near future.
P.S. For obvious reasons, try not to bang or drop your camera when it is cold.
P.S.S. As alluded to in the question's title, one of the advantages of cold-weather shooting is reduced image sensor noise.
***
*** QUESTION 2—- CANON POWERSHOT S90 RUMORS
***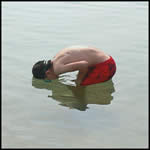 Hello Gary:
It is rumored that Canon will we announcing shortly the PowerShot S90, a successor to their popular S80. Any truth to this rumor? Since the S80 was announced in August '05, I figure the S90 is about due.
Regards,
Tommy
***
*** ANSWER 2
***
Tommy, I've heard no such rumor. Besides, my guess is that Canon will be announcing an 'S100' next, not an 'S90', mainly because their S-series numbers coincide with their CCD megapixel numbers times 10. Well, not exactly. The S10 and S20 had 2 and 3 megapixel CCDs, respectively, and the S60 had a 5 megapixel CCD.
Even so, I think the next S-series model will be a 10 megapixel S100 IS/CIS*, where the 'IS' symbolizes Image Stabilized (like their new Canon PowerShot SD700 IS), and the 'CIS' symbolizes … well, you know what 'CIS' means. :)
I also expect the S100 to have a 5x (28-140 mm) zoom, a 2.5" LCD, built-in Wi-Fi and USB 2.0 High Speed, RAW and RAW+JPEG formats (Canon must have listened to the many complaints about their having omitted RAW format from the S80), as well as 4:3, 3:2, and 16:9 aspect ratios, all in an ultra-compact body.
Keep your fingers crossed, Tommy.
*To date, there has been no announcement by Canon of a new S-series model or a new 10 megapixel CMOS Image Sensor.
[Note: Thanks to Nick in Japan for submitting the accompanying photo. Reminds me of the photo in Question 1 of the June 11, 2006 Gary's Parries – Ed.]
***
[Column photo "The Photographer" by Brenda LaFleur of Brenda LaFleur Photography.]
Share this article