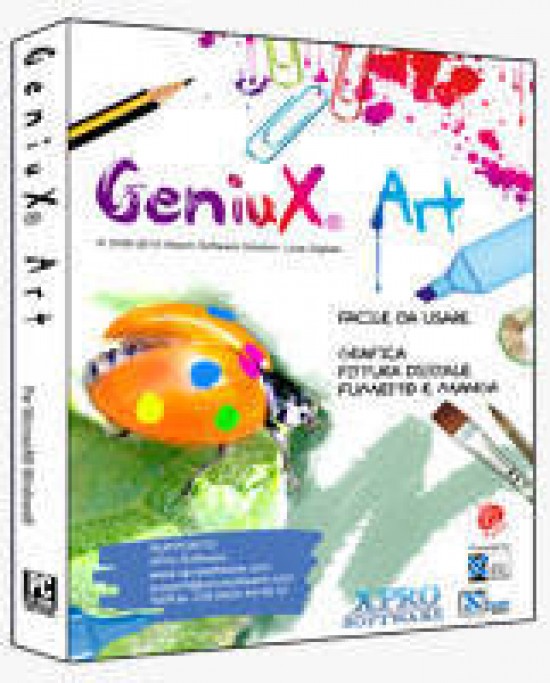 Xpro Software has released version 1.43 of GeniuX Art. The latest release contains over two dozen new features plus a host of improvements and bug fixes. Available for Windows, GeniuX Art sells for €149. Click through / scroll down for a video demonstration and a detailed list of bug fixes, improvements and new features in version 1.43.
Xpro Press Release
GeniuX Art 1.43 Availability
Official presentation:
RadioAmatore2 Pordenone
Sunday 20 November · 14.00
Meeting room Pad.5
Pordenone Fiere.
XPro Software is pleased to announce the availability of version 1.43 of "GeniuX Art", the new features are:
Bug Fix:
- Correction in alpha blending mode to Color Dodge layer
- Correction in alpha blending mode to Color Burn layer
- Fix alpha blending level in Soft Color Dodge
- Fix alpha blending level in Soft Color Burn
- Fix alpha blending level in Reflect
- Fix alpha blending level in Glow
- Correction Zoom Fit
- Correction Merge Visible Layers
- Color correction of halftones
- Insert the extension in the rescue of Project
- Correction project thumbnail saved
- Entering the name of the project on the bar application
- Correction on the size of the cut zone
- Correction on the PAN command of the work area
- Correction in the resizing of very small windows
- Correction of the raster layers
- Correction opacity cloned layers
- Correction opacity blocked layers
- Correction of units and dpi
- Correction levels with transformed rasterization
- Fix extension loading Canon CRW
- Correction Planning Configuration
Improvements:
- Remove static excess graphics
- ESC to cancel and terminate the Layer processing
- Updated reference manual in English
- Edit layer navigator
- Union of the selection of composite engine for all layers
- Union of the selection of opacity for all layers
- Union of utilities for all layers
- Increased to 20 the maximum number of layers displayed in the navigation bar
- Loading a preview of the project surfaced
- Suspending a system and then turned on again
- Adding super-user mode for the console
- Changed textbox CanvasSize
- Changed icon of the mouse moves layer command
- Improved Clone command of special layer "Vanishing points"
- Improved Clone command of special layer "Text"
- Improved Clone command of special layer "Balloon"
- Improved Clone command of special layer "Gradient"
- Improved Clone command of special layer "Shape"
- Improved Clone command of special layer "ScreenTone"
- Improved Clone command of special layer "Divine Proportion"
- Improved "Transform" command
- Improved Engine on layer Composite Transformed
- New 32/128 bits Composite Engine
- Improved speed of Transformation
- Enhanced Anti-Aliasing
New features:
- Added the measure units in the command changes
- Added "add image as a layer" button on the toolbar
- Adding contour brush properties
- Adding rubber brush properties
- Added edit menu transform layer
- Added shortcut key for the transformation of the layer
- Added shortcut key for undo
- Added shortcut key for redo
- Added fan brush
- Added layer blend modes Freeze
- Added layer blend modes Heat
- Added layer blend modes Interpolation
- Added layer blend modes Stamp
- Added layer blend modes Freeze
- Added layer blend modes Heat
- Added transformation system
- Added layers blending mode for transformed layers
- Added Work Planning
- Added security system data for Work Planning
- Added printing system of the Work Planning
- Added System to design the layout of photo books
- Added layout templates of business cards
- Added layout templates of business cards
- New system of Undo and Redo
- Adding guides
- New saving system .agnx compressed lossless
- Added saving system to the rescue system package
- Added saving system on PDF
Free lesson at:
http://www.xprosoftware.com/eng/geniuxart/filmati.html
Download Freeware Edition at:
http://www.xprosoftware.biz/ita/download/GeniuXArt.exe
Pricing and Availability:
GeniuX Art 1.43 is available at http://www.xprosoftware.com
Your Comments